You will receive a shipping confirmation email with a tracking information link when your order has been shipped, so that you can track it on the web.
What a typical post box looks like and where to find them in Japan
They are normally red colored boxes with one or more opening slots and with the Japan Post symbol (〒) written on them. These post boxes come in many different shapes and sizes. You can find them at all the international airports (before the security check!), on the streets, at most convenience stores, etc..
There is no post box after security check at the airport.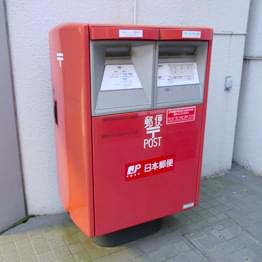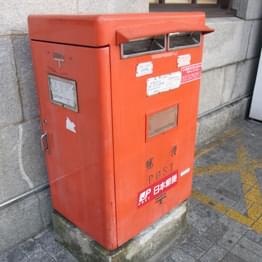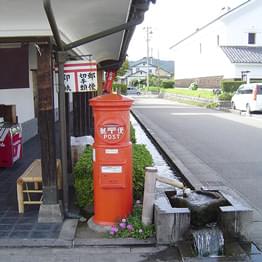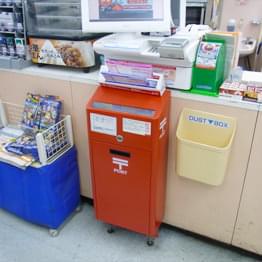 Frequently Asked Questions
Q. How do I pickup at the airport?
Go to the airport post office and show your passport at the counter, then say that you are expecting a package from eConnect Japan.
Even if there are communication issues, the staff at the airport post offices deal with this kind of situation hundreds of times a day. So they know to retrieve the package with the same name as is shown on your passport.
Q. What if my flight was delayed and I couldn't pick up my order from the airport post office?
They will keep it for up to 7 days so if you can go back, you will be able to pick it up the next day.
Alternatively, we can have your order forwarded to a different address. It will, however, take an additional 1 - 2 days to deliver (within the main island) and costs additional shipping fee.
Q. How do I pickup at a hotel?
Please ask for your package at the front desk (most hotels hand it to you upon check-in).
Q. How do I pickup at a residential address?
We deliver your order by normal postal service (unless specified otherwise) so it will be just dropped in a mailbox as long as the name of the house or room owner you provided to us is correct.
Q. Can you have an order delivered to my Airbnb?
Yes, it is possible as long as you can provide the correct address and the name of the house/room owner (your host).
Q. Do I have to pay to return the rental items?
No, you do not have to pay to return rental items. Simply put them in the prepaid return envelope provided and mail them back to us by the due date.
Q. Is there a post office or post box in the airport?
There is at least one post office and a number of post boxes in every major international airport.
Please note that there are no post office or post boxes after security check/customs.
Q. Is it easy to find a post box in Japan?
Yes, it is easy. Post boxes are located in many places all over Japan.
They are colored red and have "〒" symbol written on them. You can find them at corners of some streets, at some convenience stores, and at major international airports.