10% OFF TIME SALE
Copy & paste the code below to use on the checkout page.
PROMOTION ENDS IN
THIS PROMOTION IS AVAILABLE FOR POCKET WIFI RENTALS ONLY.
Specifications
Total Data Allowance (4G/LTE Speed Guaranteed)
Data Allowance (Restricted Speed)
Download / Upload (theoretical at best effort)
99% of national population
Portable battery (6,700 mAh)
8 hours to 48 hours (depending on activity)
Battery Life (Standby time)
10.4 cm (W), 6 cm (H), 1.8 cm (D), 150 g
IEEE802.11 a/b/g/n/ac, ARIB STD - T66
What's included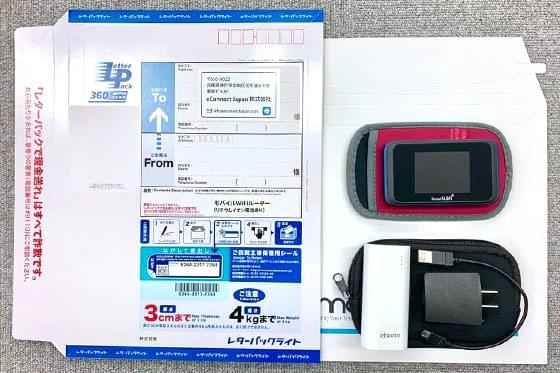 Pocket WiFi

Extra rental powerbank

Instruction paper

USB cable (cord)

AC adapter (charger)

1 carrying cases

1 Ziplock bag

Prepaid return envelope
Reviews
5/5
Amazing service and great customer care!
The hotspot works perfectly everywhere, it's easy to use and you will find a small power bank in the bag too, which helps a lot when it gets out of charge and you don't have a chance to go home. The customer care Service is super efficient and kind too. Will definitely use it again if back in Japan!
5/5
Essential for group travel
We traveled to Japan this October/2023 and were unsure about buying individual SIM cards to use the Internet, since traveling to any part of the world without Internet will leave you stranded and aimless. We chose, with some suspicion, Econnect Japan to serve internet via Pocket Wifi for five people and we didn't regret it. The contracted plan (Monster) worked perfectly for our group, and everyone was able to stay online all the time, communicating with family members and researching places to visit. Congratulations on the Product and we hope that you will be able to purchase the service again in Japan soon. Tip: disable automatic photo sending during use, as consumption may increase significantly and the data plan will run out sooner than planned.
5/5
Maravilhoso!
Bela decisão que tivemos quando decidimos usar o pocket Wi-Fi, o plano monstro foi o suficiente e estávamos em dois! Pegou em todos os lugares que fomos, literalmente! Foi fácil pegar pois quando chegamos no hotel ele estava nos esperando, e entregamos no aeroporto em um post, muito fácil! Amamos
5/5
Smooth and easy
I ordered from the semi-remote Italian island where I reside to be picked up at my Tokyo hotel on arrival. All transitions (payment, delivery, drop off) have been easy, smooth and timely. While touring I never had any trouble. Highly recommended.
5/5
Will never travel again without this.........
It was unbelievably convenient. Our device was at the hotel when we checked in and we dropped it off at the airport when we left. Instructions were simple and foolproof. No problems.........very fast wifi. Will never travel again without this.........
Shipping & Delivery
We have our orders delivered 1 or 2 days ahead of selected pick up date (the only exceptions are the last-minute orders).
You select your preferred pick up location during the checkout process.
Once your order has been shipped, you will receive a shipping confirmation email with tracking link.
How does Pick up & Return work?
Pick up
Pick up at your desired location: airport, hotel, guest house, ryokan, post office or a private residence. Any address in Japan will do!
Return
We provide a prepaid return envelope with all the necessary information filled in. All you have to do is put all the items in the envelope and drop it in a post box anywhere in Japan.
Frequently Asked Questions
Q. What happens if I use up 100GB?
Once your data consumption exceeds your total data allotment, it becomes subject to speed restriction from the network operator.
Please be assured that the internet connection won't be cut off in case the restriction is applied.
Q. Can I purchase more data if needed?
It may be possible depending on our data pooling. Please email us with the data amount (GB) you'd like to add and we will check if it's possible.
Q. How do I charge Pocket WiFi?
You can charge it via standard micro USB cable. We include one micro USB cable along with every rental order.
Precautions before using Pocket WiFi
The connection speeds shown above are provided on best effort basis. Actual speeds vary depending on location and connection status.
Network provider (Softbank) reserves the right to restrict the connection speed for those who have used significant amount of data in a short period of time (or for those whose network activities are considered as suspicious).
Your device must be WiFi enabled.
We need to check availability.
Please send us a Last-Minute Request from the button below.
Note that the following pickup locations are not available for your requested pickup date.
New Chitose Airport (CTS)
Okinawa
We need to check your pickup location first.
Where would you like to have it delivered?
This product is out of stock on the selected date...
Out Of Stock On: