Compatibility
Check Your Device Compatibility.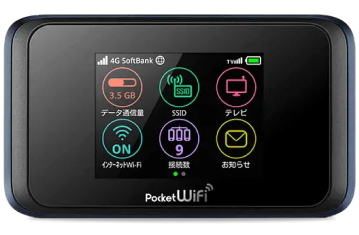 Pocket WiFi
Compatible Devices
Our portable WiFi works with ANY smartphone, tablet, and other WiFi enabled device. This includes SIM-locked (carrier-locked) devices.
Wireless LAN Version
IEEE 802.11 b / g / n, ARIB STD - T66
Japan Prepaid SIM
Compatible Devices
Your device has to be UNLOCKED and does not have any device management system installed.
We recommend you to rent one of our Pocket WiFi if your device is locked or hasn't been tested by us.
Wireless LAN Version
- 4G: Band 1 (2100MHz) / Band 19 (800MHz) / Band 21 (1500MHz) / Band 3 (1800MHz, Only some areas)
- 3G: Band 1 (2100MHz) / Band 19 (800MHz)
SIM Compatibility Tested Devices
| Manufacturer | Product | OS Version | SIM Card Type |
| --- | --- | --- | --- |
| ALCATEL | ONETOUCH IDOL3 | Android 5.0.2 | Micro SIM |
| AM Telecom | AR5210 (b-mobile4G WiFi3) | | Micro SIM |
| AM Telecom | AMR510 (b-mobile4G WiFi2) | | Standard SIM |
| ASUS | ZenFone 3 5.2 (ZE520KL) | Android 6.0.1 | Micro SIM / Nano SIM |
| ASUS | ZenFone 5Q (ZC600KL) | Android 7.1.1 | Nano SIM |
| ASUS | ZenFone Max Plus (M1) (ZB570TL) | Android 7.1.2 | Nano SIM |
| ASUS | ZenFone 5 (ZE620KL) | Android 8.0.0 | Nano SIM |
| ASUS | Eee PC (1003HAG) | | Standard SIM |
| ASUS | Eee PC (1005HAG) | | Standard SIM |
| ASUS | Fonepad (ME371MG) | Android 4.1.2 | Micro SIM |
| ASUS | Fonepad Note 6 (ME560) | Android 4.2.2 | Micro SIM |
| ASUS | Fonepad 7 (ME372) | Android 4.2.2 | Micro SIM |
| ASUS | Fonepad 7 LTE (ME372) | Android 4.3 | Micro SIM |
| ASUS | MeMO Pad FHD 10 LTE (ME302-LTE) | Android 4.2.2 | Micro SIM |
| ASUS | MeMO Pad 7 (ME572-CL) | Android 4.4.2 | Micro SIM |
| ASUS | PadFone 2 | Android 4.1.1 | Micro SIM |
| ASUS | ZenFone 2 (ZE551ML) | Android 5.0 | Micro SIM |
| ASUS | ZenFone 2 Laser (ZE500KL) | Android 5.0.2 | Micro SIM |
| ASUS | ZenFone 4 Pro | Android 7.1.1 | Nano SIM |
| ASUS | ZenFone 3 Deluxe (ZS550KL) | Android 6.0.1 | Micro SIM / Nano SIM |
| ASUS | ZenFone 3 Deluxe (ZS570KL) | Android 6.0.1 | Micro SIM / Nano SIM |
| ASUS | ZenFone 5 (A500KL) | Android 4.4.2 | Micro SIM |
| ASUS | ZenFone Max (ZC550KL) | Android 5.0 | Micro SIM |
| ASUS | ZenFone Go (ZB551KL) | Android 5.1.1 | Micro SIM |
| ASUS | ZenFone Selfie (ZD551KL) | Android 5.0.2 | Micro SIM |
| ASUS | ZenFone Zoom (ZX551ML) | Android 5.0 | Micro SIM |
| ASUS | ZenPad 7.0 (Z370KL) | Android 5.1.1 | Micro SIM |
| ASUS | ZenPad 8.0 (Z380KL/4G) | Android 5.0.2 | Micro SIM |
| ASUS | ZenPad 8.0 (Z380KL-BK08) | Android 5.0.2 | Micro SIM |
| ASUS | ZenPad 10.1 (Z300CL) | Android 5.0 | Micro SIM |
| ASUS | Zenfone 4 Max Pro | Android 7.1.1 | Nano SIM |
| ASUS | ZenFone 4 Selfie | Android 7.1.1 | Nano SIM |
| Acer | Liquid Z530 | Android 5.1 | Micro SIM |
| Acer | Liquid Jade Primo | Windows 10 Mobile | Nano SIM |
| AnyDATA Net Inc. | A2502 | | Standard SIM |
| Apple | iPhone 14 series (except eSIM only US model) | iOS 16.1 and under | Nano SIM |
| Apple | iPad 2 (GSM) | iOS 9.3.5 and under | Micro SIM |
| Apple | iPad (1st generation) Model A1337 | iOS 5.1 | Micro SIM |
| Apple | iPhone 13 series | iOS 15.1 and under | Nano SIM |
| Apple | iPhone 11 series | iOS 13.1.2 and under | Nano SIM |
| Apple | iPhone XR | iOS 13.1.2 and under | Nano SIM |
| Apple | iPhone XS | iOS 13.1.2 and under | Nano SIM |
| Apple | iPhone XS Max | iOS 13.1.2 and under | Nano SIM |
| Apple | iPhone X | iOS 13.1.2 and under | Nano SIM |
| Apple | iPhone 8 | iOS 13.1.2 and under | Nano SIM |
| Apple | iPhone 8 Plus | iOS 13.1.2 and under | Nano SIM |
| Apple | iPhone 7s Plus Model A1785 | iOS 13.1.2 and under | Nano SIM |
| Apple | iPhone 7 Model A1779 | iOS 13.1.2 and under | Nano SIM |
| Apple | iPhone SE Model A1723 | iOS 12.4 and under | Nano SIM |
| Apple | iPhone 6s Plus Model A1687 | iOS 12.4 and under | Nano SIM |
| Apple | iPhone 6s Model A1688 | iOS 12.4 and under | Nano SIM |
| Apple | iPhone 6 Plus Model A1524 | iOS 12.4 and under | Nano SIM |
| Apple | iPhone 6 Model A1586 | iOS 12.4 and under | Nano SIM |
| Apple | iPhone 5c Model A1456 | iOS 10.0.2 and under | Nano SIM |
| Apple | iPhone 5s Model A1453 | iOS 10.0.2 and under | Nano SIM |
| Apple | iPhone 5 Model A1429 (GSM) | iOS 10.0.2 and under | Nano SIM |
| Apple | iPhone 4S | iOS 9.3.5 and under | Micro SIM |
| Apple | iPhone 4 | iOS 7.1.2 | Micro SIM |
| Apple | iPhone 3GS | iOS 6.0.1 | Standard SIM |
| Apple | iPad Pro 10.5-inch | iOS 13.1.2 and under | Nano SIM |
| Apple | iPad Pro 9.7-inch Model A1674 | iOS 13.1.2 and under | Nano SIM |
| Apple | iPad Pro 12.9-inch Model A1652 | iOS 13.1.2 and under | Nano SIM |
| Apple | iPad Air 3 Model A2123、A2153 | iOS 13.1.2 and under | Nano SIM |
| Apple | iPad Air 2 Model A1567 | iPadOS 13.1.2 and under | Nano SIM |
| Apple | iPad Air Model A1475 | iPadOS 13.1.2 and under | Nano SIM |
| Apple | iPad mini 5 Model A2124、A2126 | iPadOS 13.1.2 and under | Nano SIM |
| Apple | iPad mini 4 Model A1550 | iPadOS 13.1.2 and under | Nano SIM |
| Apple | iPad mini 3 Model A1600 | iOS 11.2 and under | Nano SIM |
| Apple | iPad mini 2 Model A1490 | iOS 11.2 and under | Nano SIM |
| Apple | iPad mini Model A1455 | iOS 9.3.5 and under | Nano SIM |
| Apple | iPad (5th generation) | iOS 13.1.2 and under | Micro SIM |
| Apple | iPad (4th generation) Model A1460 | iOS 10.0.2 and under | Micro SIM |
| Apple | iPhone 12 series | iOS 14.1 and under | Nano SIM |
| Apple | iPad (5th generation) | iOS 13.1.2 and under | Nano SIM |
| Apple | iPad (3rd generation) Model A1430 | iOS 9.3.5 and under | Micro SIM |
| BUFFALO | Portable Wi-Fi DWR-PG | | Standard SIM |
| Blackberry | BLACKBERRY PASSPORT | BlackBerry 10 | Nano SIM |
| Blackberry | BLACKBERRY CLASSIC | BlackBerry 10 | Nano SIM |
| Cathay | AS01M(WH) | Android 5.1 | Micro SIM |
| Covia | FLEAZ F5 CP-F50ak | Android 4.4 | Standard SIM / Micro SIM |
| Covia | FLEAZ Que | Android 7.0 | Micro SIM |
| Covia | FleaPhone CP-D02 | Android 4.0 | Standard SIM |
| Covia | FLEAZ F4S Plus | Android 4.4.2 | Standard SIM / Micro SIM |
| Covia | FLEAZ POP | Android 5.1 | Micro SIM |
| Covia | FLEAZ Que+N | Android 7.0 | Micro SIM |
| Covia | i-dio Phone (CP-VL5A) | Android 5.1.1 | Micro SIM |
| Covia | FLEAZ NEO | Android 5.1 | Standard SIM / Micro SIM |
| Covia | FleaPhone CP-F03a | Android 4.2 | Micro SIM |
| Covia | FLEAZ F4S | Android 4.4.2 | Standard SIM / Micro SIM |
| Covia | g07++ (CP-J55aX) | Android 7.0 | Nano SIM |
| Covia | FLEAZ F4 | Android 4.4.2 | Standard SIM / Micro SIM |
| Crosslink | g06 | Android 6.0 | Micro SIM |
| Crosslink | AuBee elm. | Android 5.1 | Standard SIM / Micro SIM |
| Crosslink | PolaSma (PRO5043POJ01) | Android 4.2.2 | Standard SIM |
| Crosslink | Polaroid pigu | Android 4.4 | Standard SIM / Micro SIM |
| Crosslink | LINEAGE (PRO5043POJ01) | Android 4.2.2 | Standard SIM |
| Dell | Venue 11 Pro | Windows 8.1 Pro | Micro SIM |
| Dell | Venue 8 Pro | Windows 8.1 Pro | Micro SIM |
| Dell | Venue 8 | Android 4.4.2 | Micro SIM |
| Freetel | FREETEL SAMURAI MIYABI (FTJ152C) | Android 5.1 | Micro SIM |
| Freetel | FREETEL SAMURAI KIWAMI (FTJ152D) | Android 5.1 | Micro SIM / Nano SIM |
| Freetel | FREETEL REI (FTJ161B) | Android 6.0 | Micro SIM / Nano SIM |
| Freetel | XM FT 142D | Android 4.4 | Micro SIM |
| Freetel | FREETEL PRIORI | | Standard SIM |
| Freetel | FREETEL nico | Android 4.4 | Standard SIM / Micro SIM |
| Freetel | FREETEL MUSASHI (FTJ161A) | android 5.1 | Micro SIM |
| Freetel | FREETEL KATANA01 | Windows 10 Mobile | Micro SIM |
| Freetel | FREETEL (FT132A) | Android 4.1.2 | Standard SIM |
| Freetel | FREETEL PRIORI2 | Android 4.4.2 | Standard SIM / Micro SIM |
| Freetel | FREETEL PRIORI2 LTE | Android 4.4.4 | Micro SIM |
| Freetel | FREETEL PRIORI3 | Android 5.1 | Standard SIM / Micro SIM |
| Freetel | FREETEL PRIORI3 LTE (FTJ152A) | Android 5.1 | Standard SIM / Micro SIM |
| Freetel | FREETEL PRIORI3s | Android 5.1 | Micro SIM / Nano SIM |
| Freetel | FREETEL PRIORI3S LTE (FTJ152B) | Android 5.1 | Micro SIM / Nano SIM |
| Freetel | FREETEL KATANA02 | Windows 10 Mobile | Micro SIM |
| Fujitsu | ARROWS Me (F-11D) | Android 4.0 | Micro SIM |
| Fujitsu | ARROWS NX (F-02G) | Android 4.4.4 | Nano SIM |
| Fujitsu | ARROWS NX (F-02H) | Android 5.1.1 | Nano SIM |
| Fujitsu | FOMA F1100 | | Standard SIM |
| Fujitsu | ARROWS NX (F-06E) | Android 4.2.2 | Micro SIM |
| Fujitsu | ARROWS NX (F-01F) | Android 4.2.2 | Micro SIM |
| Fujitsu | ARROWS Tab LTE (F-01D) | Android 3.2 | Micro SIM |
| Fujitsu | ARROWS Tab (F-02F) | Android 4.2.2 | Micro SIM |
| Fujitsu | ARROWS Tab (F-05E) | Android 4.0.4 | Micro SIM |
| Fujitsu | ARROWS Tab (Q736) | Windows 10 Pro(64bit) | Micro SIM |
| Fujitsu | ARROWS Tab (Q775) | Windows 8.1 | Micro SIM |
| Fujitsu | ARROWS V (F-04E) | Android 4.0.4 | Micro SIM |
| Fujitsu | ARROWS X (F-02E) | Android 4.1.2 | Micro SIM |
| Fujitsu | ARROWS X (F-10D) | Android 4.0.3 | Micro SIM |
| Fujitsu | Disney Mobile on docomo (F-03F) | Android 4.2.2 | Micro SIM |
| Fujitsu | Disney Mobile on docomo (F-07E) | Android 4.2.2 | Micro SIM |
| Fujitsu | Disney Mobile on docomo (F-08D) | Android 4.0 | Micro SIM |
| Fujitsu | REGZA Phone (T-02D) | Android 4.0.4 | Micro SIM |
| Fujitsu | F-04F | Android 4.2.2 | Micro SIM |
| Fujitsu | F-05F | Android 4.4.2 | Micro SIM |
| Fujitsu | F-08E | Android 4.2.2 | Micro SIM |
| Fujitsu | F-09E | Android 4.2.2 | Micro SIM |
| Fujitsu | F-09D ANTEPRIMA | Android 4.0.3 | Micro SIM |
| Fujitsu | F-12D | Android 4.0 | Micro SIM |
| Fujitsu | ARROWS (M02) | Android 5.1.1 | Nano SIM |
| Fujitsu | ARROWS (M03) | Android 6.0.1 | Nano SIM |
| Fujitsu | ARROWS Fit (F-01H) | Android 5.1.1 | Nano SIM |
| Fujitsu | ARROWS Kiss (F-03E) | Android 4.0 | Micro SIM |
| Fujitsu | ARROWS NX (F-04G) | Android 5.0.2 | Nano SIM |
| Getac | PS236 | | Standard SIM |
| Google | Nexus S | | Standard SIM |
| Google | Nexus One | | Standard SIM |
| Google | Pixel 4 series | Android 9 and under | Nano SIM |
| Google | Pixel 5 series | Android 12 and under | Nano SIM |
| Google | Pixel 6 series | Android 12 and under | Nano SIM |
| Google | Pixel 7 series | Android 13 and under | Nano SIM |
| Google | Pixel 3 | Android 9 and under | Nano SIM |
| Google | Nexus 10 | | Micro SIM |
| Google | Nexus 9 | Android 5.0.1 | Nano SIM |
| Google | Nexus 7 (2013 model) | Android 4.3 | Micro SIM |
| Google | Nexus 7 (2012 model) | Android Android 4.1.2 | Micro SIM |
| Google | Nexus 6P | Android 6.0.1 | Nano SIM |
| Google | Nexus 6 | Android 6.0.1 | Nano SIM |
| Google | Nexus 5X | Android 6.0.1 | Nano SIM |
| Google | Nexus 5 | Android 4.4 | Micro SIM |
| Google | Nexus 4 | Android 4.3 | Micro SIM |
| Google | Galaxy Nexus (SC-04D) | Android 4.0.1 | Standard SIM |
| HTC | HTC Advantage X7501 | | Standard SIM |
| HTC | hTc Z | | Standard SIM |
| HTC | HTC Desire 626 | Android 5.1 | Nano SIM |
| HTC | HT-01A | | Standard SIM |
| HTC | HTC Shift | | Standard SIM |
| HTC | HTC P3600 | | Standard SIM |
| HTC | HT1100 | | Standard SIM |
| HTC | HTC Desire EYE | Android 5.1 | Nano SIM |
| HUAWEI | dtab (d-01K) | Android 7.0 | Nano SIM |
| HUAWEI | HUAWEI Mate 10 lite (RNE-L22) | Android 8.0.0 | Nano SIM |
| HUAWEI | honor 9 (STF-L09) | Android 8.0.0 | Nano SIM |
| HUAWEI | HUAWEI Mate 10 Pro (BLA-L29) | Android 8.0.0 | Nano SIM |
| HUAWEI | HUAWEI P20 lite (ANE-LX2) | Android 8.0.0 | Nano SIM |
| HUAWEI | HUAWEI P20 (EML-L29) | Android 8.1.0 | Nano SIM |
| Huawei | MediaPad T2 7.0 Pro | Android 5.1.1 | Nano SIM |
| Huawei | MediaPad X1 7.0 | Android 4.2 | Micro SIM |
| Huawei | Mobile WiFi E5377 | | Standard SIM |
| Huawei | P8lite | Android 5.0 | Micro SIM / Nano SIM |
| Huawei | P8max | Android 5.1.1 | Micro SIM / Nano SIM |
| Huawei | P9 Lite (VNS-L22) | Android 6.0 | Nano SIM |
| Huawei | Ascend (HW-01E) | Android 4.0.4 | Micro SIM |
| Huawei | Y6 (SCL-L02) | Android 5.1.1 | Micro SIM |
| Huawei | Ascend D2 (HW-03E) | Android 4.1.2 | Micro SIM |
| Huawei | Ascend G6 | Android 4.3 | Micro SIM |
| Huawei | GR5 | Android 5.1.1 | Micro SIM |
| Huawei | Ascend G620S | Android 4.4 | Micro SIM |
| Huawei | Ascend Mate7 (MT7-J1) | Android 4.4.2 | Micro SIM |
| Huawei | Ascend P7 | Android 4.4 | Micro SIM |
| Huawei | dtab (d-01G) | Android 4.4.4 | Micro SIM |
| Huawei | dtab (d-01H) | Android 5.1.1 | Micro SIM |
| Huawei | dtab Compact (d-02H) | Android 5.1.1 | Micro SIM |
| Huawei | Honor 6 Plus (PE-TL10) | Android 4.4.2 | Micro SIM / Nano SIM |
| Huawei | Mate S | Android 5.1.1 | Nano SIM |
| Huawei | MediaPad M1 8.0 | Android 4.2 | Micro SIM |
| Huawei | E585 | | Standard SIM |
| Huawei | honor 9 | Android 7.0 | Nano SIM |
| Huawei | E5830 | | Standard SIM |
| Huawei | EMUI 3.1P8 Lite | Android 5.0 | Micro SIM / Nano SIM |
| Huawei | D25HW | | Standard SIM |
| Huawei | GP01 | | Standard SIM |
| Huawei | GP02 | | Standard SIM |
| Huawei | P9 (EVA-L09) | Android 6.0 | Nano SIM |
| LG Electronics | Optimus Vu (L-06D) | Android 4.0.4 | Micro SIM |
| LG Electronics | G2 mini (LG-D620J) | Android 4.4 | Micro SIM |
| LG Electronics | Disney Mobile on docomo (DM-01K) | Android 7.1.2 | Nano SIM |
| LG Electronics | Optimus G Pro (L-04E) | Android 4.1 | Micro SIM |
| LG Electronics | L-02A | | Standard SIM |
| LG Electronics | L-02C | | Standard SIM |
| LG Electronics | L-03D | | Standard SIM |
| LG Electronics | L-03E | | Micro SIM |
| LG Electronics | L-04D | | Micro SIM |
| LG Electronics | L-05A | | Standard SIM |
| LG Electronics | L-09C | | Standard SIM |
| LG Electronics | Optimus 2X | | Standard SIM |
| LG Electronics | Optimus G (L-01E) | Android 4.0.4 | Micro SIM |
| LG Electronics | V30+ (L-01K) | Android 8.0.0 | Nano SIM |
| LG Electronics | Optimus G2 (L-01F) | Android 4.2.2 | Micro SIM |
| LG Electronics | Optimus it (L-05D) | Android 4.0.4 | Micro SIM |
| LG Electronics | Optimus it (L-05E) | Android 4.2.2 | Micro SIM |
| LG Electronics | Optimus LIFE (L-02E) | Android 4.0 | Micro SIM |
| LG Electronics | Optimus Pad (L-06C) | Android 3.1 | Standard SIM |
| Lenovo | Lenovo YOGA Tablet 2-1050L | Android 4.4.2 | Micro SIM |
| Lenovo | Lenovo YOGA Tablet 2-1051L | Windows 8.1 with bing | Micro SIM |
| Lenovo | Lenovo Yoga Tab 3 10 (YT3-X50L) | Android 5.1.1 | Micro SIM |
| Lenovo | Lenovo YOGA Tablet 2-830L | Android 4.4.2 | Micro SIM |
| Lenovo | IdeaTab A2107A 3G | Android 4.0.3 | Standard SIM |
| Lenovo | Lenovo Yoga Tab 3 Pro 10 (YT3-X90F) | Android 5.1.1 | Micro SIM |
| Lenovo | ThinkPad Tablet 3G | Android 3.1 | Standard SIM |
| Motorola | Moto Z2 Play (XT1710-09) | Android 8.0.0 | Nano SIM |
| Motorola | RAZR (XT910) | | Micro SIM |
| Motorola | Moto X4 | Android 7.1.1 | Nano SIM |
| Motorola | FR68 | | Standard SIM |
| Motorola | ES400 | | Standard SIM |
| Motorola | MC75 | | Standard SIM |
| Motorola | Moto G (3rd generation) | Android 5.1.1 | Micro SIM |
| Motorola | Moto G4 Plus | Android 6.0.1 | Micro SIM |
| Motorola | moto X Play | Android 7.1.1 | Micro SIM |
| Motorola | Moto G5S | Android 7.1.1 | Nano SIM |
| Motorola | FR6000 | | Standard SIM |
| NEC | N2502 | | Standard SIM |
| NEC | Aterm (MR05LN) | | Nano SIM |
| NEC | Aterm (MR04LN) | | Micro SIM |
| NEC | Aterm (MR03LN) | | Micro SIM |
| NEC | LifeTouch NOTE FOMAR | | Standard SIM |
| NEC | Aterm (MR02LN) | | Micro SIM |
| NEC | N-02A | | Standard SIM |
| NEC | MEDIAS TAB UL (N-08D) | Android 4.0 | Micro SIM |
| NEC | LAVIE Hybrid ZERO | | Nano SIM |
| NEC CASIO | MEDIAS ES (N-05D) | Android 4.0 | Micro SIM |
| NEC CASIO | Disney Mobile on docomo (N-03E) | Android 4.0 | Micro SIM |
| NEC CASIO | MEDIAS U (N-02E) | Android 4.0 | Micro SIM |
| NEC CASIO | MEDIAS W (N-05E) | Android 4.1.2 | Micro SIM |
| NEC CASIO | MEDIAS X (N-04E) | Android 4.1.2 | Micro SIM |
| NEC CASIO | MEDIAS X (N-06E) | Android 4.2.2 | Micro SIM |
| NEC CASIO | MEDIAS X (N-07D) | Android 4.0.4 | Micro SIM |
| Nokia | E61 | | Standard SIM |
| Nokia | E60 | | Standard SIM |
| Novatel | MiFi 2372 | | Standard SIM |
| Novatel | MiFi 2352 | | Standard SIM |
| OPPO | R11s (CPH1719) | Android 7.1.1 | Nano SIM |
| P-UP | mode1 (MD-01P) | Android 5.1.1 | Micro SIM |
| POLAROID | LINEAGE (V10B) | Android 4.2.2 | Standard SIM |
| Panasonic | JT-H580VT | Android 3.2.1 | Micro SIM |
| Panasonic | ELUGA P (P-03E) | Android 4.2.2 | Micro SIM |
| Panasonic | ELUGA power (P-07D) | Android 4.0.4 | Micro SIM |
| Panasonic | ELUGA V (P-06D) | Android 4.0 | Micro SIM |
| Panasonic | ELUGA X (P-02E) | Android 4.1 | Micro SIM |
| Panasonic | LUMIX (DMC-CM1) | Android 4.4.4 | Micro SIM |
| Panasonic | DMC-CM10 | Android 5.0.2 | Standard SIM |
| Panasonic | ELUGA Live (P-08D) | Android 4.0 | Micro SIM |
| Panasonic | P905i | | Standard SIM |
| SAMSUNG | Galaxy S5 ACTIVE (SC-02G) | Android 4.4.4 | Micro SIM |
| SAMSUNG | Galaxy S6 edge (SC-04G) | Android 5.0 | Nano SIM |
| SAMSUNG | Galaxy S6 (SC-05G) | Android 5.0 | Nano SIM |
| SAMSUNG | Galaxy Tab 7.0 Plus (SC-02D) | Android 3.2 | Standard SIM |
| SAMSUNG | Galaxy Tab 7.7 Plus (SC-01E) | Android 4.1.1 | Micro SIM |
| SAMSUNG | Galaxy Tab S 8.4 (SC-03G) | Android 5.1.1 | Micro SIM |
| SAMSUNG | Galaxy Tab 10.1 LTE (SC-01D) | Android 3.2 | Standard SIM |
| SAMSUNG | Galaxy M23 5G | Android 12 | Nano SIM |
| SAMSUNG | Galaxy A51 5G SCG07 | Android 10 | Nano SIM |
| SAMSUNG | Galaxy Note20 Ultra 5G SCG06 | Android 11 | Nano SIM |
| SAMSUNG | Galaxy Z Flip 5G SCG04 | Android 11 | Nano SIM |
| SAMSUNG | Galaxy S20+ 5G SCG02 | Android 11 | Nano SIM |
| SAMSUNG | Galaxy S20 5G SCG01 | Android 11 | Nano SIM |
| SAMSUNG | Galaxy A51 5G SC-54A | Android 11 | Nano SIM |
| SAMSUNG | Galaxy Note20 Ultra 5G SC-53A | Android 11 | Nano SIM |
| SAMSUNG | Galaxy S20+ 5G SC-52A | Android 11 | Nano SIM |
| SAMSUNG | Galaxy S10 SC-03L | Android 11 | Nano SIM |
| SAMSUNG | Galaxy S10 SCV41 | Android 11 | Nano SIM |
| SAMSUNG | Galaxy S7 edge SC-02H | Android 11 | Nano SIM |
| SAMSUNG | Galaxy S6 SC-05G | Android 11 | Nano SIM |
| SAMSUNG | Galaxy S9+ (SC-03K) | Android 8.0.0 | Nano SIM |
| SAMSUNG | Galaxy S9 (SC-02K) | Android 8.0.0 | Nano SIM |
| SAMSUNG | Galaxy S6 edge SC-04G | Android 11 | Nano SIM |
| SAMSUNG | GALAXY S5 SC-04F | Android 11 | Nano SIM |
| SAMSUNG | GALAXY S4 SC-04E | Android 11 | Nano SIM |
| SAMSUNG | Galaxy Active neo (SC-01H) | Android 5.1.1 | Nano SIM |
| SAMSUNG | Galaxy Note (SC-05D) | Android 4.0 | Micro SIM |
| SAMSUNG | Galaxy Note 8 | Android 7.1.1 | Nano SIM |
| SAMSUNG | Galaxy Note II (SC-02E) | Android 4.0.4 | Micro SIM |
| SAMSUNG | Galaxy Note 3 (SC-01F) | Android 4.3 | Micro SIM |
| SAMSUNG | Galaxy Note Edge (SC-01G) | Android 4.4.4 | Micro SIM |
| SAMSUNG | Galaxy J (SC-02F) | Android 4.3 | Micro SIM |
| SAMSUNG | Galaxy S III (SC-06D) | Android 4.0.4 | Micro SIM |
| SAMSUNG | Galaxy S III (SC-06D) | Android 4.0.4 | Micro SIM |
| SAMSUNG | Galaxy S III ? (SC-03E) | Android 4.1 | Micro SIM |
| SAMSUNG | Galaxy S4 (SC-04E) | Android 4.2.2 | Micro SIM |
| SAMSUNG | Galaxy S5 (SC-04F) | Android 4.4.2 | Micro SIM |
| SHARP | Disney Mobile on docomo (SH-02G) | Android 4.4.4 | Nano SIM |
| SHARP | HYBRID W-ZERO3 (WS027SH) (Only data communications) | | Standard SIM |
| SHARP | DM-01H | Android 5.1 | Nano SIM |
| SHARP | SH905i | | Standard SIM |
| SHARP | SH-M02 | Android 5.0.2 | Nano SIM |
| SHARP | SH-M03 | Android 6.0 | Nano SIM |
| SHARP | SH-03F | Android 4.0.4 | Micro SIM |
| SHARP | SH-05E | Android 4.0 | Micro SIM |
| SHARP | SH-05F | Android 4.2.2 | Micro SIM |
| SHARP | AQUOS Compact (SH-02H) | Android 5.1.1 | Nano SIM |
| SHARP | AQUOS EVER (SH-04G) | Android 5.0.2 | Nano SIM |
| SHARP | AQUOS (SH-M01) | Android 4.4.2 | Micro SIM |
| SHARP | AQUOS PAD (SH-05G) | Android 5.0.2 | Nano SIM |
| SHARP | AQUOS PAD (SH-06F) | Android 4.4.2 | Micro SIM |
| SHARP | AQUOS PAD (SH-08E) | Android 4.2.2 | Micro SIM |
| SHARP | AQUOS PHONE (SH-06D) | Android 4.0 | Micro SIM |
| SHARP | AQUOS PHONE EX (SH-04E) | Android 4.1 | Micro SIM |
| SHARP | AQUOS PHONE EX (SH-02F) | Android 4.2.2 | Micro SIM |
| SHARP | AQUOS PHONE si (SH-01E) | Android 4.0.4 | Micro SIM |
| SHARP | AQUOS PHONE si (SH-07E) | Android 4.2.2 | Micro SIM |
| SHARP | AQUOS sense plus (SH-M07) | Android 8.0.0 | Nano SIM |
| SHARP | AQUOS PHONE st (SH-07D) | Android 4.0.4 | Micro SIM |
| SHARP | AQUOS PHONE sv (SH-10D) | Android 4.0 | Micro SIM |
| SHARP | AQUOS PHONE ZETA (SH-01F) | Android 4.2.2 | Micro SIM |
| SHARP | AQUOS PHONE ZETA (SH-02E) | Android 4.0.4 | Micro SIM |
| SHARP | AQUOS PHONE ZETA (SH-04F) | Android 4.4.2 | Micro SIM |
| SHARP | AQUOS PHONE ZETA (SH-06E) | Android 4.2.2 | Micro SIM |
| SHARP | AQUOS PHONE ZETA (SH-09D) | Android 4.0.4 | Micro SIM |
| SHARP | AQUOS (SH-M02-EVA20) | Android 5.0.2 | Nano SIM |
| SHARP | AQUOS ZETA (SH-01G) | Android 4.4.4 | Nano SIM |
| SHARP | AQUOS ZETA (SH-01H) | Android 5.1.1 | Nano SIM |
| SHARP | AQUOS ZETA (SH-03G) | Android 5.0.2 | Nano SIM |
| SHARP | AQUOS sense lite | Android 7.1.2 | Nano SIM |
| SHARP | RoBoHoN (SR-01M-W) | Android 5.0.2 | Nano SIM |
| SONY | Xperia Z4 (SO-03G) | Android 5.0.2 | Nano SIM |
| SONY | Xperia Z5 Premium (SO-03H) | Android 5.1.1 | Nano SIM |
| SONY | Xperia A2 (SO-04F) | Android 4.4.2 | Micro SIM |
| SONY | Xperia A4 (SO-04G) | Android 5.0.2 | Nano SIM |
| SONY | Xperia AX (SO-01E) | Android 4.0.4 | Micro SIM |
| SONY | Xperia acro HD (SO-03D) | Android 4.0 | Standard SIM |
| SONY | Xperia GX (SO-04D) | Android 4.0.4 | Micro SIM |
| SONY | Xperia NX (SO-02D) | Android 4.0 | Micro SIM |
| SONY | Xperia SX (SO-05D) | Android 4.0.4 | Micro SIM |
| SONY | Xperia Z (SO-02E) | Android 4.1 | Micro SIM |
| SONY | Xperia Z1 f (SO-01F) | Android 4.2.2 | Micro SIM |
| SONY | Xperia Z1 (SO-02F) | Android 4.2.2 | Micro SIM |
| SONY | Xperia Z2 (SO-03F) | Android 4.4.2 | Micro SIM |
| SONY | Xperia XZ1 Compact | Android 8.0.0 | Nano SIM |
| SONY | Xperia XZ1 | Android 8.0.0 | Nano SIM |
| SONY | Xperia Z2 Tablet (SO-05F) | Android 4.4.2 | Micro SIM |
| SONY | PlayStation Vita 3G/Wi-Fi model Firmware 1.66 | | Standard SIM |
| SONY | Xperia Z5 (SO-01H) | Android 5.1.1 | Nano SIM |
| SONY | Xperia Z4 Tablet (SO-05G) | Android 5.0.2 | Nano SIM |
| SONY | Xperia Z3 (SO-01G) | Android 4.4.4 | Nano SIM |
| SONY | Xperia Z3 Compact Tablet Z (SO-03E) | Android 4.1.2 | Micro SIM |
| SONY | Xperia Z3 Compact (SO-02G) | Android 4.4.4 | Nano SIM |
| SONY | Xperia A (SO-04E) | Android 4.1.2 | Micro SIM |
| Sony Ericsson | Xperia AX (SO-01E) | Android 4.0.4 | Micro SIM |
| Sony Ericsson | Xperia GX (SO-04D) | Android 4.0.4 | Micro SIM |
| Sony Ericsson | Xperia SX (SO-05D) | Android 4.0.4 | Micro SIM |
| Sony Mobile Communications | Xperia XZ2 (SO-03K) | Android 8.0.0 | Nano SIM |
| TCT Mobile Limited | ALCATEL ONETOUCH IDOL 3 (5.5) | Android 5.0.2 | Micro SIM |
| TCT Mobile Limited | ALCATEL ONETOUCH IDOL 2 S | Android 4.3 | Micro SIM |
| TEKWIND | CLIDE9 | Windows 8.1 | Standard SIM |
| TEKWIND | CLIDE10 | Android 4.4.4 | Standard SIM |
| TJC | StarQ (Q5001) | Android 4.2.2 | Standard SIM |
| TJC | StarQ (Q5002) | Android 4.4 | Standard SIM / Micro SIM |
| Toshiba | T-01A | | Standard SIM |
| Toshiba | T-01B | | Standard SIM |
| Unihertz | JELLY Pro (JELLY-Pro) | Android 7.0 | Nano SIM |
| Wiko | VIEW | Android 7.1.2 | Micro SIM |
| Wiko | g08 | Android 7.1.2 | Nano SIM |
| Wiko | g08 (View Prime) | Android 7.1.2 | micro |
| ZTE | Light Tab | | Standard SIM |
| ZTE | MF30 | | Standard SIM |
| ZTE | AXON Mini | | Nano SIM |
| ZTE | MF626 | | Standard SIM |
| ZTE | MF636 | | Standard SIM |
| ZTE | Blade S | Android 5.0.2 | Nano SIM |
| ZTE | Blade S Lite | Android 5.0.2 | Nano SIM |
| ZTE | Blade S7 | Android 5.1.1 | Micro SIM / Nano SIM |
| ZTE | M (Z-01K) | Android 7.1.2 | Nano SIM |
| ZTE | Blade V6 | | Micro SIM |
| ZTE | Blade L3 | Android 5.0 | Standard SIM |
| ZTE | Blade Vec 4G | Android 4.4.2 | Micro SIM |
| ZTE | MF98N | | Micro SIM |
| mouse computer | MADOSMA (Q501A) | Windows 10 Mobile | Micro SIM |