Top 5 Pocket WiFi Rental Companies in Japan Compared [Breakdown]
Traveling to Japan, staying connected during your trip is a top priority - and it's something you should plan ahead of departure.
Renting a Pocket WiFi is one of the most popular ways to stay connected for people traveling to Japan. Although public free WiFi is becoming more ubiquitous, quality free WiFi that's reliable, fast, and secure, is still extremely hard to find.
Navigating Japan's complex train system, looking up good eats on the go, knowing whether or not to bring an umbrella for your day out sightseeing - all this info is essential on the go. Without it, you may find yourself more stressed and less able to enjoy gorgeous Japan! A little investment in solid mobile internet for your stay can go a long way in helping keep stress to a minimum.
There are many Pocket WiFi rental providers on the internet as well as endless information about renting one, so you may feel overwhelmed trying to find a decent article covering everything simply and with the right level of detail.
Well, your search is over! Let's break down everything you need to know about Pocket WiFi rental in Japan.
Pocket WiFi in a nutshell
"Pocket WiFi" may be a confusing term for some (it sure was for me at first), but it's just shorthand in Japan for a mobile WiFi hotspot. For those who are still lost, a WiFi hotspot is a small device that allows you to connect to the internet in the same way you connect to your home WiFi network, except you can use it on the go.
Most of these devices operate the same way. You boot up, find the network username and password screen, then use the info to connect to the internet. Some of the later models, like the one pictured below, will have touch screens and other fancy bells and whistles.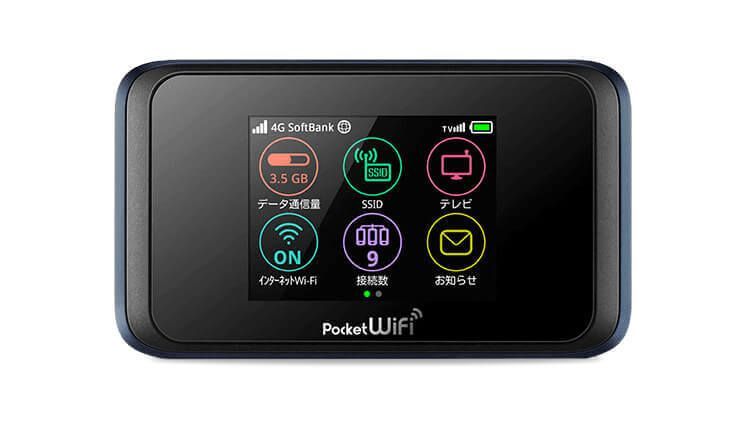 4 Reasons Why Pocket WiFi Rental Is Popular
‌‌1. High speed ⚡️
Having to rely on slow, laggy internet to get you through a trip in a foreign country is one of the many things that can make traveling hectic. Having access to lightning speed internet through Pocket WiFi will make your whole experience more enjoyable.
Most Pocket WiFi in Japan is connected to one of Japan's ultra high speed 4G networks meaning you'll have the  speed you need to use all the internet functions you're used to at work or home. Data intensive online work like file sharing, streaming Netflix or YouTube videos buffer-free, not a problem. Navigating with Google Maps while multitasking on other apps, easy peasy.
In some rural areas you might be switched onto LTE instead of 4G but it's still more than sufficient for normal internet use.
Pocket WiFi, in general, is much faster than prepaid SIM or roaming data plans thanks to the unique frequencies these devices use.
‌‌2. Large data packages 💯
Pocket WiFi typically come with large data capacities, making them great for ensuring you'll quality internet for the whole of your stay. Also, not having to constantly monitor your data use will remove yet another element of stress from your experience. Compared to low data volume Prepaid SIM cards, you get way more per GB bang for your buck with Pocket WiFi.
‌‌3. Shareable 👨‍👩‍👧‍👦
Traveling with a group or your family? Other forms of mobile internet (SIM card, data roaming, international data plans) don't make much sense when you have multiple users. Pocket WiFi devices allow for upwards of 10 devices to be connected simultaneously. For YouTubers, bloggers, or even just multi-device owning travelers (let's be honest that's most of us), having this multi-connectivity is essential! Being able to connect your computer, phone, tablet, etc., all to the same source is a huge perk of using Pocket WiFi.
‌‌4. Ease of use 🧡
With a lot of the free WiFi options asking for personal info and/or requiring elaborate login processes when all you're trying to do is connect to check your texts. You may ask yourself - is there a simpler way? The answer is yes, Pocket WiFi! Pocket WiFi requires no special set-up process and is also simpler than setting up your personal cell phone provider's plan to work abroad.  You simply log in and go!
How and where to rent a Pocket WiFi
Where to order one?
There are two ways to get your hands on a Pocket WiFi device for your trip to Japan, renting online beforehand, or after you arrive at the Airport in Japan.
There are a couple companies offering WiFi rental services at international airports throughout Japan, so it may seem like just waiting and renting one at the airport is your best bet. However, we strongly recommend that you order a portable WiFi device online prior to your arrival, and here's why.
International traveling is already stressful enough as it is. You get off the plane, collect your luggage, go through Customs, and navigate your way through and out of a foreign airport. Adding the extra step of choosing one of the many Pocket WiFi kiosks in the airport, comparing their pricing, and having to haggle with the person behind the counter who may not know perfect English, adds a whole other dimension of hassle to an already tiresome experience.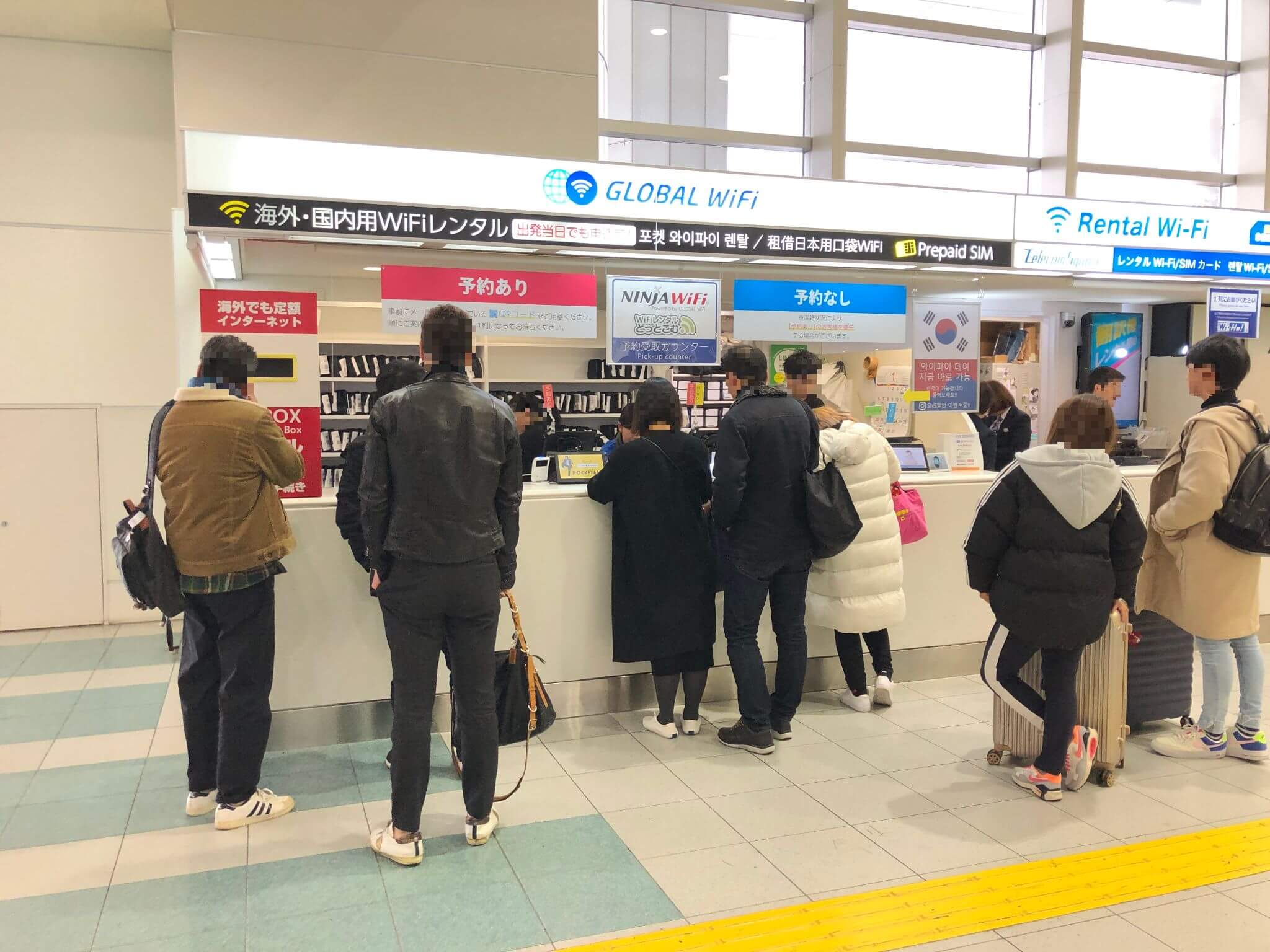 Purchasing ahead of time online allows you greater control over the dates you reserve for, where you have the device sent to/return from (ie. hotel, airport post office), and is cheaper because there's no Airport tax involved. So do yourself a favor and get the your mobile internet reservations out of the way before you get to Japan. You'll thank your future self!
What are the steps for online ordering?
The rental process is fairly straightforward. You first order one online. Then fly to Japan and collect your Pocket WiFi using one of the available pick options (the most popular options are airports, hotels, and residences). Note that international shipping is not available due a number of factors, high cost, long ship times, and Customs' restrictions on batteries.
When you finish your rental, you simply slip it in a post box with the prepaid envelope provided. (Some companies have a counter at airports where you can return your rental items.)
Now let's take a look at the top 5 contenders in Japan's pocket wifi rental game.
Top 5 WiFi rental providers in Japan
You can find the following top 5 companies by doing a quick google search for "pocket wifi rental japan". All these companies have been in the portable WiFi rental business for more than 5 years and have established a good reputation among their customers.
We picked the 5 factors below to compare each company's service from various aspects.
1. Website User Interface 🖥‌‌
Ease-of-use/smoothness of interface. No body wants to use clumsy website and waste hours trying to place an order.
2. Pick Up Options 🤲
What types of pick up options are being offered by the providers? How many do they have, how convenient are they?
3. Device Specs 🔋‌‌
This may surprise you, but the actual spec differences of the below providers are trivial because they mostly use Pocket WiFi 501HW (Pocket WiFi image shown above). This is the most popular and widely used model among rental providers in Japan.
There are a couple of other devices being used as well but they're all on SoftBank's 4G/LTE network so the speed and coverage (more than 99% of the population) are more or less the same. We just look into see if there is anything worth mentioning.
4. Price 💵‌‌
Price comparison for 7 days (a week trip), 14 days (2-week trip) and 1 month. We take sales tax (10%) into account and also add the fee for a portable battery (because you will need it!) into the cost comparison. We are not adding any insurance costs or additional options in our comparison.
*US$ 1 = 110 JPY
5. Reviews 📝
‌‌We do an in depth look into each providers review sections/separate sites for credibility.
---
This is one of the oldest companies providing mobile internet products in Japan.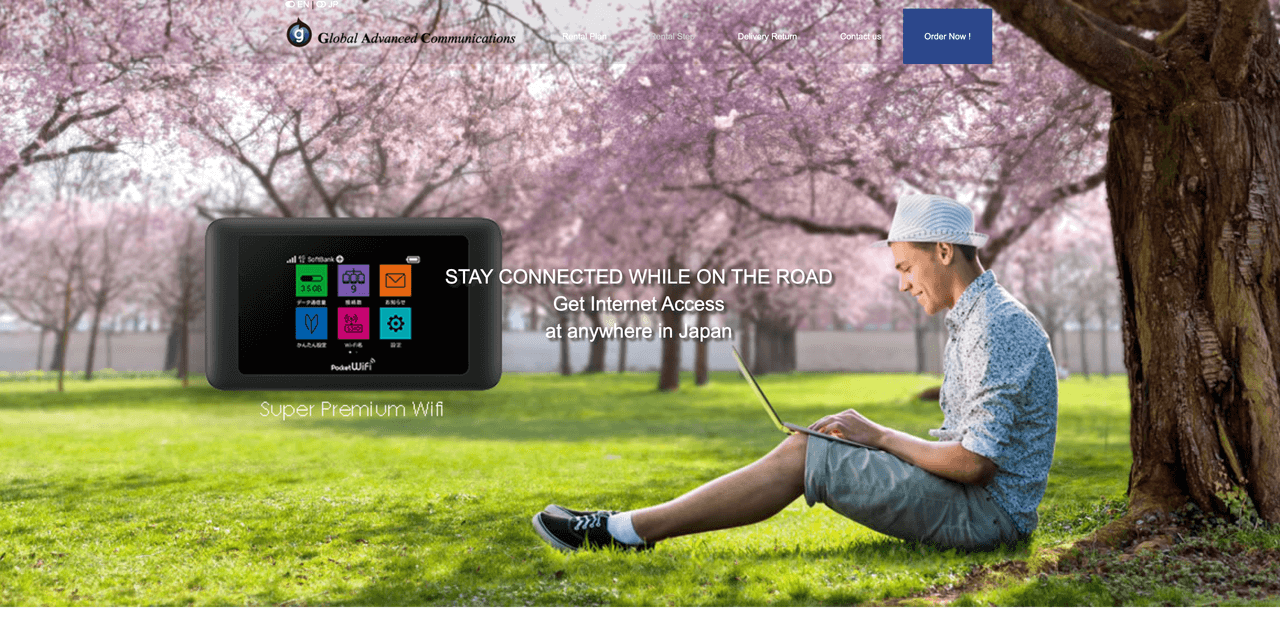 Website User Interface: ★★★☆☆
The homepage of the website contains all the relevant information about Pocket WiFi rental; pick up options, plan selections, etc. but it's written in small plain text and formatted in a way that is difficult to read.
The issue only gets worse when you move off the homepage to the ordering form (screenshot below). All the necessary spaces to rent your device are on the page. But the specifics of each plan are hard to find. Basic fonts and no real aesthetic also detract from the user experience.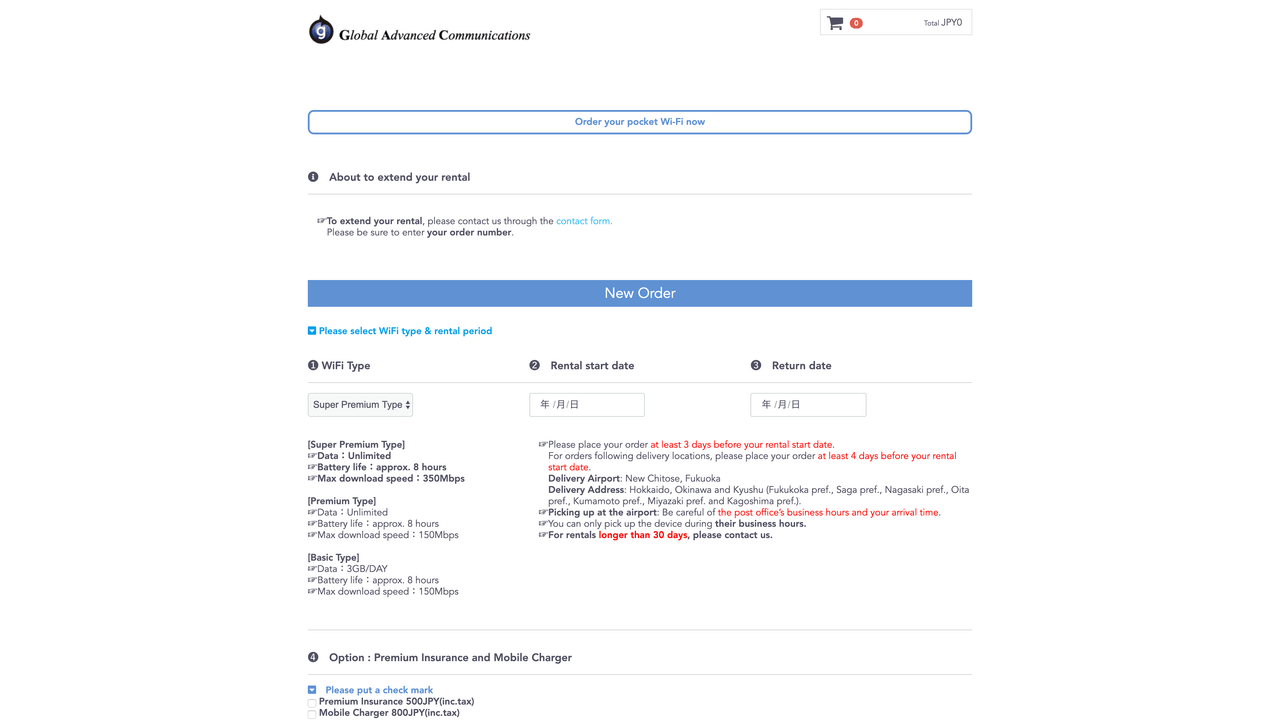 Also, the insurance options and are hiding at the bottom of the page (these options should be treated with more importance).
Pick Up Options: ★★★★☆
| Location | Availability |
| --- | --- |
| Airports | NRT, HND, KIX, NGO, CTS, FUK |
| Hotels | Yes |
| Residences & Offices | Yes |
Global Advanced Communications offers a good set of pick up options that would suit any travel itinerary. They even offer what they call premium delivery for airport pickup for people arriving early in the morning or late at night. It costs extra but would surely come in handy for those folks out there who want to ensure they can receive their device immediately post landing.
Device Specs: ★★★★☆
Global Advanced Communications offer 3 Pocket WiFi models: Super Premium Wifi, Premium Wifi, and Standard Wifi. They all use Japan's SoftBank network.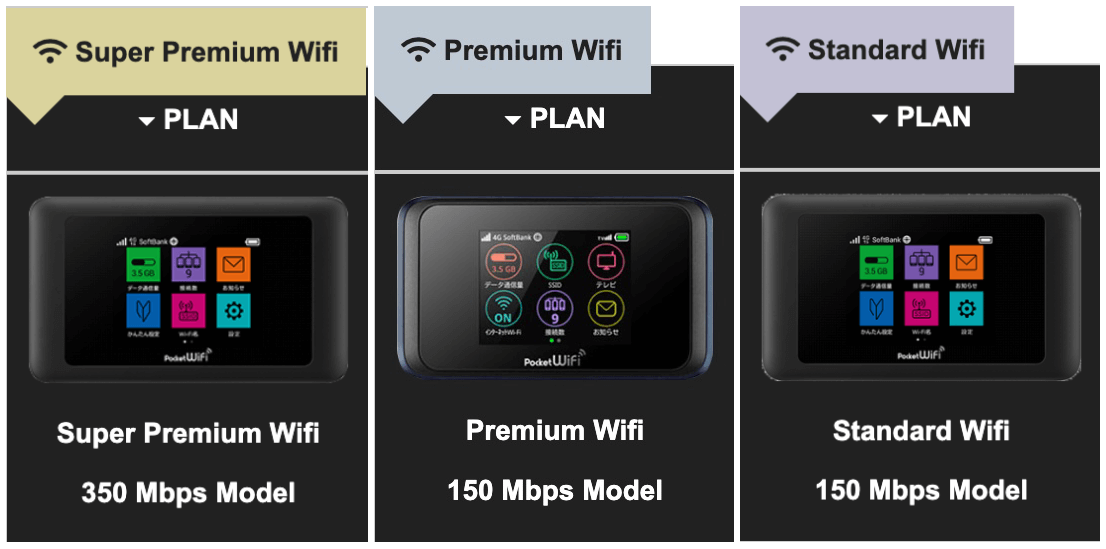 According to their specs, all 3 plan provide Japanese standard 4G speed, assuring you comfortable internet browsing.
The data allowance varies from plan to plan but it's around 3GB - 5GB per Day (4G speed) and past the allotted amount, subject to data throttling. That being said, these data capacities should be more then enough for most travelers.
Price: ★★★☆☆
Of the 3 different Pocket WiFi models, we took the middle one (Premium Wifi) for the price check.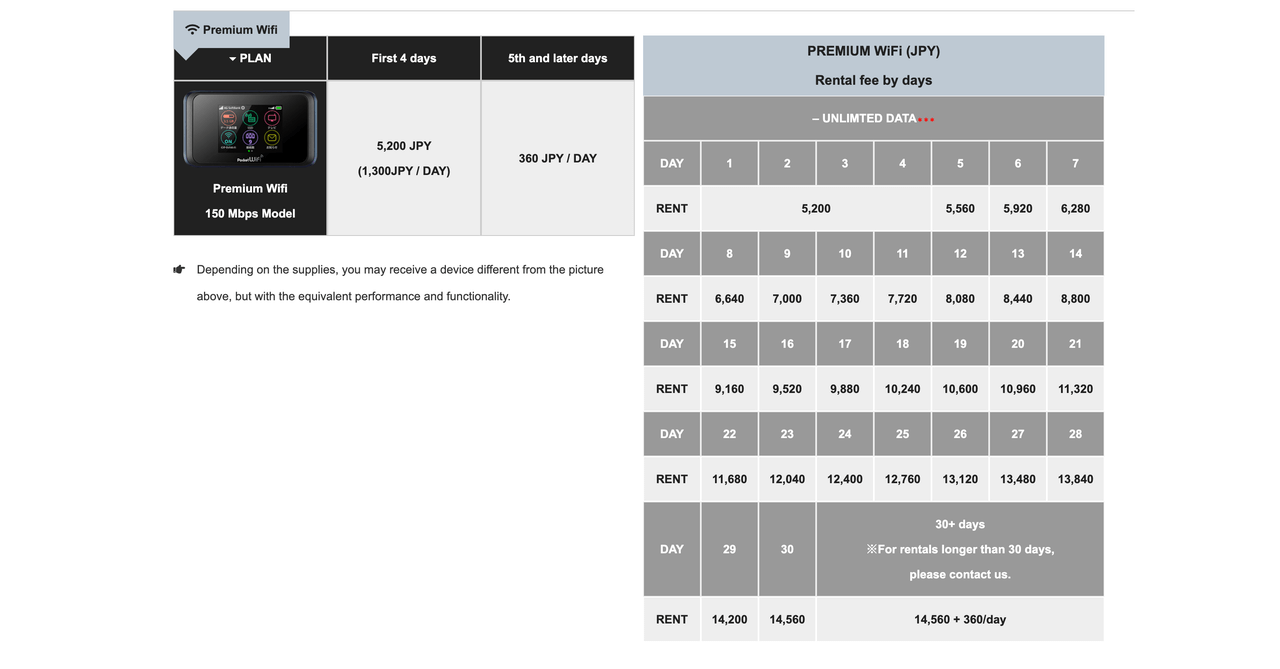 As you can see in the table above, prices start from 5,200 JPY and increases by 360 JPY per day from day 5.
Below are the approximate prices (after tax) in USD for different rental lengths, including the portable battery fee (800 JPY).‌
Reviews:
No customer reviews can be found on their website.
---
Next up is eConnect Japan., providing mobile internet solution for travelers since 2011.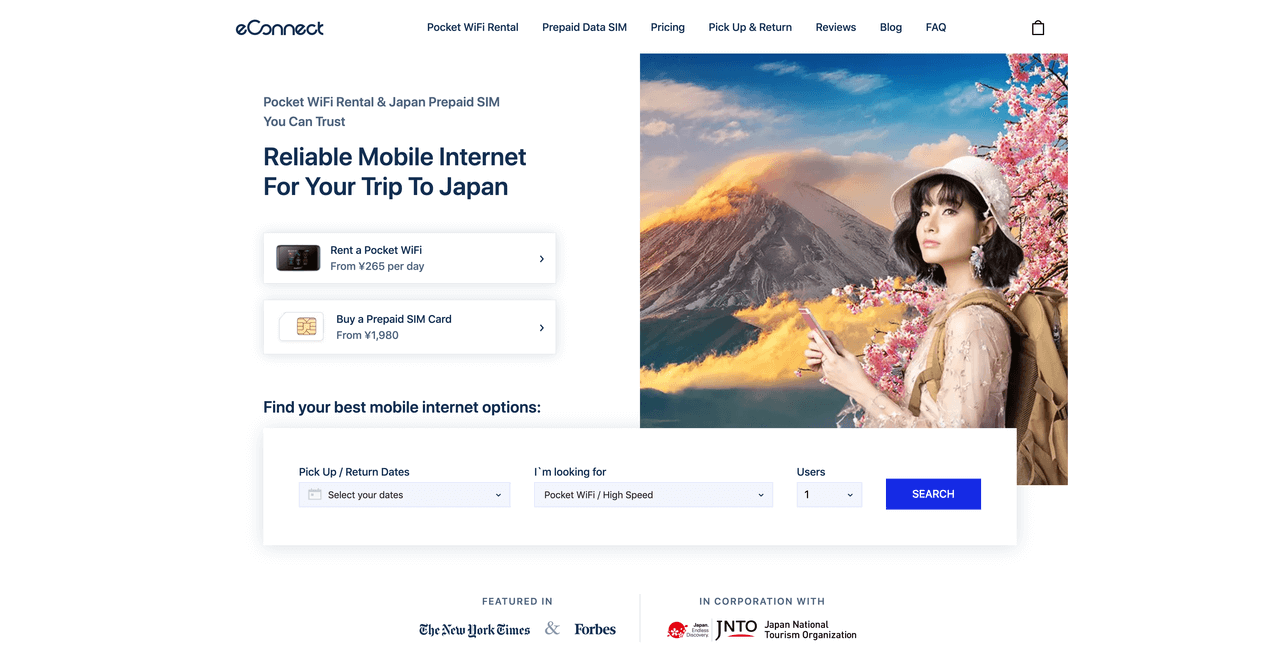 Website User Interface: ★★★★★
eConnect Japan's interface is very smooth. Right from the start your options are clearly labelled. All the pertinent information about the rental process (pick up options, plan types, reviews, etc.) is neatly displayed. The ordering form is also very intuitive and allows for quick, seamless, rentals. The mobile site is also easy to use with a great aesthetic.
Pick Up Options: ★★★★☆
Pick up options include airports, hotels and hostels, post offices, and even residences including Airbnbs.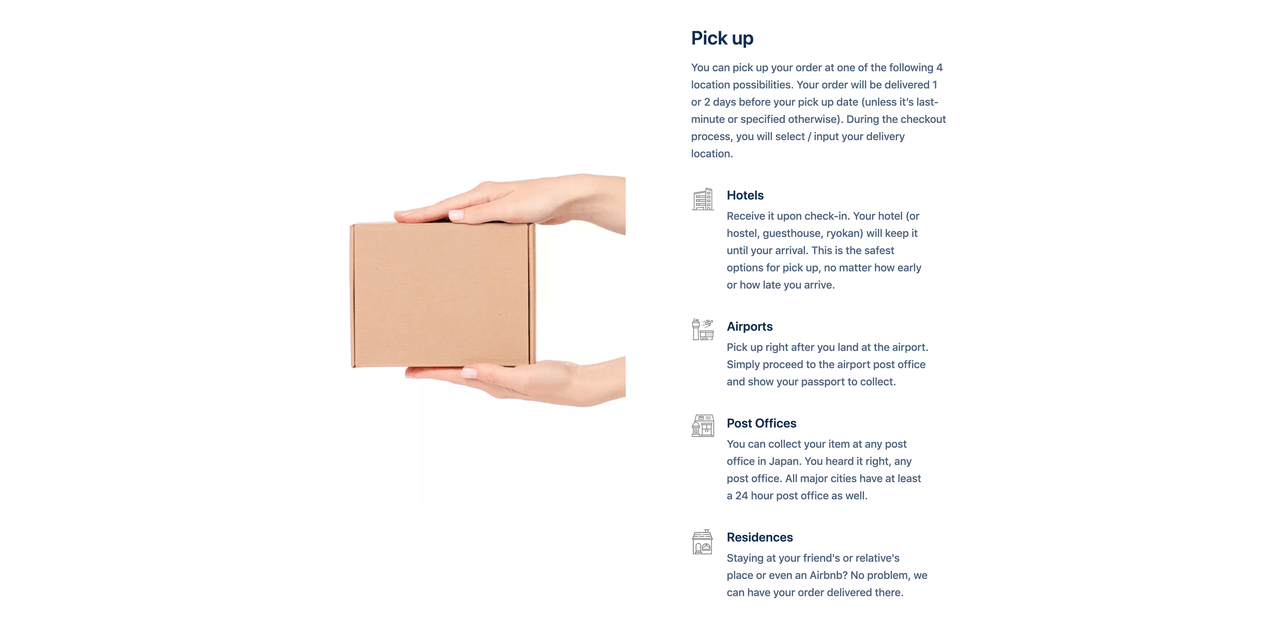 eConnect Japan provides a wide array of pick up options. However, airport pick up times don't include very early or very late flights. For those people, hotels or 24hr post offices are solid alternatives.
| Location | Availability |
| --- | --- |
| Airports | NRT, HND, KIX, NGO, CTS |
| Hotels | Yes |
| Residences & Offices | Yes |
| Other | Post Offices, Schools |
Device Specs: ★★★★☆
eConnect Japan offers 4 Pocket WiFi plans. All use SoftBank's network. The difference between them is the total data amounts for each plan.
Economy Plan: 10GB Data, SoftBank 4G/LTE
Premium Plan: 50GB Data, SoftBank 4G/LTE
Monster Plan: 100GB Data, SoftBank 4G/LTE
Monthly Plan: 50GB/month, SoftBank 4G/LTE
Instead of advertising plans as Unlimited Data, eConnect Japan guarantees data amounts for high-speed internet. This way, users do not have to worry about the ambiguous "Unlimited data" concept and the possible speed throttling under Fair Usage Policy by the carrier.
eConnect Japan's Pocket WiFi devices, like all the other companies on this list for that matter, if you exceed the supposed data allowance, you are still able to use internet at a slower speed indefinitely.
Price: ★★★★★
Using the convenient pricing page, you can easily gauge pricing for anytime period. Also, the longer you rent, the cheaper the daily fee.
For this comparison, let's take the most popular Premium plan. Below is the rental price after tax for each rental period. Note that eConnect Japan provides free portable battery.‌
If you order 3 weeks in advance or earlier, you can get an early bird discount of 15% OFF. So the price will be cheaper than the above.
Shipping fee is 790 yen for all pick up locations.
Reviews:
You can find over 3,000 customer reviews on the official website.
---
Japan Wireless' parent company is called Inbound Platform Corp. headquartered in Tokyo. They started doing WiFi rental services back in 2o13.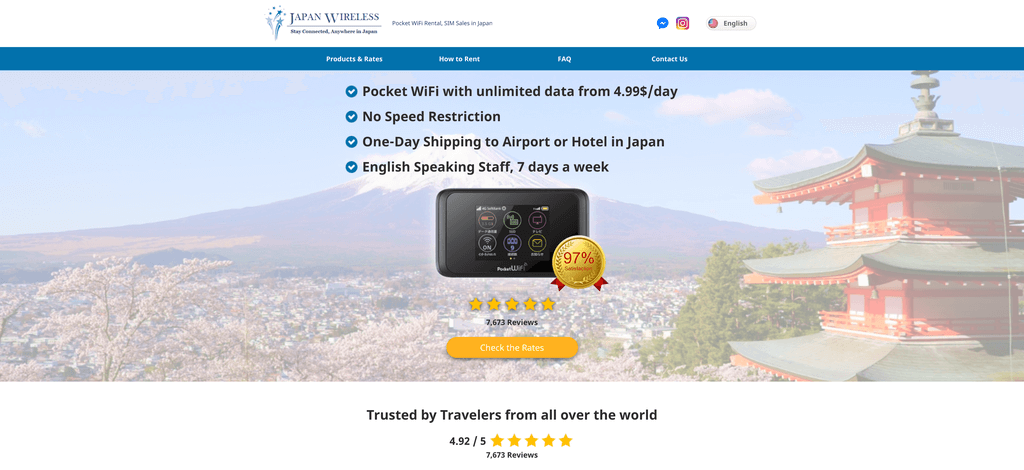 Website User Interface: ★★★★☆
Has a good looking interface, easy to use, all the information is on the site. The text on the site, however, is very small making it hard to read. The whole site is lacking a good flow or structure as well.
Pick Up Options: ★★★★★
According to their webpage for delivery options, pick up is available at the airport kiosk, post offices, hotels, residences, and at Japan Wireless' two offices in the Tokyo area. This is a lot of great options for pick ups and allows for a lot of flexibility.
| Location | Availability |
| --- | --- |
| Airports | NRT, HND, KIX, NGO, CTS, FUK |
| Hotels | Yes |
| Residences & Offices | Yes |
| Other | Store pick-up in Tokyo |
Device Specs: ★★★★★
They have 2 Pocket WiFi plans: Premium Wi-Fi and Business Wi-Fi.
Only having two options makes it very simple to be able to select a plan, making this a plus for the website in general. Sometimes simplicity is best.
Like we said earlier, they are also using the same SoftBank mobile router that everyone else is.
Price: ★★★☆☆
We used the premium plan for the price comparison because based on the picture displayed above the plan it is using the same router type that we are comparing to the other companies in this list.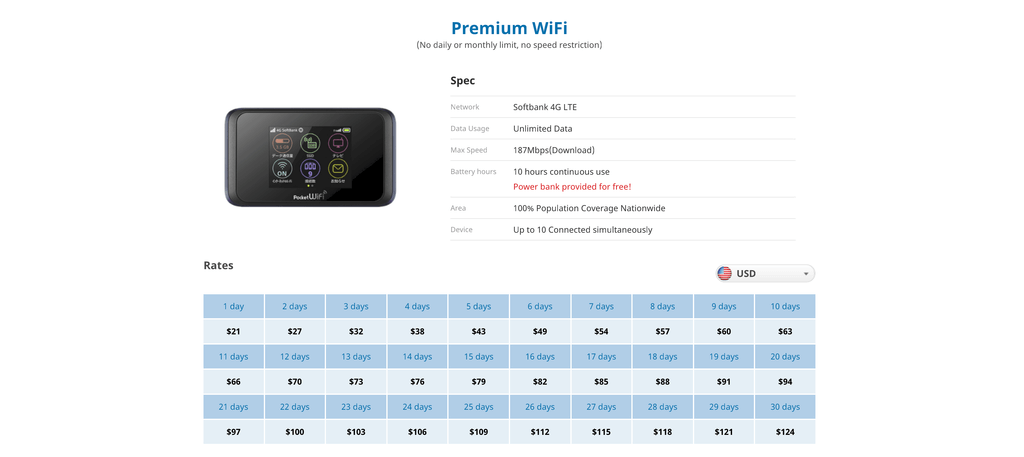 This is the price table in USD on their official website. Note that amounts in the table above are before tax prices so we added 10% sales tax to the prices below.
The shipping fee for the service is 500 JPY. Power bank is provided for free.
Reviews:
There are over 5,000 reviews on Japan Wireless' official website. Having access to reviews like this are a great took for gauging satisfaction in a service so we count having access on the home page as a plus.
---
Ninja WiFi is a service brand by Vision Inc. started in 2015.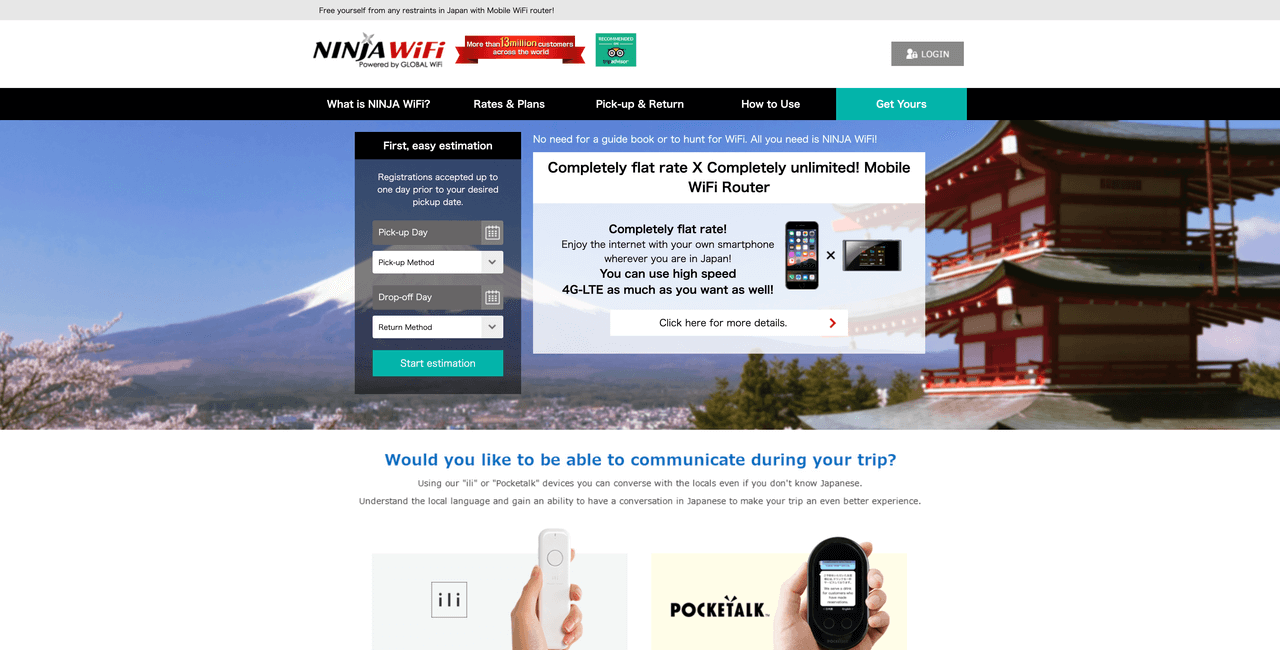 Website User Interface: ★★★★☆
The site is very straightforward to use allowing ease of transition between pages and functions. Its demerits lie in the clunkiness of its functions. For example little black pop up boxes follow you around on the ordering page informing you that you have already entered information which some may find takes away from the user experience.
Pick Up Options: ★★★★★
Great selection of airport supported, even local small airports as well as Naha in Okinawa. Pick up at Shinjuku center is also available.
| Location | Availability |
| --- | --- |
| Airports | NRT, HND, KIX, NGO, CTS, FUK, OKA, AKJ, KMQ, FSZ, SDJ |
| Hotels | Yes |
| Residences & Offices | Yes |
| Other | Shinjuku Center |
Device Specs: ★★★★☆
Ninja is using one of the more recent models of Pocket WiFi by SoftBank. The actual speed is slightly faster than normal 501HW. On the other hand, this device is well known for having poor battery life because of its higher electricity consumption. This speed also eats into your total data amount by doing things like auto adjusting to higher image quality, consuming unnecessary amounts of data.
Price: ★★☆☆☆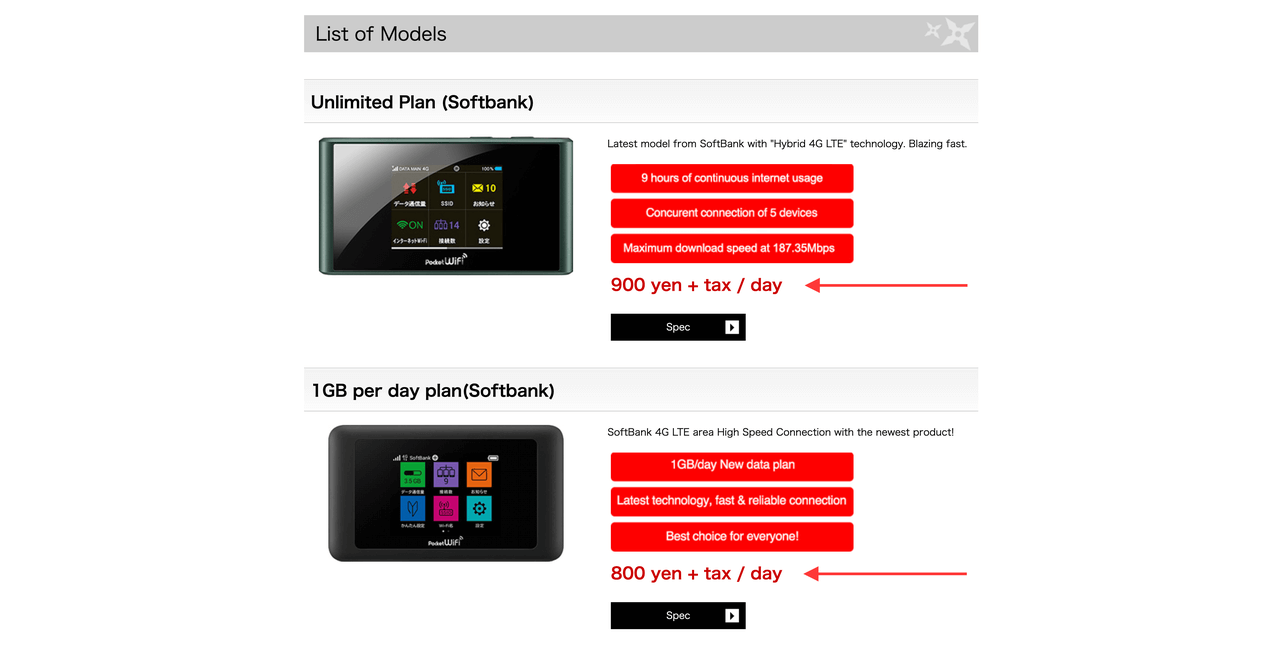 Ninja WiFi is by far the most expensive of the 5 companies compared in this article.
For Ninja WiFi, we will take their 1GB per day plan for the price comparison because its closer to the other types of plans we compared across the other company. We added 10% tax and 100 yen per day for a portable battery.‌
On top of the rental fee, if you need a portable battery or insurance, there will be extra fees for both of those services (most other companies provide the portable battery free of charge).
Reviews:
After going through the entire website, we were unable to locate any reviews.
---
Pupuru is another company that offers Pocket WiFi rental online. They also have counters at the Airports.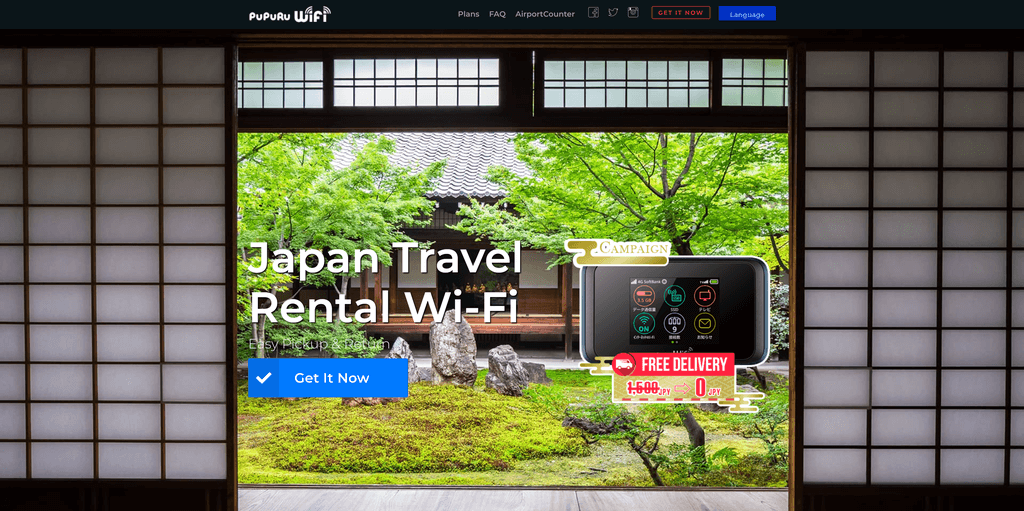 Website User Interface: ★★★☆☆
The website interface of a computer browser is good. It's easy to read, contains all the necessary info about renting process, and allows for multiple languages (English, Chinese, Korean, and Indonesian). However, the ordering form, compared to the flashy and streamlined home page, is extremely bare and stripped-down.
Using the website on your smartphone on the other hand, is a completely different story. Half of the webpage is cut off on a mobile browser as well as having no functionality if your phone is turned into the easier to read side position. The site is almost unusable on your mobile phone. If you use Pupuru WiFi, stick to your computer.
Pick Up Options: ★★★★☆
Pick up options are available at 4 international airports (Narita, Haneda, Chubu, and Kansai), hotels, and residences. Seems post offices within the Japan are not an option.
For airport pick up, their counter is open from 6:30AM until the last flight which works great for people arriving early or late at the airport.
| Location | Availability |
| --- | --- |
| Airports | NRT, HND, KIX, NGO |
| Hotels | Yes |
| Residences & Offices | Yes |
Device Specs: ★★★★☆
2 plans available:
High-Speed: SoftBank 4G/LTE network, Unlimited data*
Broad-Coverage: KDDI au 4G/LTE network, Unlimited data*
Although they advertise their portable WiFi as Unlimited data, the following statement can be found on their site.

Within the fine print, particularly note the use of the following wording;
data speed of the device will be limited in the case of large-capacity communication that occupies an extremely severe network.
What they are saying here is that your speed will be cut if you use too much. Just to reiterate what was said earlier, beware of words like "Unimited". There is an actual cap on the amount of high speed data you can use in a given time frame.
Price: ★★★★☆
The High-Speed model is the SoftBank device that matches the closest with other companies compared in our list.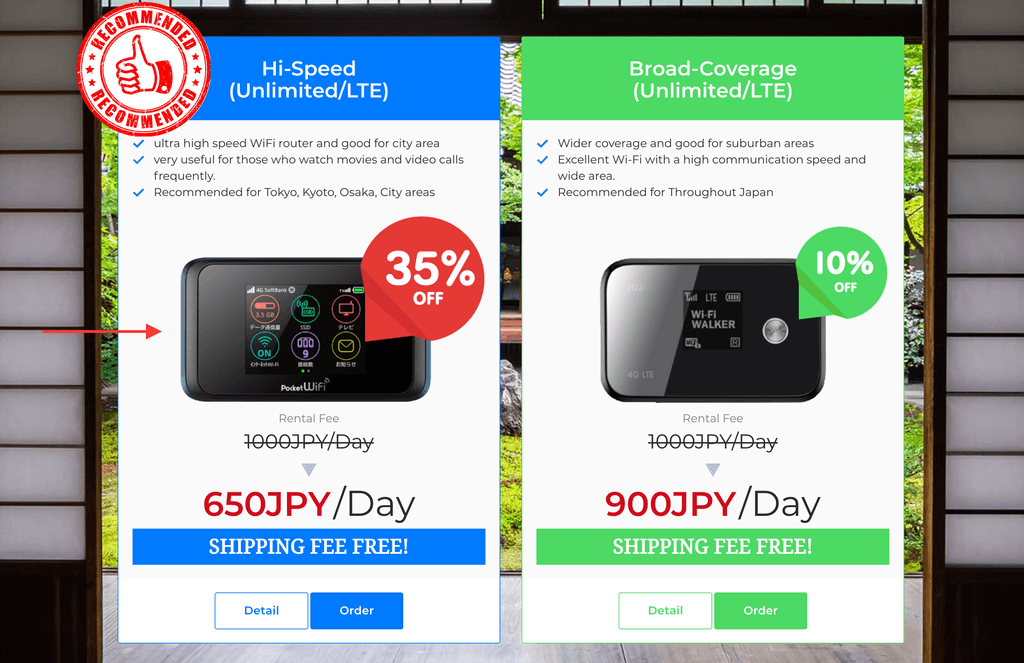 The normal offering price is 1,000 JPY/day but they are offering 35% discount. Just as a point of interest, this company is always offering some sort of discount on their two plans (X% off), labeling them campaigns. This seems to be one of their marketing schemes so we simply suggest you keep that in mind and not be misled into believing you're getting that big of a deal.
Note that their daily rate shown above is before tax so we added 10% sales tax as well as the portable battery rental fee of 100 JPY / day for this comparison.
One plus here for Pupuru is that they offer free shipping with their promotion.
Reviews:
Their reviews can be found on Trustpilot (and also on their website). However, it contains less than 200 reviews, much less than eConnect Japan or Japan Wireless.‌
---
Pocket WiFi Rental Basic Info Roundup
The following points are basic yet useful information you should definitely know about Pocket WiFi rental in Japan.
Pocket WiFi is a portable WiFi router you can carry around and access Internet anywhere, anytime
Pocket WiFi is fast, large data package, and can connect multiple devices
It's better / cheaper to book online before coming to Japan
You can pick up at airport, hotel, residence or office in Japan
Post it back with a prepaid envelope or hand it to a counter when return
Ranking And Conclusion
Before we get into the ranking/conclusion, here are the links to each of the above provider's websites for easy access.
1. Website User Interface 🖥
Note: the following rankings are subjective and may differ from person to person.
eConnect Japan
Japan Wireless
Pupuru WiFi
Of the above companies eConnect Japan is the clear winner for ease of ordering. The site is simple and intuitive with a pleasant aesthetic. Japan Wireless and Pupuru WiFicome in close second here, however, Pupuru WiFi gets a demerit for having a bad mobile website.
At the end of the day, a poor user interface isn't going to prevent you from making your rental, but it will surely cause a headache in the process. What's more, lack of a quality website demonstrates poor competence and untrustworthiness in a business.
2. Pick up options 🤲
Across providers, there is no big difference among their available pick up options. Pick up at Airports, hotels, Ryokan (Japanese style inns), capsule hotels, and residences, are all supported by the above providers. Meaning when it comes to choosing a provider based on pick up options, this shouldn't be your biggest influencer. However, because this is a comparison here are the rankings.
Ninja WiFi
Japan Wireless
eConnect Japan
Some of them offer early or late pick up at the airport/and or allow for pick ups at some of Japan's smaller airports which is what is bumping some of the providers to the top of the list.
In general, hotel pick up is the safest option given possible flight delay or some other unforeseen trouble. You just need to prepare the way to get to your hotel beforehand.
3. Device Specs 🔋
In terms of the device specs, more or less the same since they all use SoftBank Pocket WiFi devices. Coverage is more than 99% of the population for all.
The actual speed may defer a bit but not so much. Note that the speed spec like 187.5Mbps or 150Mbps are all theoretical figures and not the actual speed you can expect.
4. Price 💵
(The cheapest ones are shown below in blue.)
| Company | 7 days | 14 days | One month |
| --- | --- | --- | --- |
| Global Advanced | $64 | $87 | $140 |
| eConnect Japan | $59 | $70 | $110 |
| Japan Wireless | $60 | $83 | $136 |
| Ninja WiFi | $63 | $126 | $270 |
| Pupuru WiFi | $53 | $105 | $225 |
As you can see from the above table, for a trip that is 7 days or less, Pupuru is your best bet (price wise). However, for anything longer than that, eConnect Japan is by far the cheapest of all the above providers.
5. Reviews 📝
These days having solid reviews from users who have actually used a product is essential in determining credibility. Of the companies profiled above only Japan wireless and eConnect Japan have reviews in the thousands. We are basing our ranking off simply which site had the most number of reviews.
Japan Wireless (5000+)
eConnect Japan (3000+)
Purupuru WiFi (200+)
---
Wrap-up
So there you have it - a comparison of the top 5 Pocket WiFi companies in Japan! We have looked through each provider's websites and compiled all the necessary information for you to make an informed decision when choosing where to rent your Pocket WiFi device. At the end of the day no matter where you rent your device from, ensuring you have safe, fast, and reliable connectivity during your trip to Japan will surely enhance your travel experience.
Safe Travels!