[2020] How Much Does It Cost To Rent Pocket WiFi in Japan?
So you are heading to Japan on vacation and have your mind set on renting a Pocket WiFi unit. Well what is the cost? You want to make sure you get quality service for what you are paying for, but you also want to be sure that your internet will be fast enough and have good coverage. Because there are so many companies out there offering Pocket WiFi rentals, we thought it would be helpful to compare the price ranges of the top 5 providers of Pocket WiFi rentals in Japan so you can get a general idea of what the cost will be.
The Contenders
To make this more helpful, we have broken this comparison down into three different rental periods and will go through the price range for each company. The three periods are what you might typically see for vacation lengths;
7 days: A typical one week trip
14 days: Up to two week vacation
21 days: For longer periods of stay
The reason behind choosing the following companies is simple. A google search of Pocket WiFi Japan will bring up a result page with these five companies websites in the top five positions including us eConnect Japan.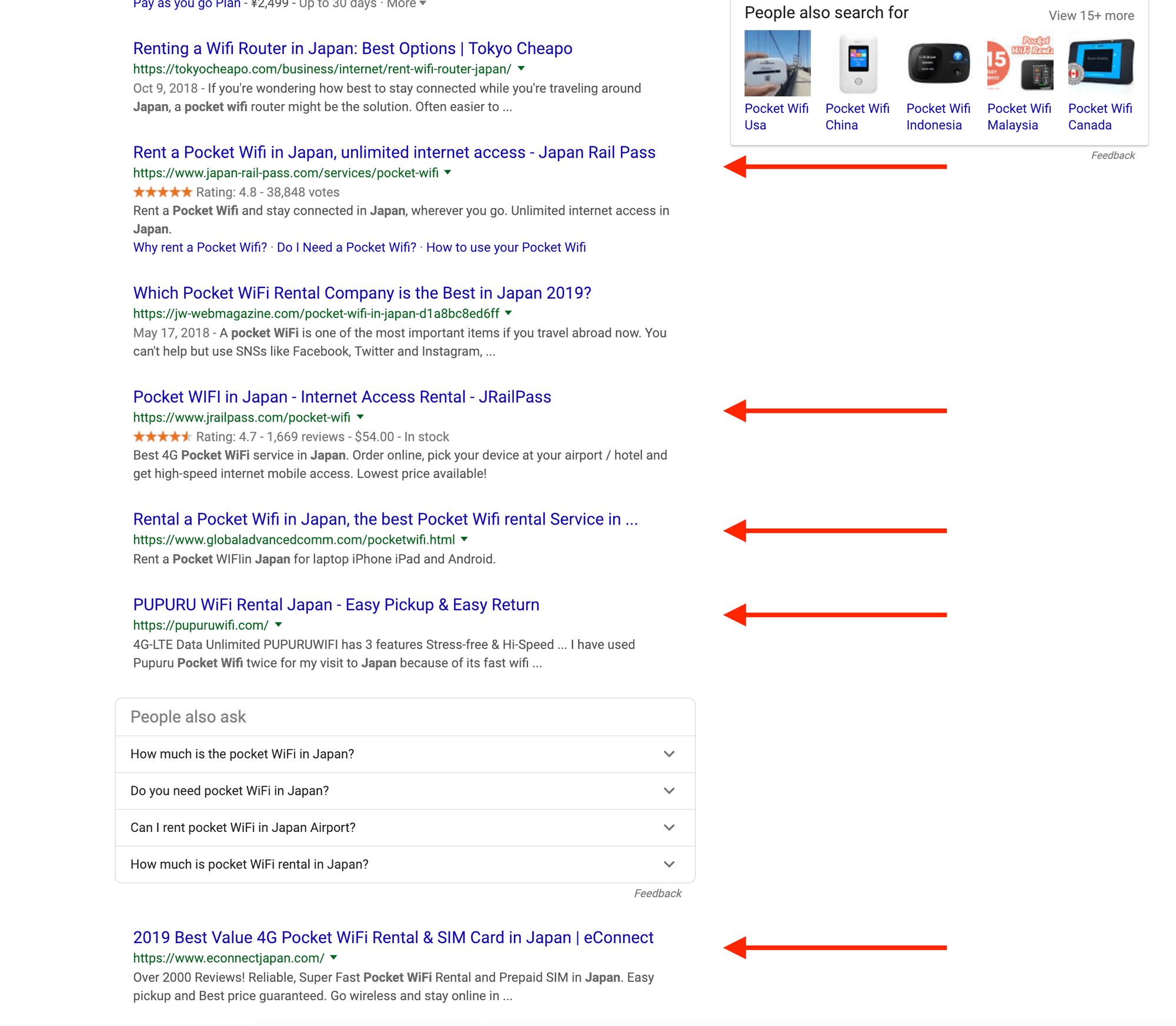 I'm not going to be including any insurance or additional costs (like shipping) in these price comparisons. Just the bare-bones price for each rental unit. Also, I will not be including any special promotions offered by each company. If discounts are already included in the price, I will include said discounts.
Okay with this in mind let's take a look at the following providers and their rates!
Note: 1 USD = 110 JPY

---
Global Advanced Communications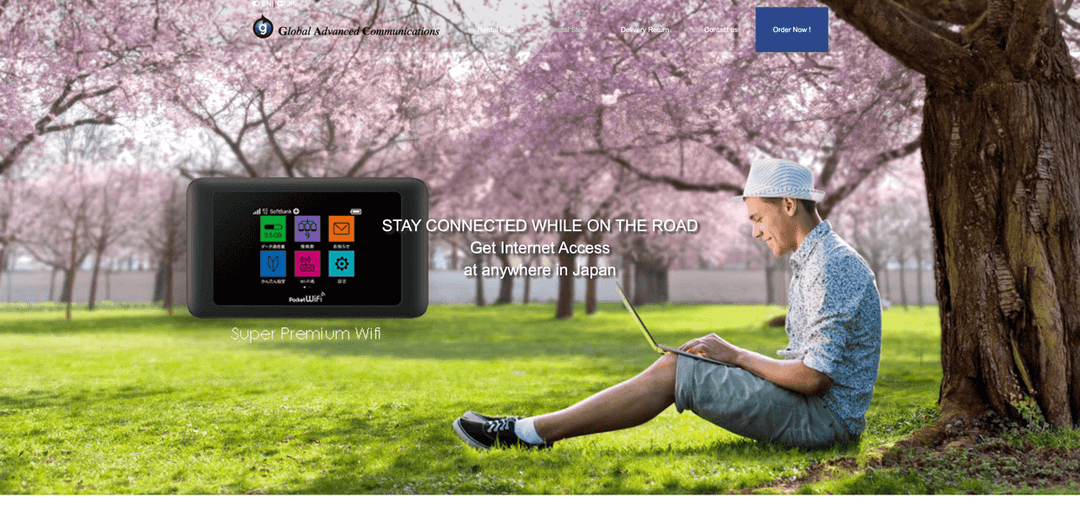 First up on our result list is the company Global Advanced Communications. They have a couple of router models available for rental, but for the sake of price comparison between companies, we will just be going over the model that is believed to be the most popular. In this case the Premium WiFi model.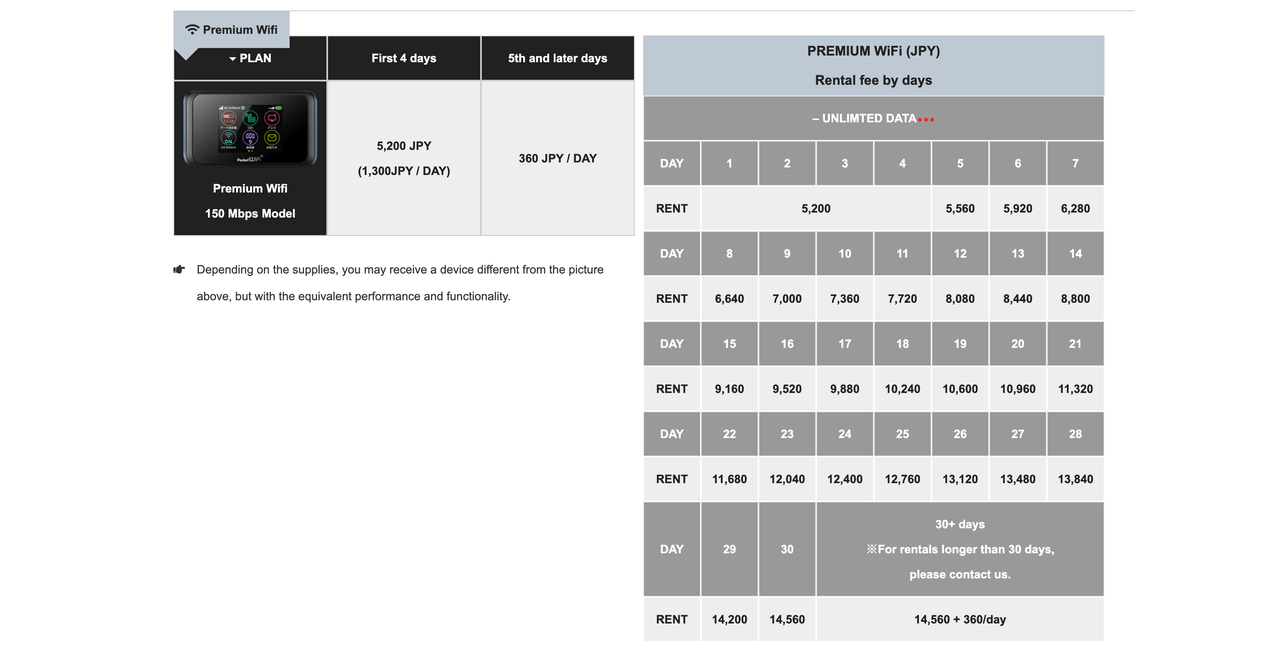 The price starts from 5,200 JPY or 1,300 JPY / day. Broken down into our three lengths, this is how Global Advanced Communications stacks up.
7 days: $57
14 days: $80
21 days: $103
Note that those prices are after 10% sales tax. If you want to get a portable spare battery, it costs 800 JPY each.
Let's move on to our next company,
Japan Rail Pass (By Japan Experience)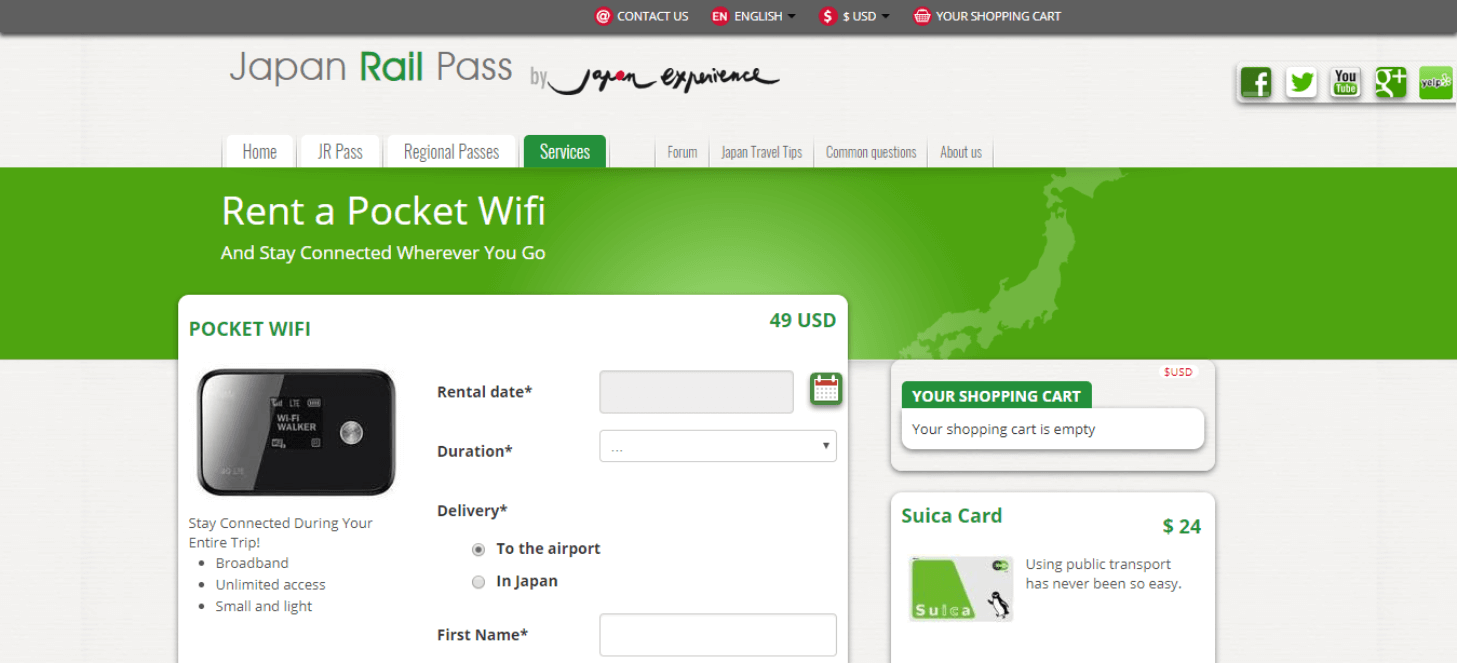 This next site is Japan Rail Pass (by Japan Experience), their WiFi rental page is also slightly difficult to navigate format-wise. One of the benefits if you are from America or any place that uses American currency is that the website offers their pricing in dollars.
7 days: $57
14 days: $79
21 days: $102
Japan Wireless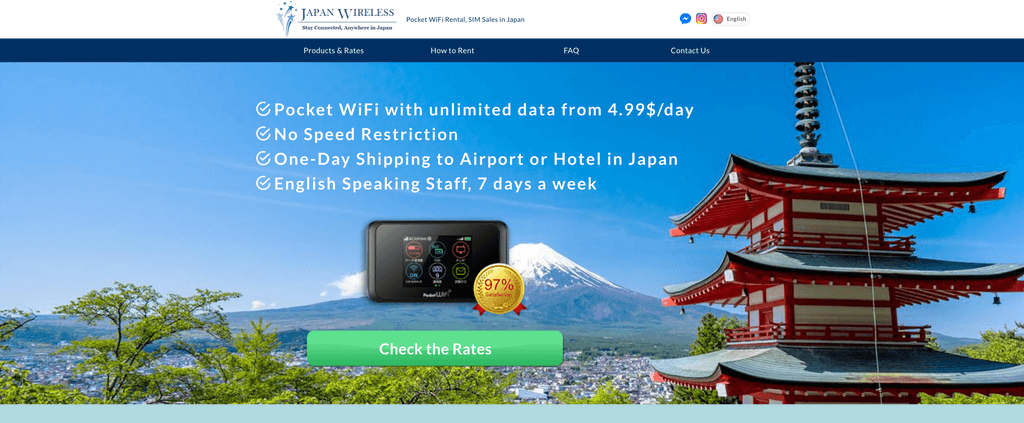 Japan Wireless has a clean price table for each of their product so you can easily check prices on their site. For this comparison, we will take their Premium Wi-Fi model which seems to be the popular SoftBank 501HW model.
7 days: $59
14 days: $84
21 days: $107
Note that we've added 10% sale tax for the prices above.
PUPURU WiFi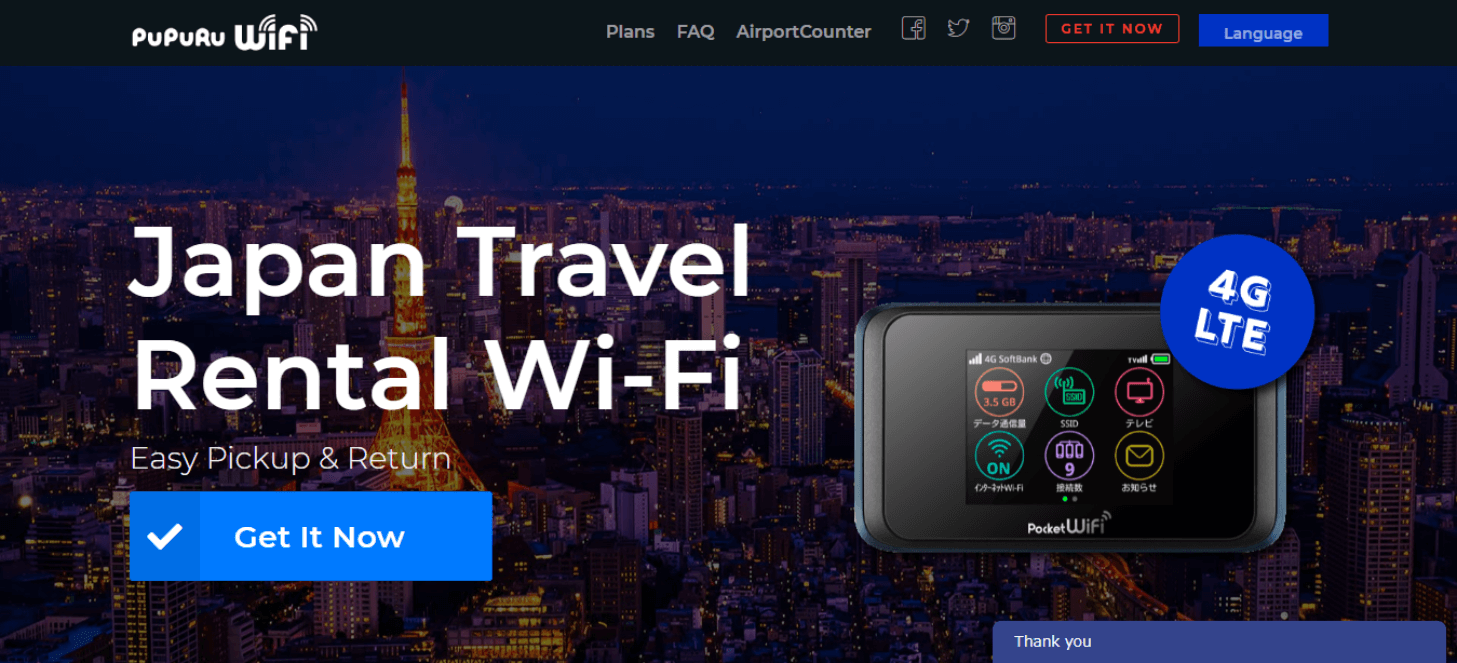 This website was much better than any of the other three prior websites in terms of ease-of-use. The prices here reflect the base price of their most popular unit, the Hi-speed model. The base price is 1,000 JPY / day but it's now down to 650 JPY / day with a discount. We've added 10% sales tax for the prices listed below.
7 days: $46
14 days: $91
21 days: $137
A major point to be mentioned here is that these are the prices without any insurance or extra options added. If you opt for daily insurance, the price will increase. The portable battery rental costs an extra 100 JPY / day as well.
eConnect Japan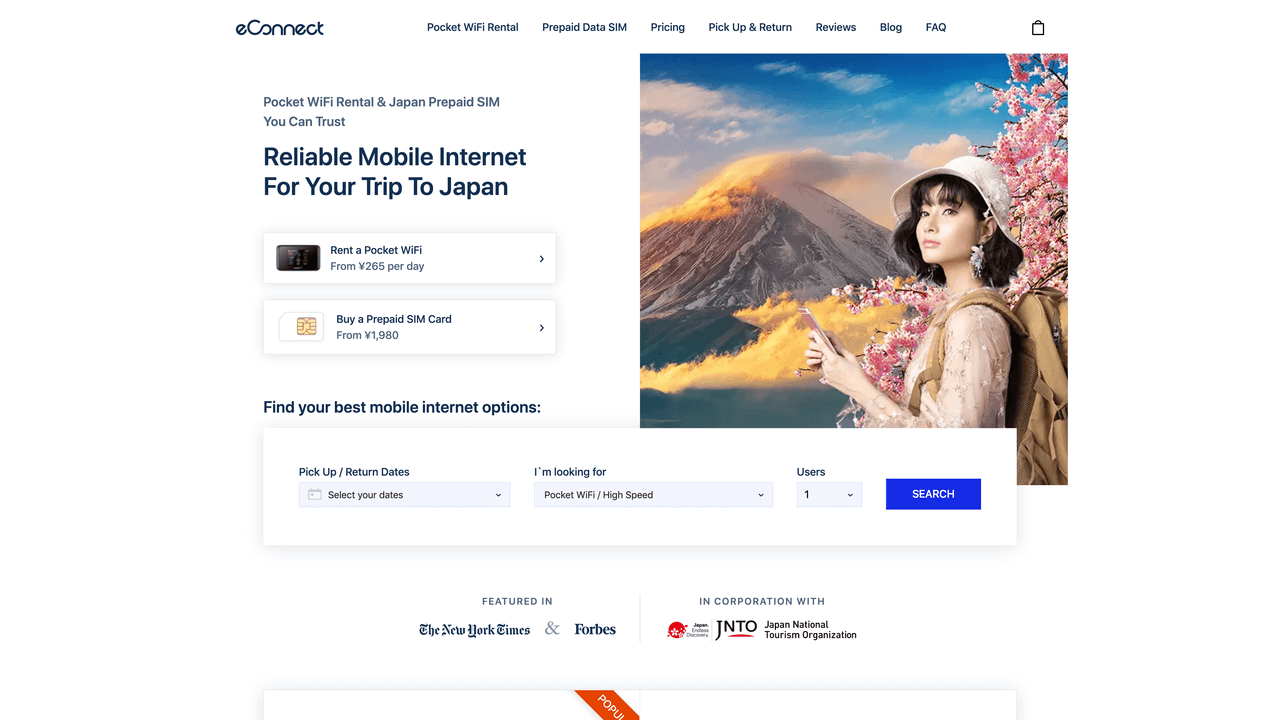 Our website is very easy to use and user friendly. It's intuitive layout allows you to just punch in your desired rental period and pickup option and it will give you your quote. We have multiple WiFi plans but like the other websites we compared we will just be using the pricing for our most popular unit. In our case, the Pocket WiFi Premium plan.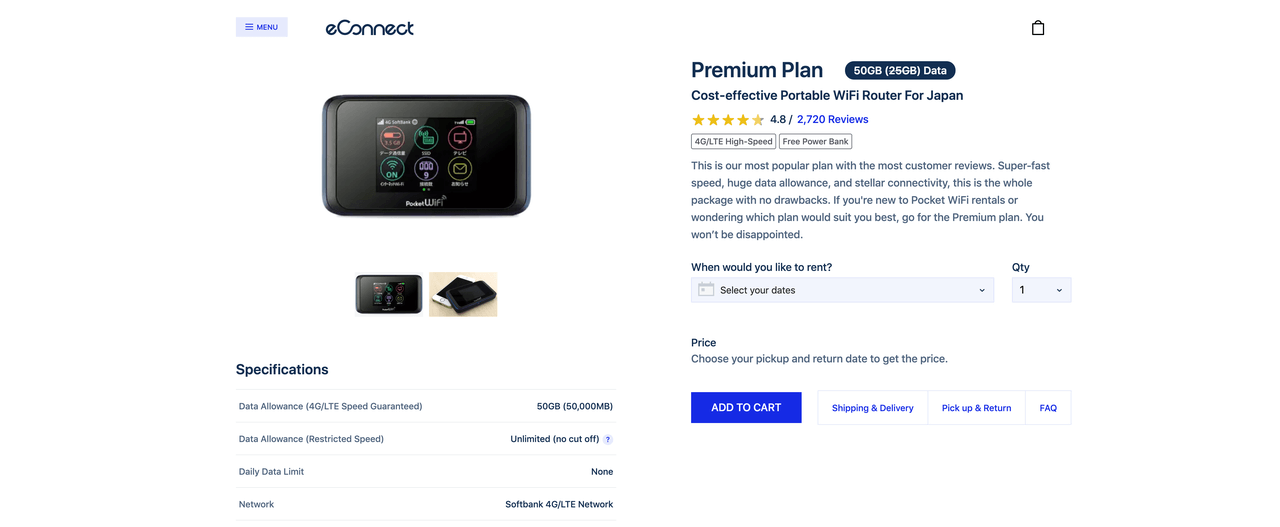 We offer special discounts for early birds that can bring down the cost of your rental dramatically. Unlike the other sites, we have a really handy pricing section that features a sliding dial showing you the prices, including the discounts, of all of our plans.
Early Bird Discount: 15% OFF if you book up two 3 weeks in advance of your first rental day.
Early bird discount aside, let's take a look at the base prices with sales tax;
7 days: $59
14 days: $69
21 days: $80
---
Quick Review
For ease of access, below is a table of the above prices for each of five companies.
| Company Name | 7 Days | 14 Days | 21 Days |
| --- | --- | --- | --- |
| eConnect Japan | $59 | $69 | $80 |
| Japan Rail Pass | $57 | $79 | $102 |
| Global Advanced | $57 | $80 | $103 |
| Japan Wireless | $59 | $84 | $107 |
| Pupuru | $46 | $91 | $137 |
Price is, of course, very important but other factors you might want to consider are how easy it is to navigate a providers website, as well as what other special options are being offered. For example, eConnect Japan offers an Early Bird Discount of 15% from the prices shown above. For those of you planning types that like to book ahead, we offer a 15% discount on all orders placed 3 weeks in advance of your booking date. Just another reason to consider checking out our website. The early bird gets the worm! We also offer a free mobile battery pack with every rental! (Some places charge extra for this.)
Moreover, far and away one of the biggest differences between most of these companies and eConnect Japan, is the number of verified reviews. As explained in one of our recent posts on finding trustworthy reviews of Japan Pocket WiFi, all of our 3,000+ reviews are from the actual customers who were kind enough to submit a review for us.
Overall, it comes down to what you think will work best for you, but we hope this article helps give you an idea of what a typical Pocket WiFi unit costs to rent.
Thanks and stay golden!