How To Find Japan Pocket WiFi Reviews You Can Actually Trust
Reading online reviews can be tricky business because often times, reviews are connected to affiliates. Or even worse, sometimes they are not even about the product or service they are supposed to be. When reading Pocket WiFi reviews online, how can you tell which reviews are trustworthy? That's what this article aims to address today. We are going to break down the places where you can find the real reviews made by actual users, and red flags to help you avoid the ones that can't be trusted.
Where Can You Find Them?
First, we should go into a little bit about where a typical internet surfer may come across these Pocket WiFi reviews, this time specifically ones for Japan where renting a Pocket WiFi is becoming more and more popular among travelers. We have broken down those places into three main categories, travel blogs, Pocket WiFi rental provider's own websites, and online forums. Let's go through each of these to see which ones can be trusted.
Travel Blogs
The main issue with travel blogs is that they are almost always linked to an affiliate interest. For more on this, you should check out one of our recent pieces on affiliates in blogs reviewing rental providers. Most blogs out there implement some form of affiliate links in order to help finance their interests. This is especially true of blogs comparing products like smartphones or in this case Pocket WiFi rental companies. A quick google search for "pocket wifi japan reviews", will reveal search results where the first five out of six websites all contain some form of affiliate link.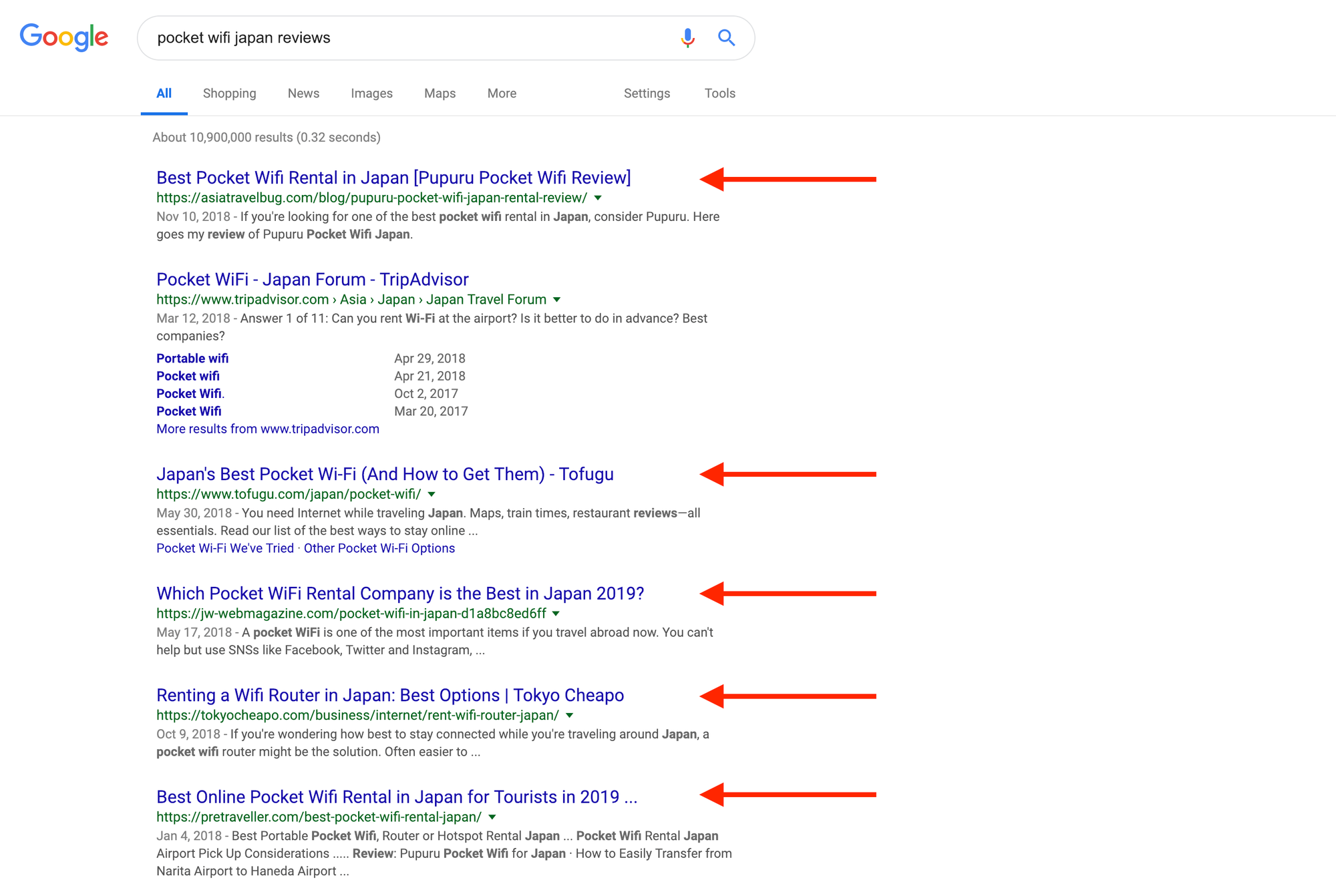 Knowing that these blogs are getting money specifically from the companies' whose products they are advertising derails their credibility. How can you be sure that the device is as good as these blogs will try to convince you they are? Especially if there is a company behind the scenes providing that blogger with a monetary incentive to talk up their product to the fullest extent.
Pocket WiFi rental provider's websites
This next category is one that you may not think of as being untrustworthy but let's take a look. Every major Pocket WiFi rental provider has a website. And usually somewhere on these websites is a section dedicated to reviews about their products. The issue here is that those companies can control the type and number of reviews displayed on the website. We recommend you click into some of these review sections on these sites for yourself to see what actually might be going on.
For example, there are companies that offer both the Japan Rail Pass (a pass that can allow you to board any JR trains for a certain period of time) and Pocket WiFi rentals.

If you click into the site you can find the review section in the bottom right-hand side of the web page.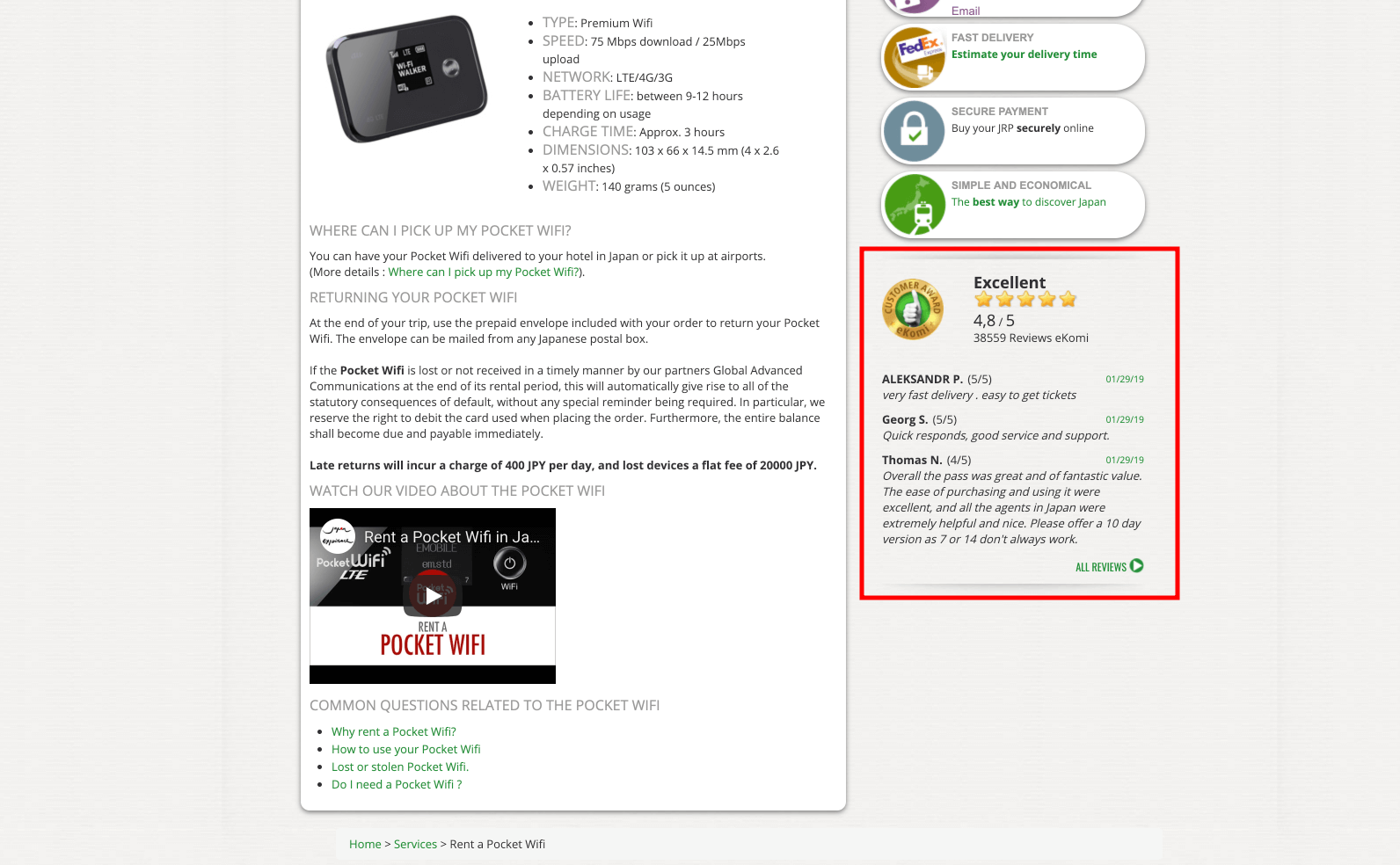 Click the ALL REVIEWS green arrow and you will actually be taken to a separate website entirely called eKomi. This separate website entirely for handling reviews should be the first credibility red flag. Then if you read those reviews carefully, you will find that most of them are actually for Japan Rail Pass and not about Pocket WiFi. They are mixing reviews for these two separate services!

Here is another almost eerily similar example from another link on the search page.

Click it, and go to the review section and bam! You are right back on the same eKomi website. Again, most of those reviews are NOT about Pocket WiFi...

This is not to say that all companies websites cannot be trusted. A good indicator of trustworthiness is when you can go into the review section of a website without have to go to a separate website entirely like the last example we saw. There are plenty of genuine companies like us, eConnect Japan.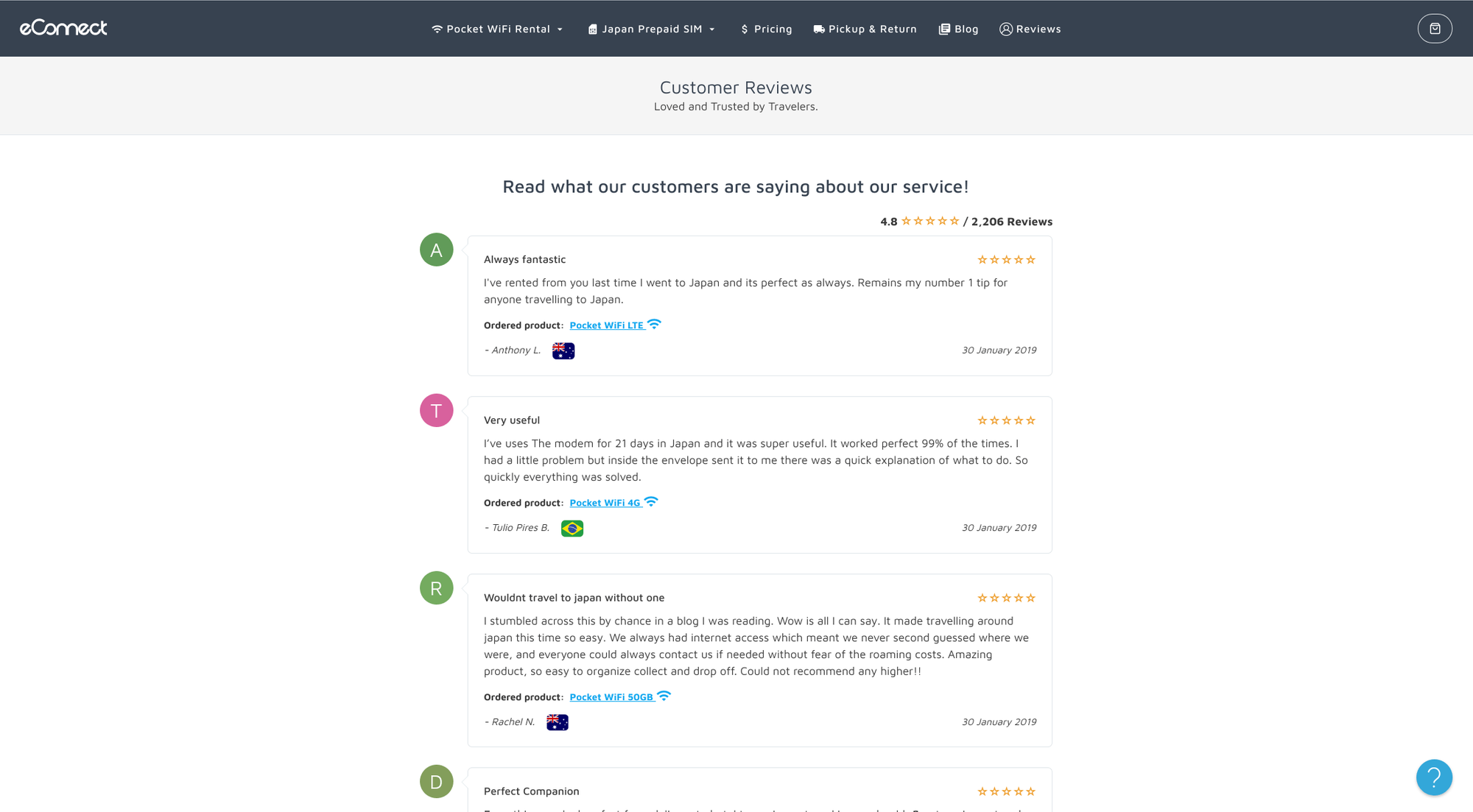 On our website, you can find more than 3,000 real reviews submitted by customers who actually rented a Pocket WiFi from us and kind enough to write a review for us. If you had the time and could click into every one of these reviews, you would see that they are all related to Pocket WiFi.
We're not the only company out there doing genuine review sections. Check out this example from a different company's site as well.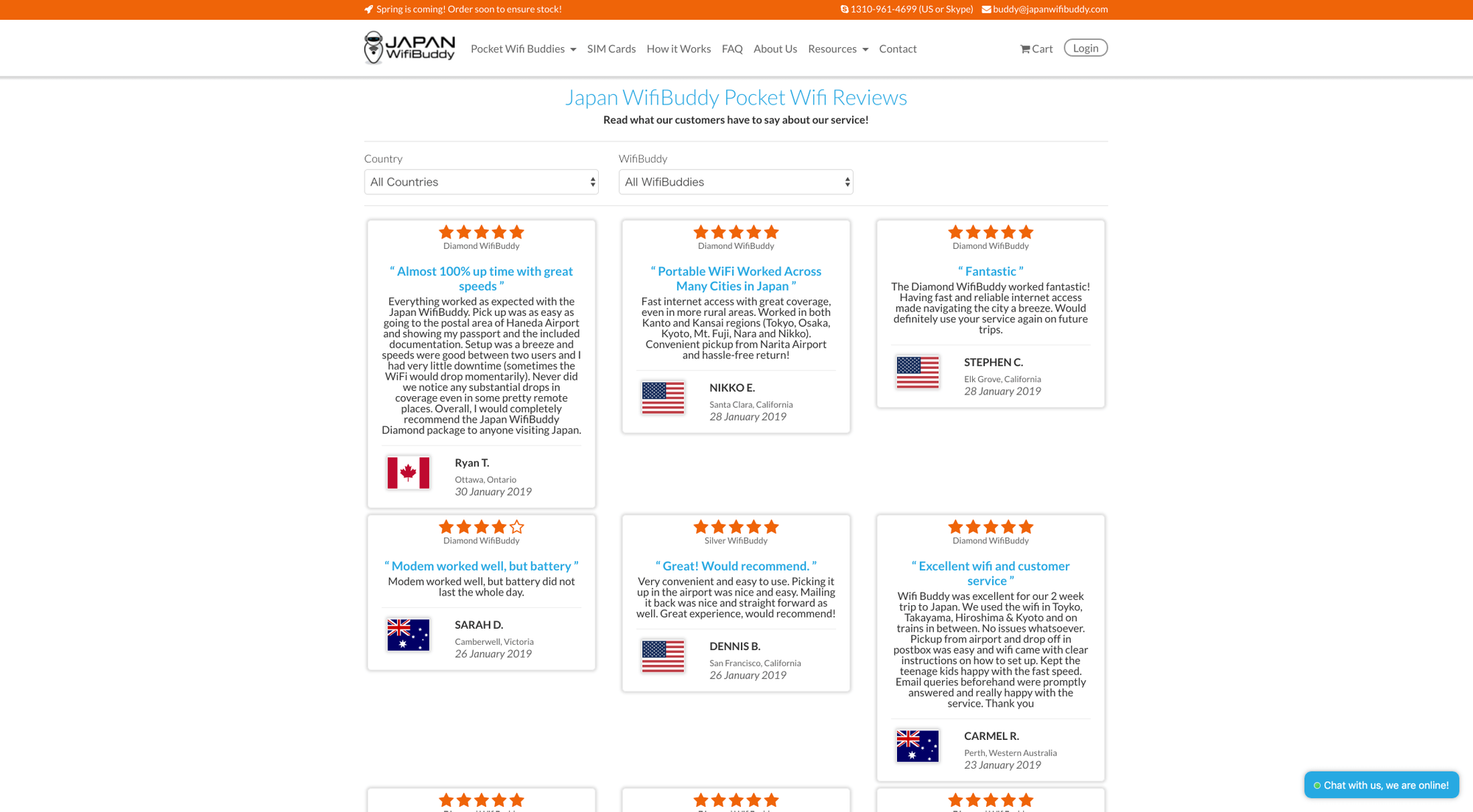 Again just to reiterate, we are not saying that all Pocket WiFi reviews on provider's websites should be disregarded as untrustworthy. We just advise that you read them a little further in order to be sure which ones are genuine, and which ones may be a little bit sketchy and not worthy of your full trust.
Online Forums
Our last and final place to find Pocket WiFi reviews is online forums. Sites like Reddit, TripAdvisor, Yelp, Yahoo Answers, or even Facebook just to name a few, are more reliable because they are usually not affiliated to any company and therefore have a high level of credibility.

You can tell that most of these reviews were written by real users because they rarely pull any punches when sharing their opinions.
Final Thoughts
Okay so let's quickly review what we know about trustworthy reviews when it comes to Pocket WiFi. The credibility scale from most trustworthy to least trustworthy goes as follows; online forums are usually the most trustworthy, next actual providers websites, and lastly travel blogs (because of the high chance of their being connection to affiliates). Keep in mind that these are not hard and fast rules, just general inclinations. Our advice is simple, with all of these companies feeding us endless information about their products and services it's important to dig a little deeper to know if the information is credible. On eConnect Japan's website, you can find more than 3,000 real reviews submitted by customers who actually rented a Pocket WiFi from us and kind enough to write a review for us. We keep all the reviews, good and bad, in order to show we are not up to any shady business.
Thanks for reading and stay skeptical!