Where To Rent A Pocket WiFi in Japan [Online or Offline?]
For those of you out there who have never used a mobile WiFi device before, you may be wondering how renting one works, we have great news for you! In 2020, renting a Pocket WiFi device in Japan has never been easier. We are going to break down the options you have for rental, both online and offline.
Offline Rental – What are my options?
Straight from the airport kiosks
The only real option you have available for renting Pocket WiFi offline is through one of kiosks at any of Japan's major airports. This makes sense because if you don't get your mobile internet solution at the airport when you first get to the country, it becomes quite hard to navigate without some form of internet. Now with that said, there are certain places in Tokyo where you can get a mobile hotspot on-site, but they are extremely limited and hard to navigate to without mobile internet in the first place so we are going to exclude specifics in this article.
In most of the larger airports throughout Japan, like Narita, Haneda, and Kansai International (NRT, HND, KIX), there are a large number of companies providing portable WiFi rental that you can do on the spot, with no online reservations.
We have a designated blog post on the portable WiFi rental options at Narita airport, as well as Haneda airport [HND] and Kansai airport [KIX].
The kiosks at the airport rental option is convenient for those non-planners out there, or for those who weren't even aware Pocket WiFi rental online was an option (I sure didn't when I first came to Japan). And while being able to rent so close to where you are entering and leaving is a big advantage, there are some big drawbacks to on-site rentals as well...
Pitfalls of on-site renting
There are a couple problems with the on-site rental process, a lot of which eConnect Japan has already discussed in a previous article on the merits of online renting.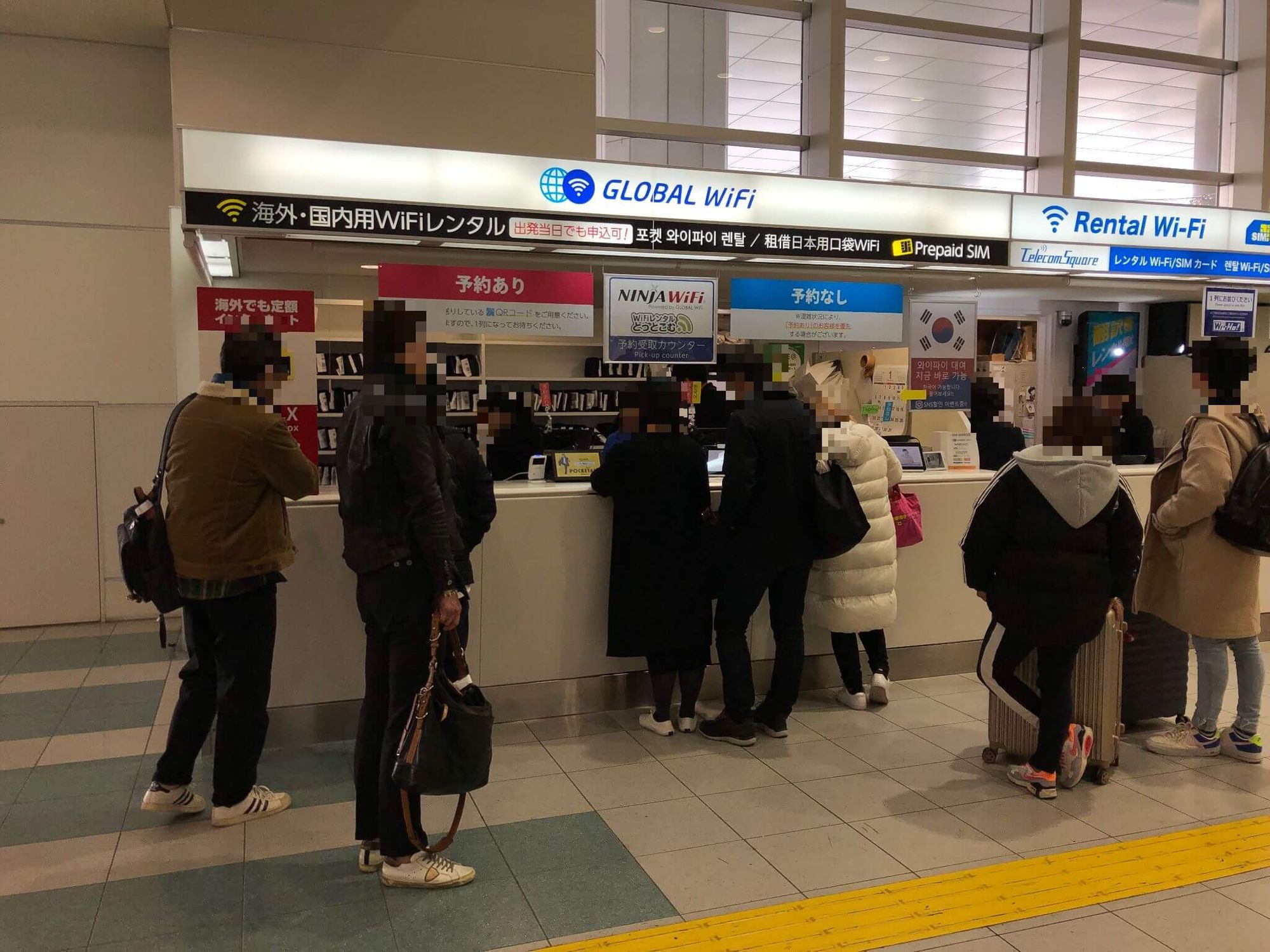 Renting on-site at the airport can be a real pain in the butt for a number of reasons. Wait times at some of these brick and mortar kiosks can be ridiculous, especially during busy seasons and times of the day. There is also no guarantee that they will have enough units in inventory. Just imagine how time consuming it would be to stand in a ginormous line waiting for your chance to speak with a representative, just to be told that they have just run out of stock because it's a busy season (Sakura season, for example).
Other huge demerit is that the prices are usually a bit high. That is the result of the dreaded airport tax that these companies are required to pay the airport just to have a booth there in the first place.
There is also the issue of a lack of variety in your plan choices. Typically, at these airport booths, you have maybe one to two choices, tops.
So what are your other options?
Online Rental – Convenience turned reality
Once you turn to the world wide web, the options that you have for rental options increases exponentially. All of the aforementioned companies toting their WiFi rentals with physical kiosks at the airports, also have an online presence as well.
Booking online has never been simpler either. In just a few clicks you can be sure that you have your pocket WiFi device booked and waiting for you to retrieve it upon arrival, with non of the hassle of on-site purchasing.
The jury is out and it's clear that the benefits of online booking far outweigh the pros of last minute rental at the airports.
You can save yourself a ton of time
On vacation, time is precious. You want to make the most of your time. That's where renting your Pocket WiFi device online can help. For those of you type-A planners out there, online Pocket WiFi renting is a dream come true! There is no limit on booking out really far in advance, like at the same time you buy your plane ticket. And guess what? Some sites will even reward you with big discounts for booking early. As an early bird discount, we at eConnect Japan offer 15% off your rental price if you book your Pocket WiFi device 3 weeks in advance. This is a nice segue into our next point...
Online renting is usually much cheaper!
Because of the Airport Tax that companies are forced to pay to the airport to have a booth there, you typically see higher prices at the airport. Why bother with these jacked up prices? With just a little bit of foresight you can save yourself a substantial amount of money by picking up your rental unit online as opposed to on-site.
Find the plan that is right for you
Another great benefit of online rental, is the fact that you have a ton of choices! For instance, we offer up to 6 different plans to choose from, each varying in data limit, type, and speed. The diversity among options allows you to select the plan that perfectly matches your travel goals and budget.
Some issues with online renting
It wouldn't be fair not to mention the issues with renting Pocket WiFi online as well. The truth of the matter is there are a ton of reviews out there on the web for Pocket WiFi rental services. However, many of these "honest reviews", like on travel blogs, usually have affiliate connections, meaning that those reviews are being written by people who are having their pockets lined by those very same companies. Not very genuine if you ask me... and even the reviews on companies websites cannot always be trusted. Many times companies try to inflate their good reviews by sourcing the reviews out to a different website where they can be mixed with reviews that aren't even related to Pocket WiFi. This is an issue we explored in one of our recent pieces about spotting fake reviews online.
But honestly, with a little healthy skepticism, the cons of online renting can be avoided quite easily. And the benefits far outweigh the hassles that on-site pocket WiFi renting presents.
No fuss means more time to focus on your vacation
Just a quick recap. Booking your Pocket WiFi online ahead of time can save you a ton of time and money. No waiting in long lines, no dealing with high prices, and having a wealth of choices makes online renting the clear winner when stacked up against the airport kiosks. However, you should remember to be careful of non-legitimate reviews when exploring your options.
Let's be honest, when everything is said and done, you are on vacation! You want to be able to relax and not have to deal with the added stress of having to spend more time than necessary at the airport.
Thanks for reading and until next time,
Safe travels!