Prepaid SIM at Haneda Airport in Tokyo: What Are The Options?
When traveling to Japan, odds are you will be making a stop in the nations bustling capital city, Tokyo. Narita [NRT] and Haneda [HND] are the two major airports that service the Tokyo area. Haneda airport, the older of the two, is actually the fourth busiest airport in the world as of 2017. Because of its massive size, there are certainly a lot of options at Haneda Airport for Prepaid SIM card.
Again, we at eConnect Japan will always advise buying your prepaid SIM card before you arrive in Japan. However, for those of you didn't have time enough time to include the purchase in your planning or maybe just forgot to,  this is a guide to the options you have for purchasing prepaid SIM at Haneda airport! There are three main options available. Let's take a look.
Option 1 - Prepaid SIM Vending Machine

Location: International Terminal - Arrival 2nd Floor
Option one is a vending machine on the second floor of the international terminal that dispenses prepaid data SIM cards. This vending machine is located to the left of a green, self-operating currency exchange machine called pocketchange. The location is shown down below on the map with a red arrow.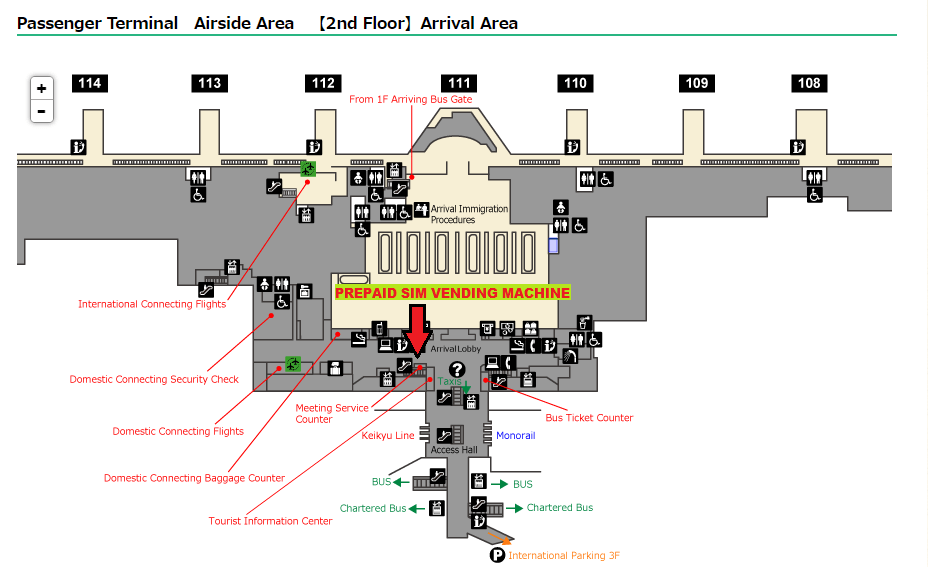 This is what the machine looks like.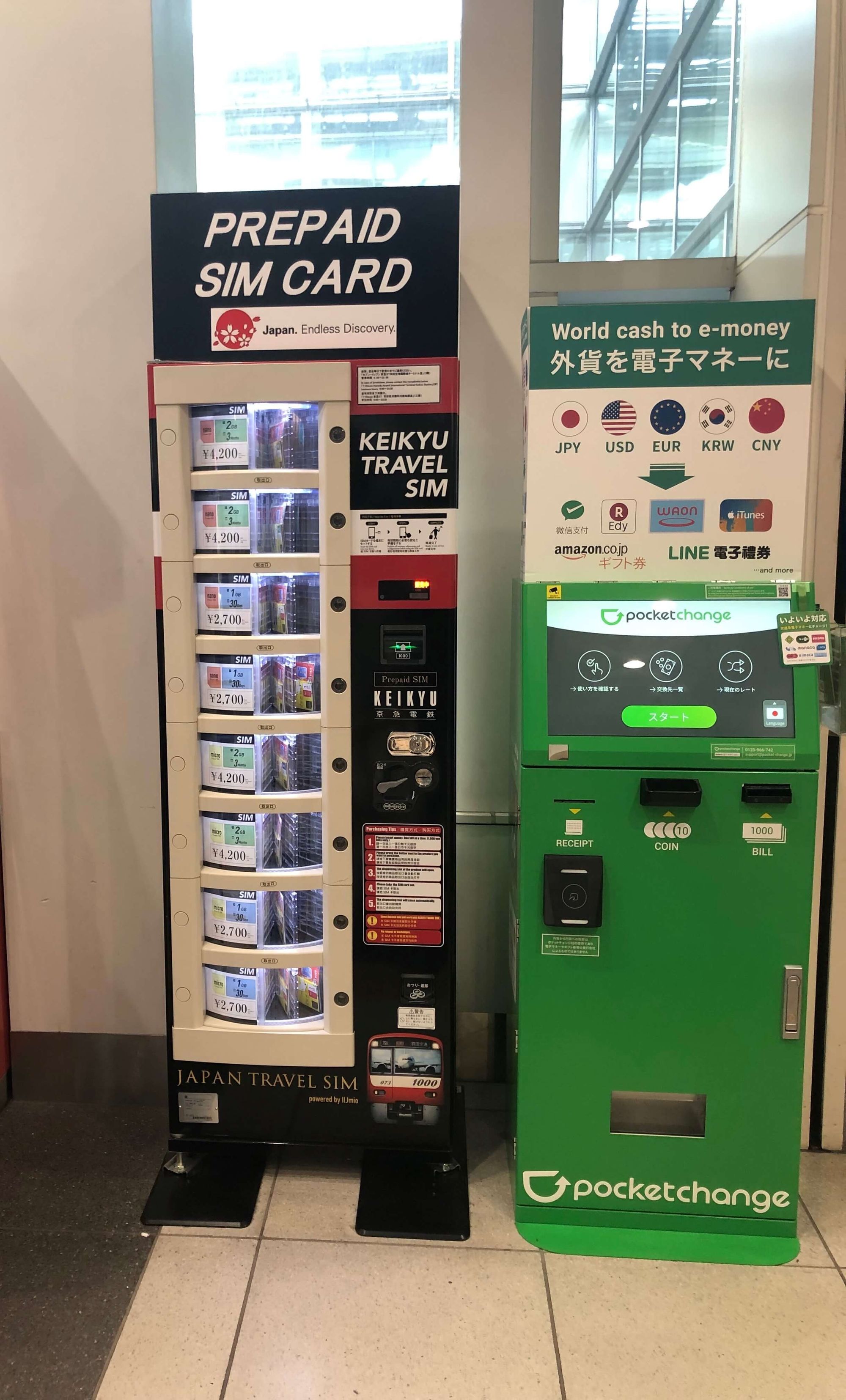 Now let's break down its contents.
SIM Sizes: Micro and Nano
Type: Data Only
2 GB / 3 Months - 4,200 JPY
1 GB / 30 Days - 2,700 JPY
As you can see the selection here is quite limited. There are only two options for data size and duration of use. That means for those of you who want to use more than 2 GB, which isn't a lot, of data over the course of your stay, then these two options aren't going to cut it. Another downside of the vending machine is there are no refunds and no exchanges. So if you accidentally purchase the wrong one... whoops, there is no going back! There is also the fact that without cash you wont be able to purchase from the machine and it could also be out of stock, leaving you, without data. The upside is that it's in operation 24 hours, 7 days a week.
Okay, let's move on to option number 2.
Option 2 - Convenience Store (Family Mart)

Location: Terminal 2 Domestic - B1F (Store Hours - 5:00 AM - 11:00 PM)
This next option is a convenience store called Family Mart. Family Mart is one of the three main convenience store chains in Japan and is instantly recognizable by its distinct blue, green, and white sign (shown in the picture below). If you're not familiar with this store, by the time you leave Japan I guarantee you will be.  
This location is in terminal 2 on floor B1. It is shown as number 2 on the map below.
The SIM cards are actually not in the store, but sitting right outside the entrance to the left on a rotating display shelf. Here is a picture of the front of the Family Mart.
Now let's break down our options here.
SIM Sizes: Standard, Micro, and Nano
Type: Data Only
10 GB / 30 Days - 4,500 JPY
3 GB / 30 Days - 3,000 JPY
One advantage to buying your SIM from the convenience store is that they offer more data for a better price than what is available in the vending machine. You can also use either cash or credit card as payment options. However, the options at the store are also very limited. You can only choose between 2 data sizes and time limits. Another issue is that this convenience store is all the way over in Terminal 2. So unless you're flying domestically, it may be a pain to have to come all the way from the international terminal in order to purchase a SIM card. Another drawback is the store hours. The Family Mart is only open until 11 PM. This means that if your flight happens to come in past that time you are out of luck! Also, the staff here, being convenience store staff, may not have high-level English abilities and probably won't be able to help you if you have questions.
Okay, onto the 3rd option.
Option 3 - Wireless Internet Carriers

International Terminal - Arrivals 2nd Floor/ Departures 3rd Floor
The third option you have to purchase prepaid SIM at the airport is really a bunch of options rolled into one. There are many counters in the international terminal selling mobile internet services. All of these companies sell prepaid SIM. Let's do a simple breakdown of the companies and there Prepaid SIM options.
Mobile WiFi/Telecom Square - Arrivals 2nd Floor (6:00 AM - 11:00 PM)
SIM Sizes: Standard, Micro, and Nano
Type: data only/data+voice options
5 GB / 30 Days - 5,500 JPY
2 GB / 7 Days - 3,800 JPY
Unlimited
31 Days - 6,980 JPY
8 Days - 4,980 JPY
Data + Voice (Nano Only)
3 GB / 15 Days - 7,500 JPY
1 GB / 15 Days - 5,500 JPY
Mobile Center offers a better range of options than what we have seen so far. But the options are still lacking. One upside is that this company does offer voice if you would like the ability to make phone calls during your stay. Still, with the lack of options and the storefront's limited hours (only open until 11 PM), it has its share of issues.
AnyFone JAPAN - Arrivals 2nd Floor (6:00 AM - 11:00 PM)
Softbank Mobile - Departures 3rd Floor (6:30 - 11:00 PM)
These two companies both offer the same selection of prepaid options because AnyFone JAPAN is actually part of the same Australian company called GSM Rentafone who teamed up with the company SoftBank in 2003 when it came to Japan. Both companies prepaid SIM options are nicely summarized by the graph below.

As you can see both places have three different tiers of offerings. The Prepay SIM line, Prepaid Data SIM for Japan line, and the AnyFone Prepaid SIM line of SIMs. The options here are obviously much better than what you can find in the vending machines or at the Family Mart. Also, both these booths at the airport have English speaking staff that can assist you if you have questions. The downsides are, if you are in a hurry, you may not have time to wait in the long lines that form at these booths during the busy hours of the day. Also, if your flight comes in after 11 PM, both of these companies booths will be closed.
KDDI AU - Departures 3rd Floor (6:30 AM - 11:00 PM)
SIM Sizes: Micro, Nano
Type: Data Only
7 GB 30 Days - 6,000 JPY
3 GB 30 Days - 4,000 JPY
As you can see, the options at KDDI for prepaid SIM are pretty lackluster. Only two data sizes to choose from. The other issue is that this store's staff had a really hard time communicating with me in English. They could only show me a flyer that had the rates written on it.
---
Conclusion
To review at Haneda Airport, you have three options when it comes to prepaid SIM card: vending machine, convenience store, or mobile internet stores.
As a point of interest soon there may no longer be a need to purchase a physical SIM card from brick and mortar stores. This is due to an up and coming new technology called eSIM that we discussed the possibility of using eSIM in Japan at length in one of our previous articles. This new technology will enable you to switch network carriers remotely without having to change the physical SIM card.
For now, though, the best option for buying Prepaid SIM would be to purchase your prepaid data SIM card online before touching down at the airport! With just one visit to eConnect's website, we can have your prepaid SIM waiting for you at the airport post office upon your arrival. We can also have it sent to the hotel or residence you'll be staying at. Talk about convenience! So don't let yourself get caught up with the hassle of buying a SIM at the airport in the first place. Check out our website and see the verified reviews and compare the rates for yourself!
Be safe and enjoy your travels!