Free WiFi on Kansai Airport Limousine Bus [Tested]
Kansai International Airport (KIX) is the third largest airport in Japan. Chances are, if you're going to the Kansai region, you'll be using this international airport. While there are a number of companies offering shuttle bus services from the airport, one of the most popular is KATE's Airport Limousine Bus Service. Run by Kansai Airport Transportation Enterprise (KATE), this service provides direct transportation via chartered bus to a number of key locations throughout the Kansai region. These locations include major cities like Osaka, Kyoto, Kobe, and Nara.
Recently, these Airport Limousine Busses have all become equipped with Free WiFi. I wanted to see just how good this Free WiFi really was, so I hopped on one of these busses on my way from KIX to Osaka and tested it out!
Today we'll quickly take a look at how to connect to the Kansai airport limousine bus free WiFi and if it's worth using!

About KATE Limousine Buses
Although a bit expensive compared to some other transportation options, the Limousine offers the undeniable convenience of being able to go directly to a number of popular destinations within the Kansai region. This video below from their website does a great job giving you the gist of the service.
Times/Rates for major destinations
KIX → Osaka: 60 mins (¥1,550)
KIX → Kyoto: 90 mins (¥2,550)
KIX → Nara: 90 mins (¥2,050)
KIX → Kobe: 65 mins (¥1,950)
KIX → Himeji: 120 mins (¥3,300)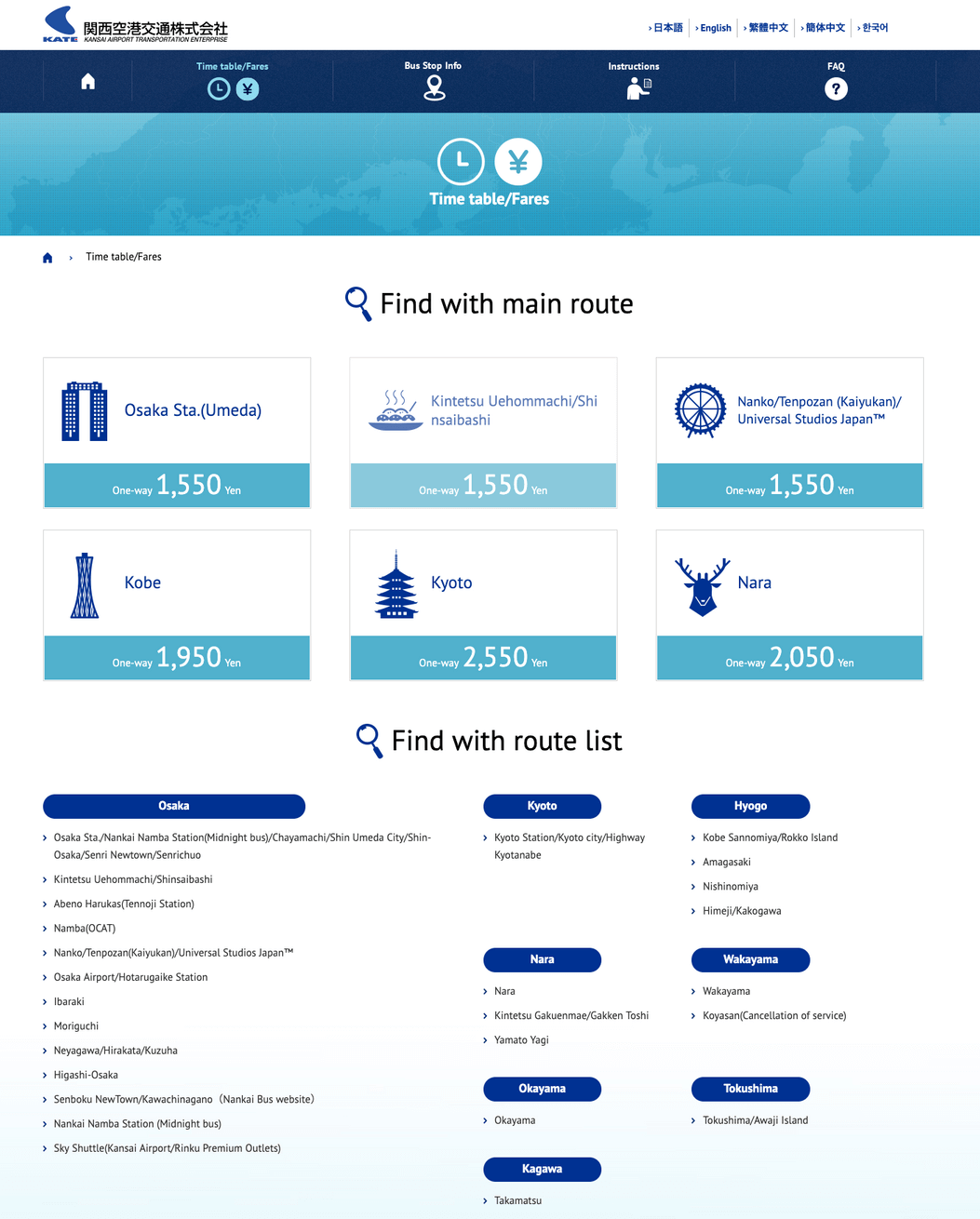 All Available Routes
Servicing locations include about a dozen locations in Osaka Prefecture, as well as 4 in Hyogo Prefecture and multiple locations in Nara, Wakayama, Okayama, Kagawa, and Tokushima.
For specific information on available routes as well as rates/fares check out KATE's website for yourself.
Just how good is the service/amenities... especially free WiFi
With these times, spacious seating, on-board toilets, and the fact that they offer services from both Terminal 1 and 2 of the KIX airport, KATE's Airport Limousine Bus service is by far one of the easiest and stress free method of travel. But there's just one question that leaves me with, how is their free WiFi? With such high ticket prices, you would think they have lightning fast free WiFi for everyone onboard...
Let's take a look!
How to Connect
Let's go over the steps to connect to the Free WiFi networks on one of KATE's Airport Limousine Buses. (Only directions for iPhone are provided. The process is virtually identical other Smartphones.)
[Settings > Wi-Fi]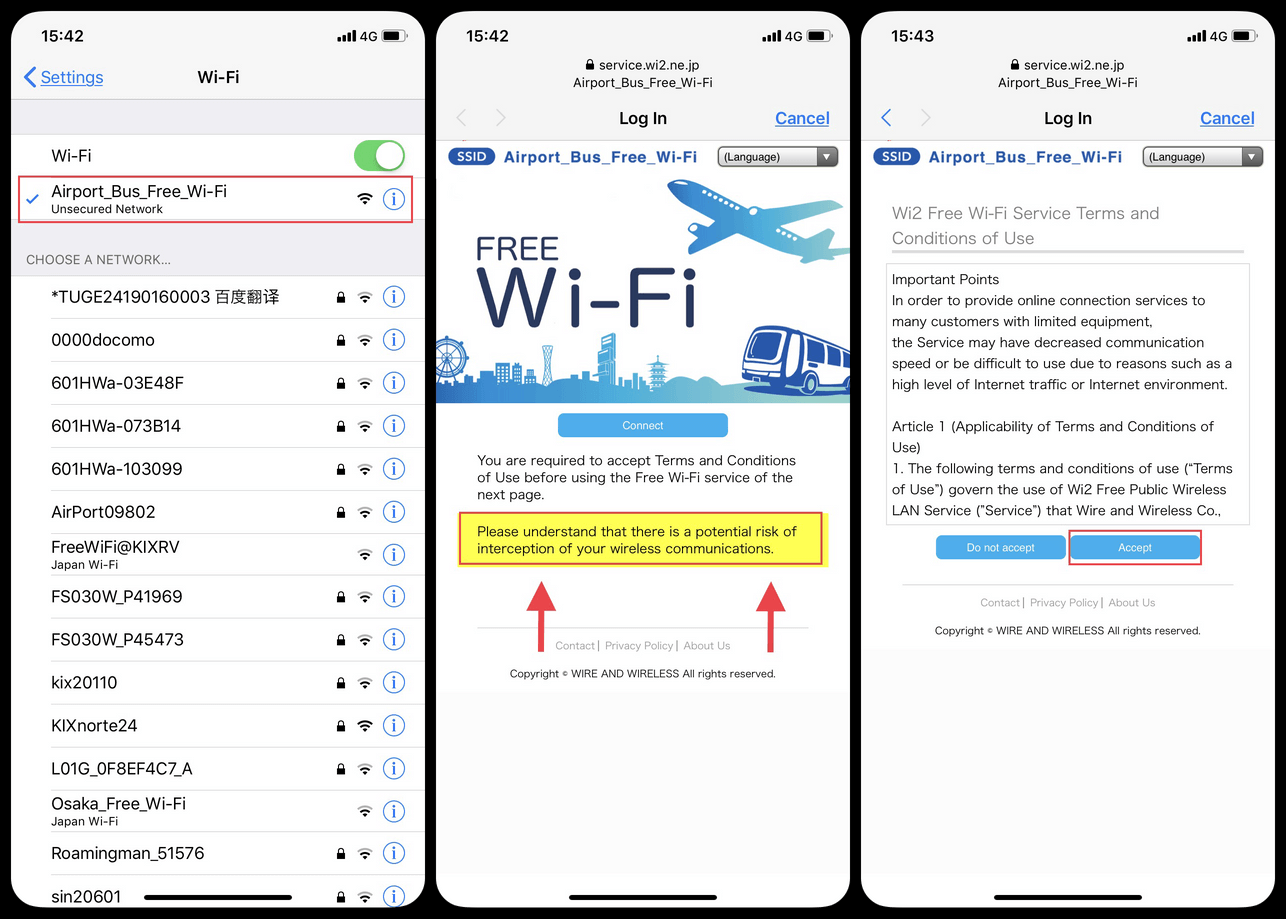 In your WiFi settings find the network, "Airport_Bus_Free_Wi-Fi". Tap it and proceed to the following page. You'll automatically be send to a secure network login sub-screen. Take note of the sentence highlighted in yellow underneath the blue connect button. This is a reminder, from the service, that using Free WiFi poses risks to your data security, something we talked about in a recent article about keeping yourself safe when using free WiFi in Japan.
If you're okay with assuming the risk or are already using a VPN, click "Connect". Once you've accepted the terms and conditions on the next page, you are now free to use the WiFi.
Note: to change the default language settings use the drop down window in the upper right hand corner of the screen. (Language options; Japanese, English, Chinese, Korean, Portuguese, Spanish, French, Russian, German, Italian, etc.)
Ease of Use/Speed Test
I was able to use the WiFi for sending a couple messages via WhatsApp and Facebook as well as check my emails. The problem was that the connection was very unreliable. I would be able to use it for a couple minutes and then it would drop out on me. After conducting the speed test I could tell why. Here were my speed test results: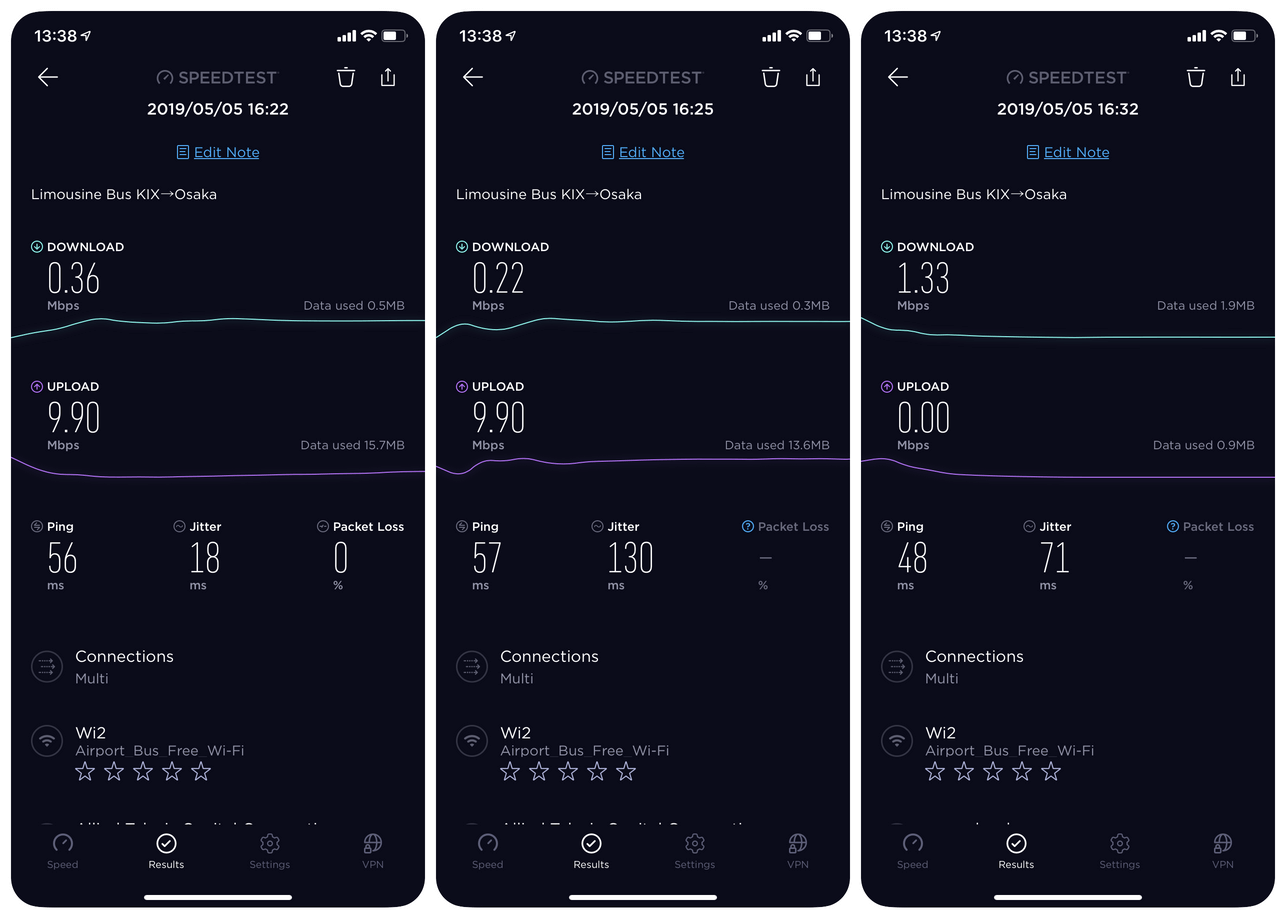 As you can see from my results, the download speeds were incredibly slow and the upload speeds remained okay for most of the time. This explains why I was able to send and responds to things but also why it took forever for me to load a single webpage or receive a response while using messaging apps.
Bear in mind that these speeds could also have been affected by the time of day and/or by how many people were using the network at the time of this speed test.
Overall, my impressions were less than favorable. The WiFi worked to upload but had abysmally low download speeds. This ruined my chance at a decent internet experience. Also, the multitude of security risks involved with using free WiFi that didn't provide me with a solid connection just didn't seem worth it from a cost/benefit point of view. One strong point was that the service was very simple to log into.
More Reliable Forms of Mobile Internet
My test reveals that all free forms of WiFi are not created equal. (Although I'm not sure you can call this free WiFi seeing as the bus service requires you buy a ticket in order to use in the first place.)
While riding on one of these Airport Limousine Buses certainly has its advantages, one of those is not quality internet access. And while other forms of free WiFi are available off the busses as well, why risk using free WiFi in the first place? You can easily avoid free WiFi's unreliable speeds, security flaws, and time-restricted access, by simply investing in a better form of WiFi. eConnect Japan offers Pocket WiFi and Prepaid SIM cards that can satisfy all of your mobile internet needs. Lightning fast, 100% safe/secure, with big data limits, everything you can't find in free WiFi, one simple online reservation can solve!
Keep on swimming fellow traveler!