Japan Connected Free-WiFi App Review [How Useful Is It?]
If you're not already familiar with free WiFi apps, check out our previous article on free WiFi apps in Japan! These apps help users locate and connect to various free WiFi sources located throughout Japan, without having to log into each network independently. Among many other benefits, these apps can come in handy when you want to take survey of how many free WiFi spots are in your desired sightseeing location. (Something to look at ahead of time before you leave your hotel.)
Today we're going to go over, in detail, the Japan Wi-Fi free WiFi App from Japan Connected-free Wi-Fi.
How to login
Download the app from either the iOS App Store or the Google Play Store. The app is free to download and to use.
Name in iOS App store: Japan Wi-Fi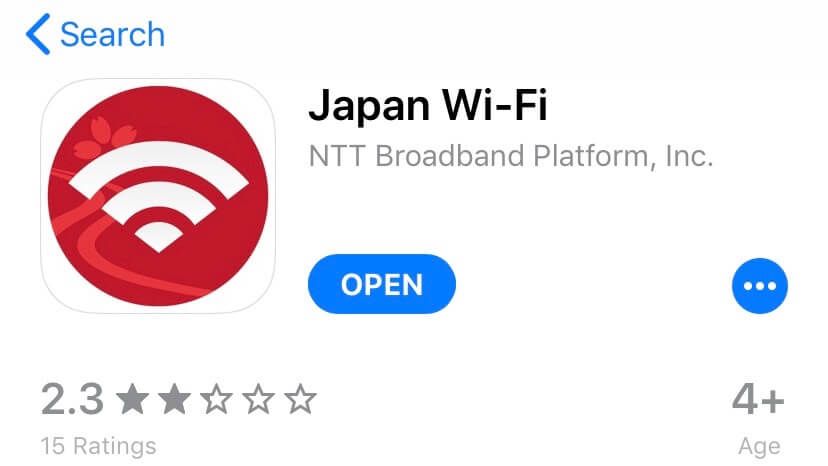 Name in Google Play store: Japan Connected-free Wi-Fi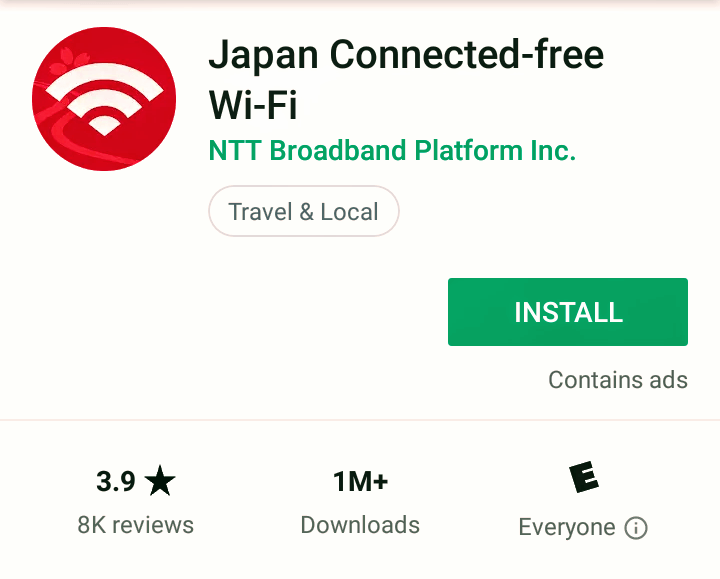 Once you've downloaded the App, you'll need to complete the initial registration.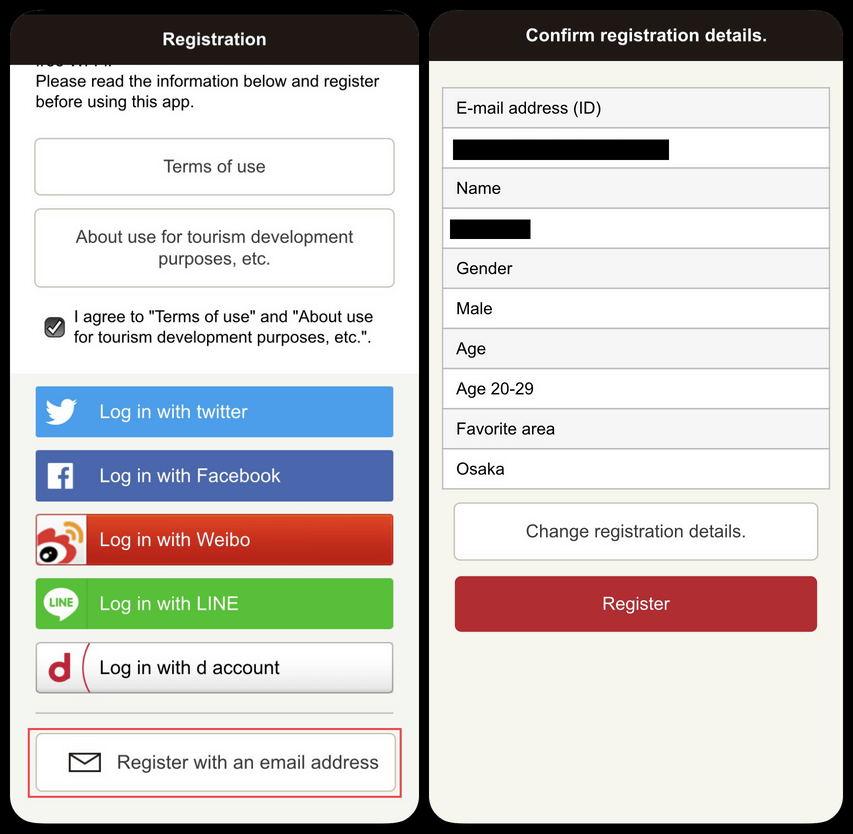 I chose to register with an email address but as you can see there are a bunch of other ways to register, including using your Twitter or Facebook account. After you input your registration info, go ahead and click register.
At this point you'll be taken to the next screen which will instruct you to confirm your identity through whichever platform you chose to register with. (In my case I chose email.)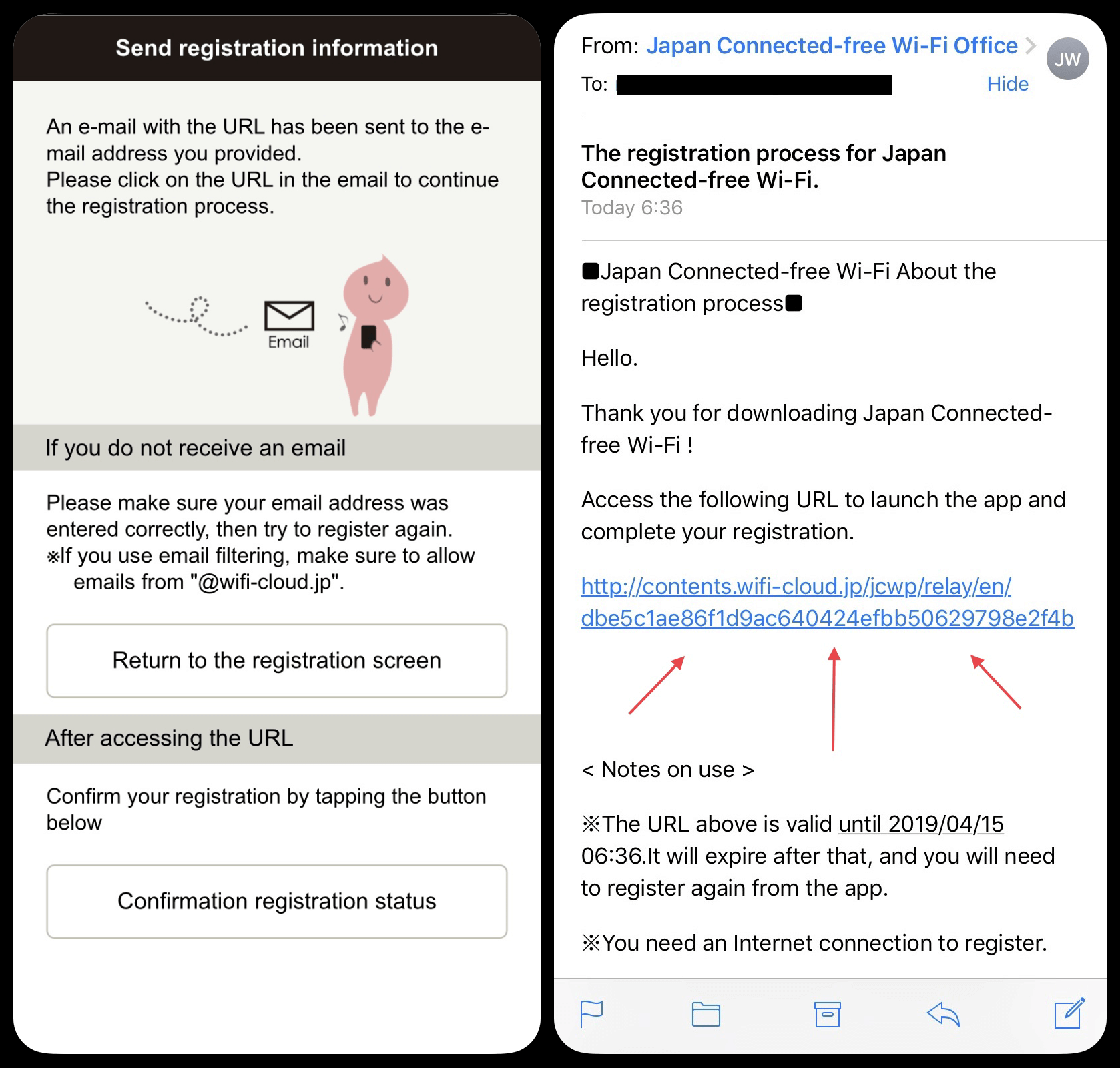 Once you verify your identity by clicking through the link provided in the email, the registration process is complete.
How to use
Once you've registered you can use the App freely. The home screen of the App looks like this.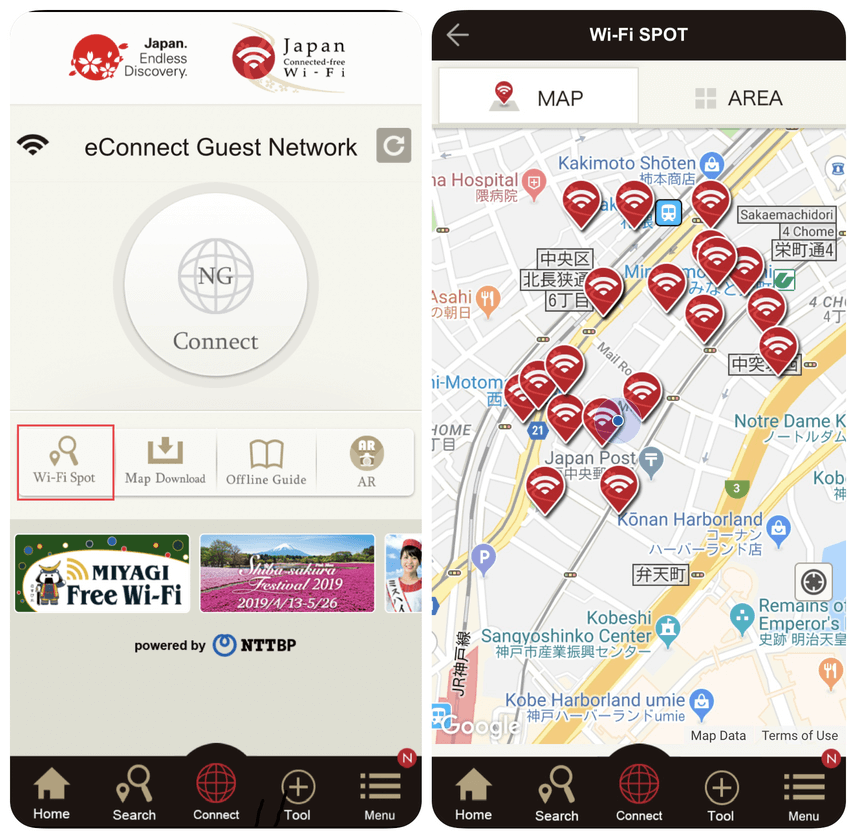 Click into the Wi-Fi Spot function and the App will bring up a map of your current location and the surrounding WiFi connection points.
If you find a spot in your area that has free WiFi, go near it and open up the App. This is where the differences between iPhones and Androids start to become a little more clear. If you have an Android, it's much easier to get onto the network...
Android Access
Just go near the WiFi source on the map and click the red connect button that is showing in the center.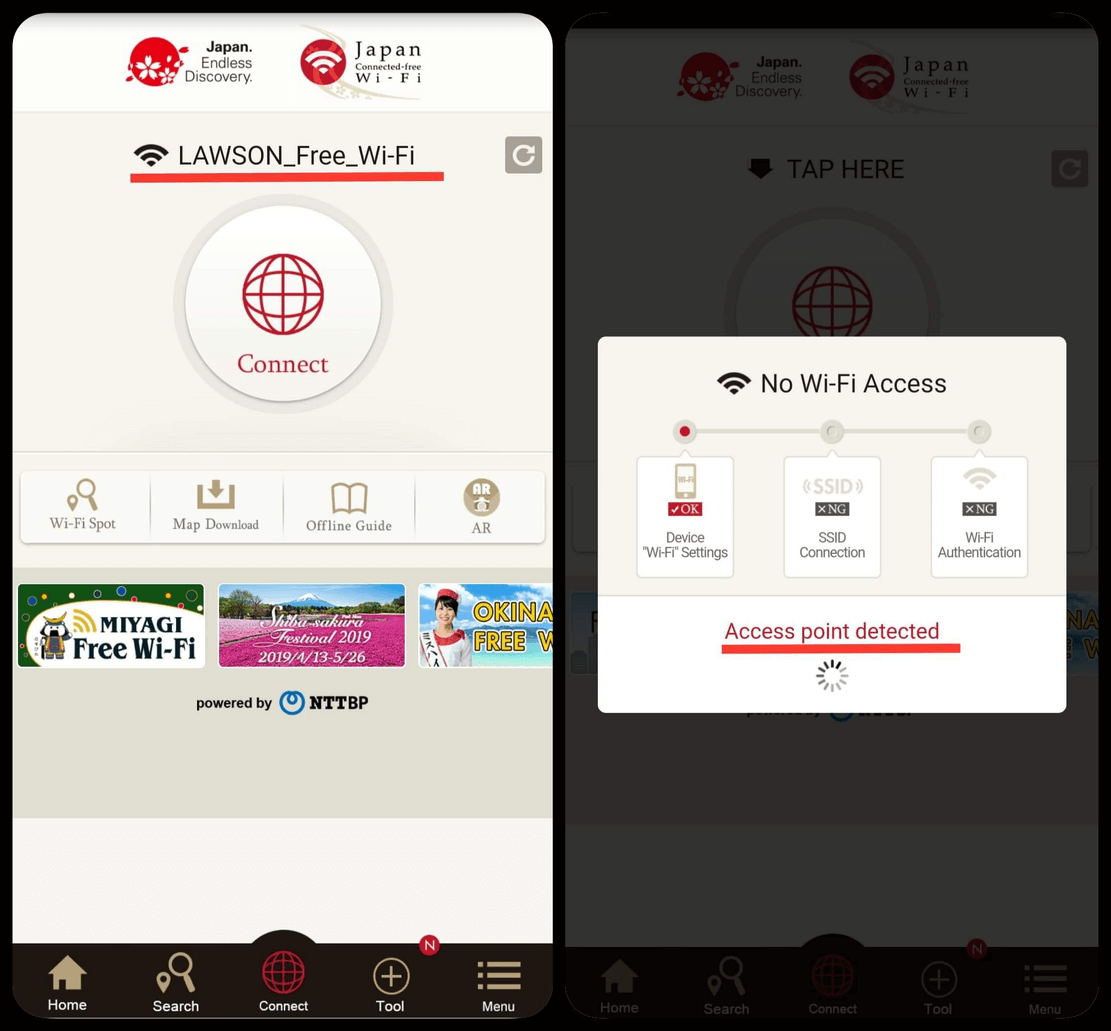 If the WiFi signal in your area is detectable you should see the connect button glowing red with the name of the network written up above. Click it and you'll be logged into the App. Once your connected you should be able to use the internet freely!
iOS Access
Using the app on an iOS device involves one additional step that takes place outside the Japan Connected Free-WiFi app. First, locate the WiFi source you would like to log into the same way you'd do with the Android. Once you're at the establishment with free WiFI you would like to connect to, open up the WiFi settings on your iOS device. Browse the WiFi options for the network that specifically says Japan Wi-Fi underneath.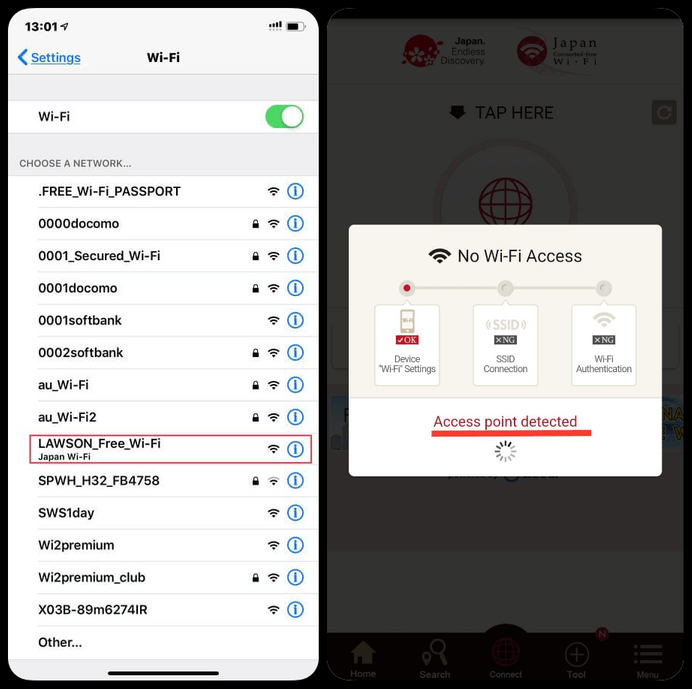 Once you've connected to the right network, go back into the Japan Wi-Fi app and it will automatically go through the same connection process as you'd do with the Android.
Once the network has been authenticated by the app, you will be free to use the WiFi connection.
Offline Map Download
For those of you out there wondering how you would use the application without already being connected to the internet, the app does feature an offline map option.
To use from the main menu click Search > Map Download
You can then choose from a number of predetermined regions. Each region has a number of famous sightseeing areas available for download.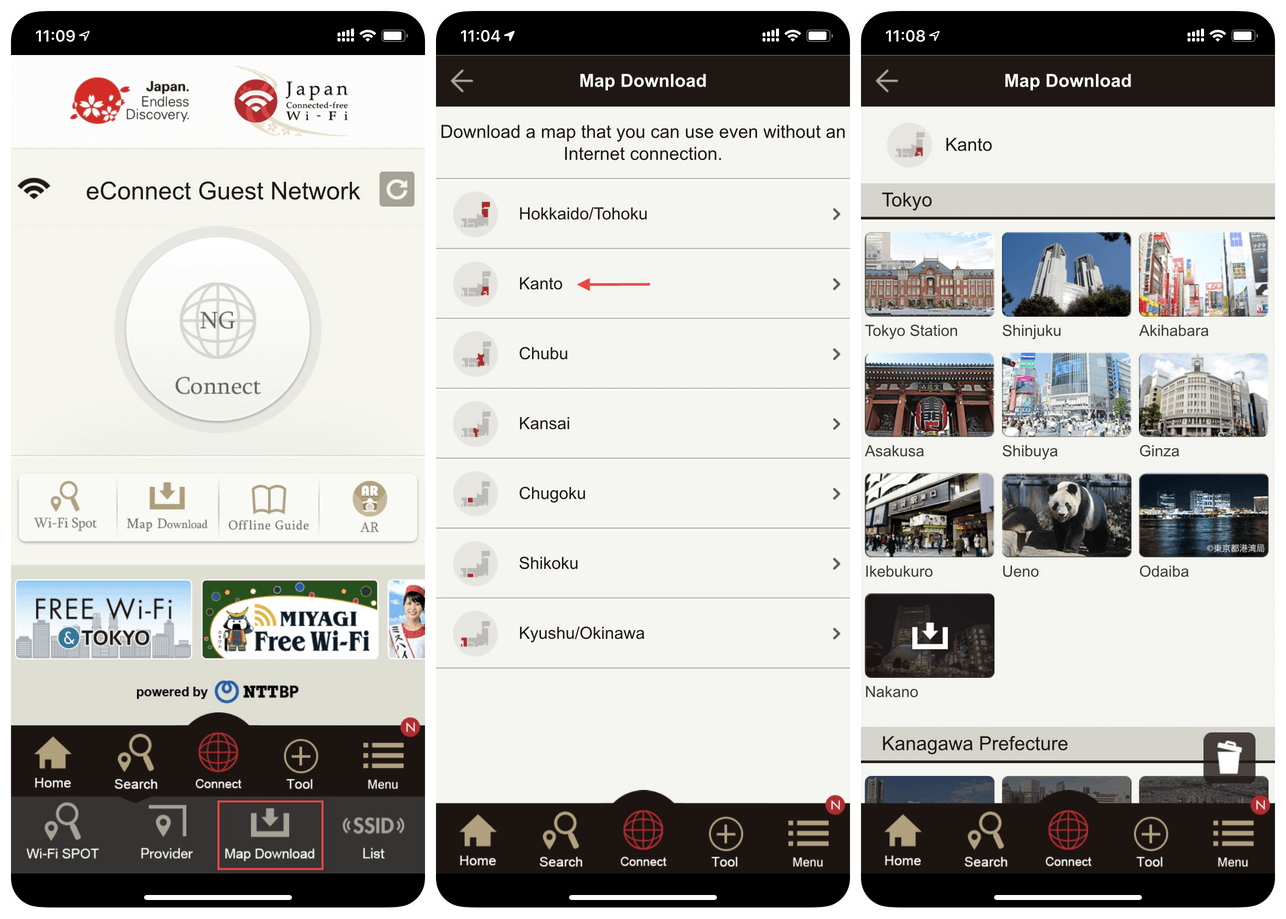 Keep in mind that the amount of time you're able to use free WiFi will vary from spot to spot. Each free WiFi spot is regulated by a different company (for example at the convenience store Lawsons, you're only allowed to use the WiFi for hourlong increments).
How well does it work?
Pros
Map function allows you to see all free WiFi access points in any given area (if you're already connected to the internet)
One time login
Downloadable map areas
Cons
The app has poor interface that is difficult to use
The app can mess with the settings on your device
The offline map function is limited to certain areas
I had no trouble connecting to these networks and using them for basic internet browsing and navigation apps. I did run in to trouble however, when I attempted to use streaming apps like YouTube and Apple Music.
As we discussed in a previous article about safety when accessing free WiFi sources, downloading/uploading over these networks is never a good idea in the first place, but for the sake of the internet speed test, I thought I would attempt to download something from the iOS App Store. The internet was not fast enough for app store use (on my iPhone).
The map function of the application also left somethings to be desired. Although the app allows you to download offline maps, you are only able to download maps for specific areas. If you're anywhere outside those main sightseeing spots you can't download offline maps. Also, the blue dot that represents current location is not always accurate even when using the downloaded map packs.
Solid Alternatives - Pocket WiFi / SIM Cards
After testing out the Japan-WiFi app in Japan I have concluded that although it has it's merits, the lack of a usable interface and the ability to use the map function without an internet connection would make depending on this application for your vacation internet needs for the entire duration of your trip very difficult.
I could see this service being helpful to those travelers out there who have purchased a SIM card that has a lower data limit and want to supplement their SIM card by using free WiFi when it's convenient.
But an easier way to ensure big data limits, reliability, and fast data speeds is to rent a Pocket WiFi device for your vacation to Japan. This super safe/simple to use device allows you to connect up to 10 devices to a safe connection point that is free from any of the pitfalls of using free WiFI. Again don't take our word for it, go to our website and check out some of the thousands of verified reviews by satisfied customers.
Pocket WiFi and/or SIM cards can make your vacation a whole lot less stressful. So what are you waiting for!
Thanks and safe travels!