Useful Free WiFi Apps in Japan [2020]
If you're one of those travelers who is constantly searching for free WiFi (I know I am), or even if you've ever been on some cell-plan or prepaid SIM card with limited data (let's say 1GB for a week), you understand the importance of conserving what precious data you have.
Japan, as a nation who prides itself on being one of the most "tech-savvy" in the world, does indeed have a lot of free WiFi available... IF you know where to look! For help with that you should check out eConnect Japan's recent piece on all the places you can find free WiFi in Japan.
The issue is that, even if you find free WiFi, being able to successfully login and use the connection for what you need is a different story. For this, you may need the assistance of our topic today  – Free WiFi Apps!

What are Free WiFi Apps
That's a great question!
Free WiFi apps or WiFi Locator apps allow you to view some of the hundreds of thousands of free WiFi access points that are in your area.
You may be asking yourself why you need an app to connect you to free WiFi, being FREE and all. That's a valid point, until you realize just how many access points there are! It would be impossible to find locate all of these places without a little help.
These free WiFi locating Apps have a couple of perks that go beyond just finding out where you can access free WiFi. While it is true that you can access many of the free WiFi sources throughout Japan without the App, usually each one of these access points has a separate login process. Time-consuming and sometimes requiring you to enter personal information, these login processes can prove to be a real pain! That's where these Apps come in. By just registering just once with one of these apps, you can use them to access most free WiFi networks with no additional registration!
Options for Japan Free WiFi Apps
Let's jump into the options that available at the moment for locating and logging into the free WiFi access points that littered throughout Japan.
If you a quick search in the iOS App Store or the Google Play Store, these two apps will appear at the top of the list. There are a couple other apps also available but none of them are as well developed as these two.

Option 1: Japan Wi-Fi
Just a brief overview of the most downloaded free WiFi App in the US App Store, Japan Wi-Fi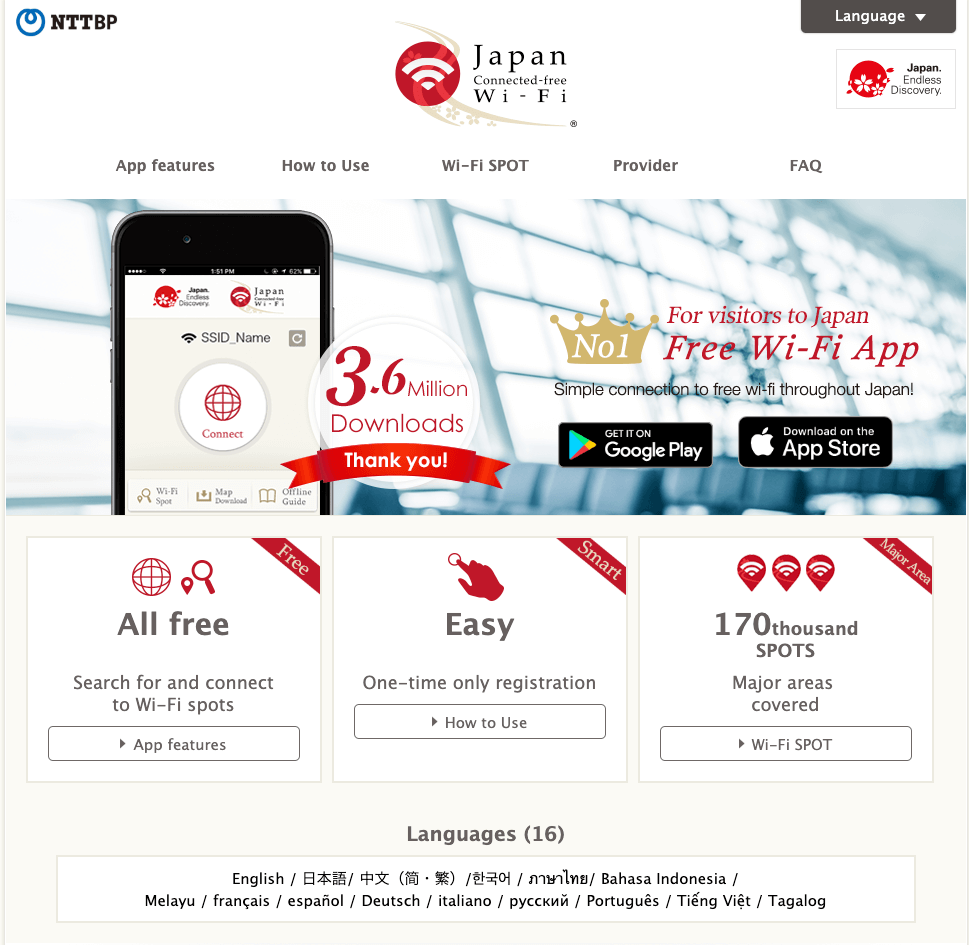 The Japan Connected-free Wi-Fi website gives an updated list of all the specific regions of Japan are covered by the service.
Connection Spots: Over 177,000, including but not limited to all the major areas of travel (Tokyo, Osaka, Kyoto, etc). Their website has a list of providers that shows all of the partnerships they have with various businesses throughout Japan
Languages Supported: Chinese, Korean, Thai, Malay, Indonesian, French, Spanish, German, Italian, Russian, Portuguese, Vietnamese, Tagalong, and Japanese
Features: One time registration, One click network login (Android only)
Available on: iOS, Android
Option 2: TRAVEL JAPAN Wi-Fi
The second option for free WiFi App is by TRAVEL JAPAN Wi-Fi. Their free App also provides a solution getting onto free Wi-Fi spots stationed throughout Japan.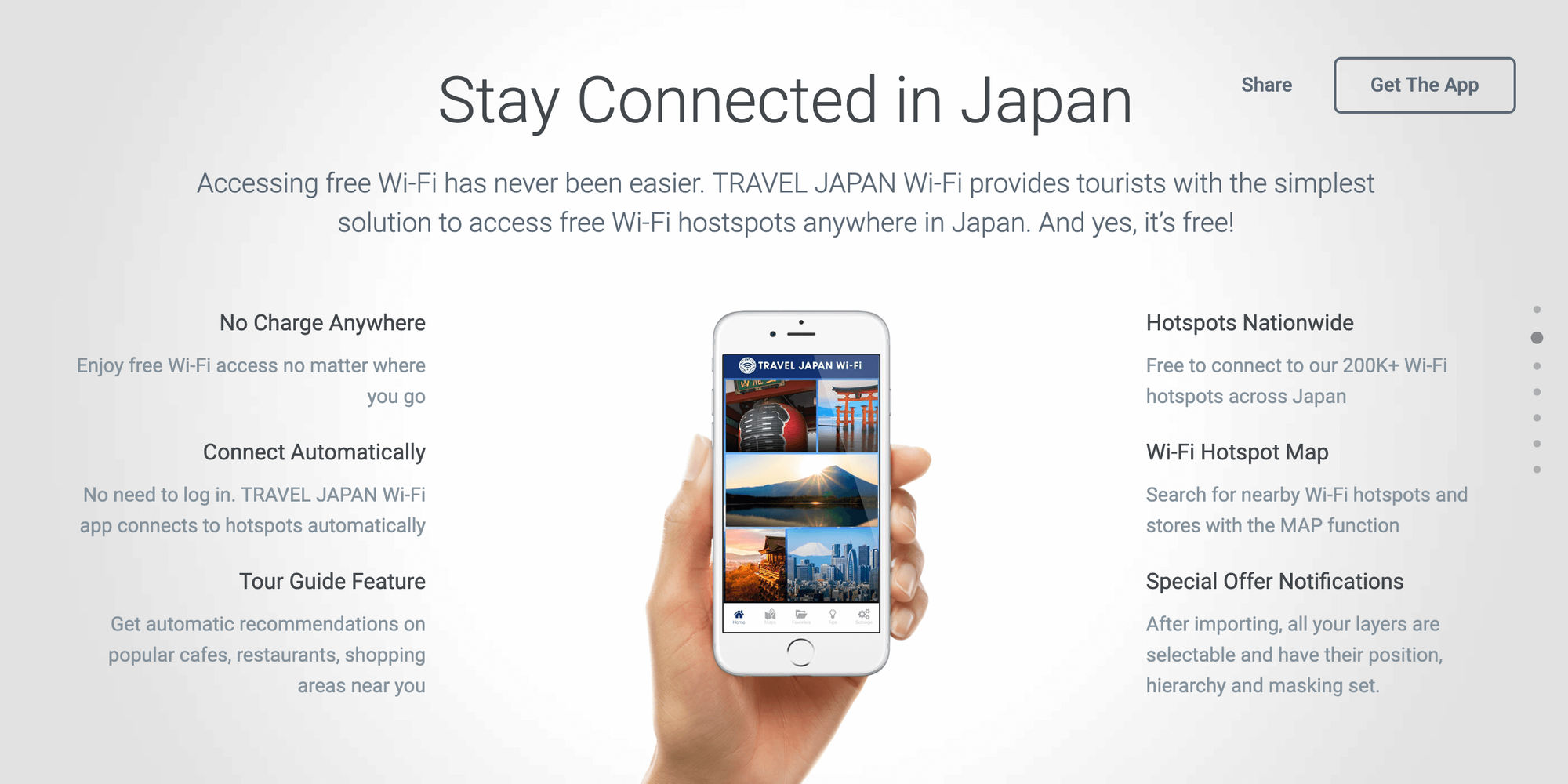 Connection Spots: Over 200,000 hotspots
Languages Supported: English
Features: One time registration
Parameters: Has to logged into manually from the phones setttings using Wi-Fi spots with the names; Wi2, Wi2_club, Wi2_free, UQ_Wi-Fi, wifi_square, Wi2premium, Wi2premium_club                
Available on: iOS, Android
Are Free WiFi Apps Really Worth It?
My honest opinion is this; these Apps are really great ideas and they do help you to locate and login to various free WiFi sources around Japan. BUT.. they still have a long way to go! Bad interfaces, confusing layouts, and unnecessary features made using both of these apps not the greatest experience.
The first app debuted here, Japan Wi-Fi is definitely easier to use than the TRAVEL JAPAN Wi-Fi App though. Not only was the actual App interface smoother, but the TRAVEL JAPAN Wi-Fi App kept messing with the WiFi settings in the device making it glitch out occasionally with an error message.
I will say this for the Apps, I was able to successfully get online using both! The login process for both was minimal and only took about 5 minutes of tinkering to figure out. The closer you are to the source the stronger the signal. I mean even just leaving the door of the establishment with the WiFi may result in a loss of usable internet. If you are looking to conserve data however, this may be a good bet.
Both the Apps interfaces could use a lot of work but at least Japan Wi-Fi's App provided an adequate explanation on how to use it within the application itself.
Better Alternatives - Pocket WiFi and SIM Cards
My advice to all those out there planning to rely heavily on these Free WiFi signals for their vacation is, just don't! Using it as supplemental data is a great idea. (Especially if you're on a low data plan.) But that's where it should end.
You don't want to be the street urchin, lurking around every convenience store for hours leeching WiFi! And why go through the trouble when you could have incredibly fast, reliable 4G/LTE mobile internet with you at all times, wherever you choose to go! If you pick up a Pocket WiFi device or SIM card from eConnect Japan, you will no longer to worry about how you're going to stay connected.
Leave that to us! Explore, stay safe, and enjoy your travels!