How To Rent Pocket WiFi from eConnect Japan Website [Easy 4 Steps]
So you're heading to Japan for vacation. You're thinking about what your options will be for internet when you arrive in the country. Maybe you've read a few articles (like this one) about portable WiFi, Mobile WiFi, the Dongle, WiFi egg... it goes by many names. However, because the ordering process seems complicated, you end up opting for one of the more convenient options like using the roaming plan on your phone. Well, I'm about to show you just how incredibly easy it is to rent a Pocket WiFi device online. So simple, in fact, that it can be done in just 4 simple steps!
For the guide down below we will be using eConnect Japan's Pocket WiFi rental service and we will be completing an online rental for one of our most popular models, the Premium Plan.
Insanely Easy Online Booking
Now let's dive into the four easy steps that will have a Pocket WiFi in your pocket as soon as you arrive in Japan.
Without further ado...
Step 1: Find the plan that works for you
First, you need to go to eConnect Japan's website and click on the Pocket WiFi image. Then you'll be on the rental option page. Click one of the 6 options you have at the bottom of the page for Pocket WiFi. (eConnect Japan likes to cater to each persons travel needs by having many options, which is why we have 6 different plan types available.)
For this step-by-step guide we are going with our most popular option, the 4G plan.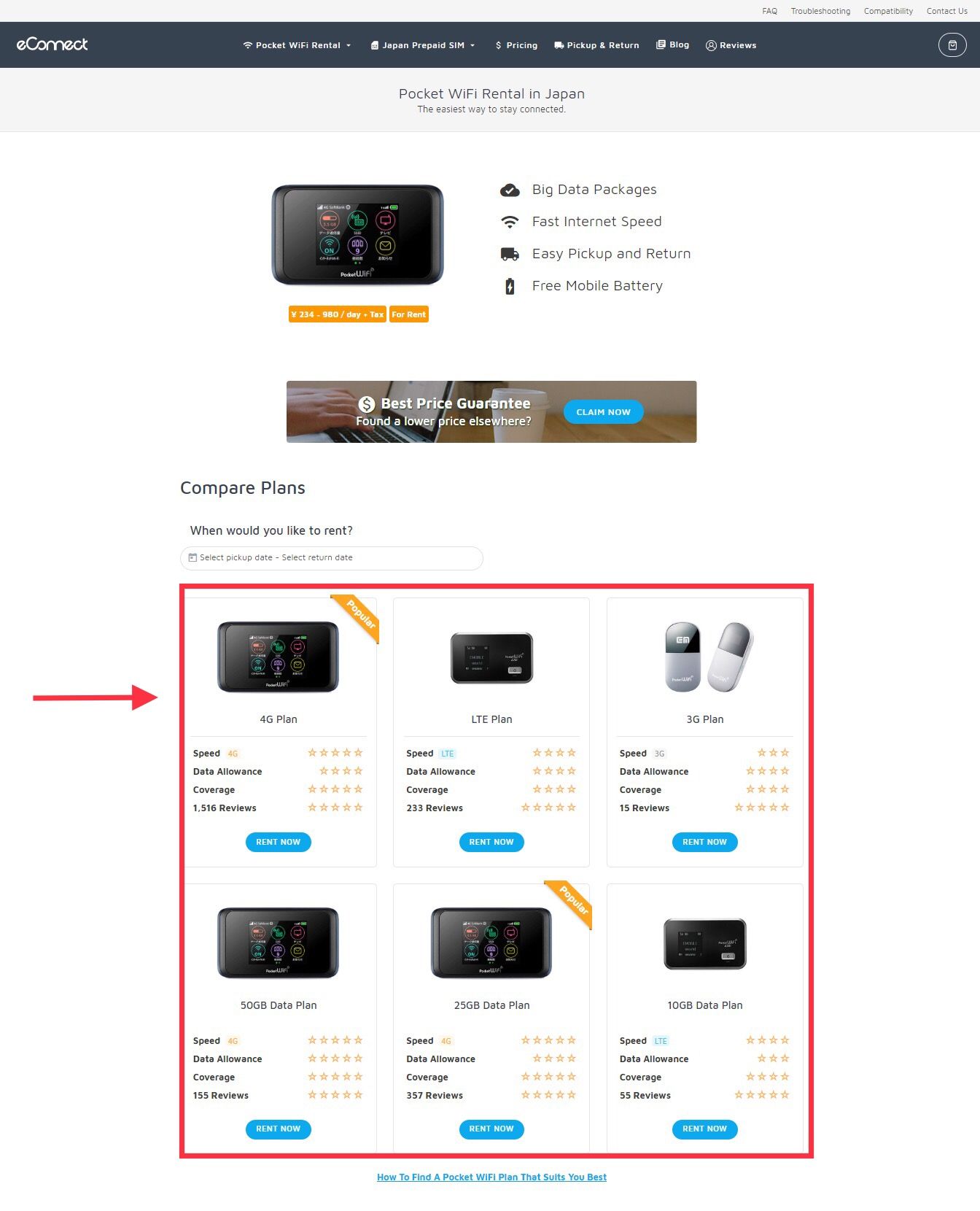 Step 2: Enter your travel dates
After you have made your selection the next step is to input your dates of travel. Once you click on the "when would you like to rent" section, a blue and white calendar will pop up giving you a fun visual way to select your dates.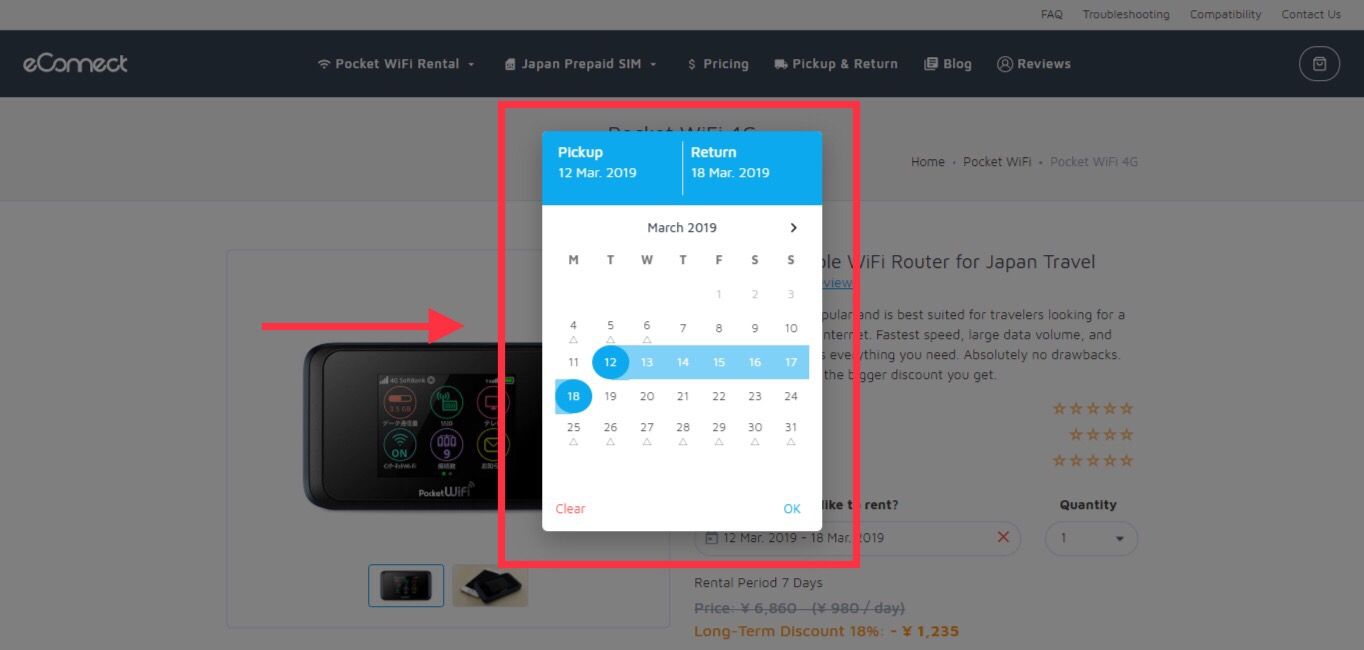 Once the dates are in, you will be taken to the next web page showing you your total along with all the possible discounts you'll be receiving. It's just one click!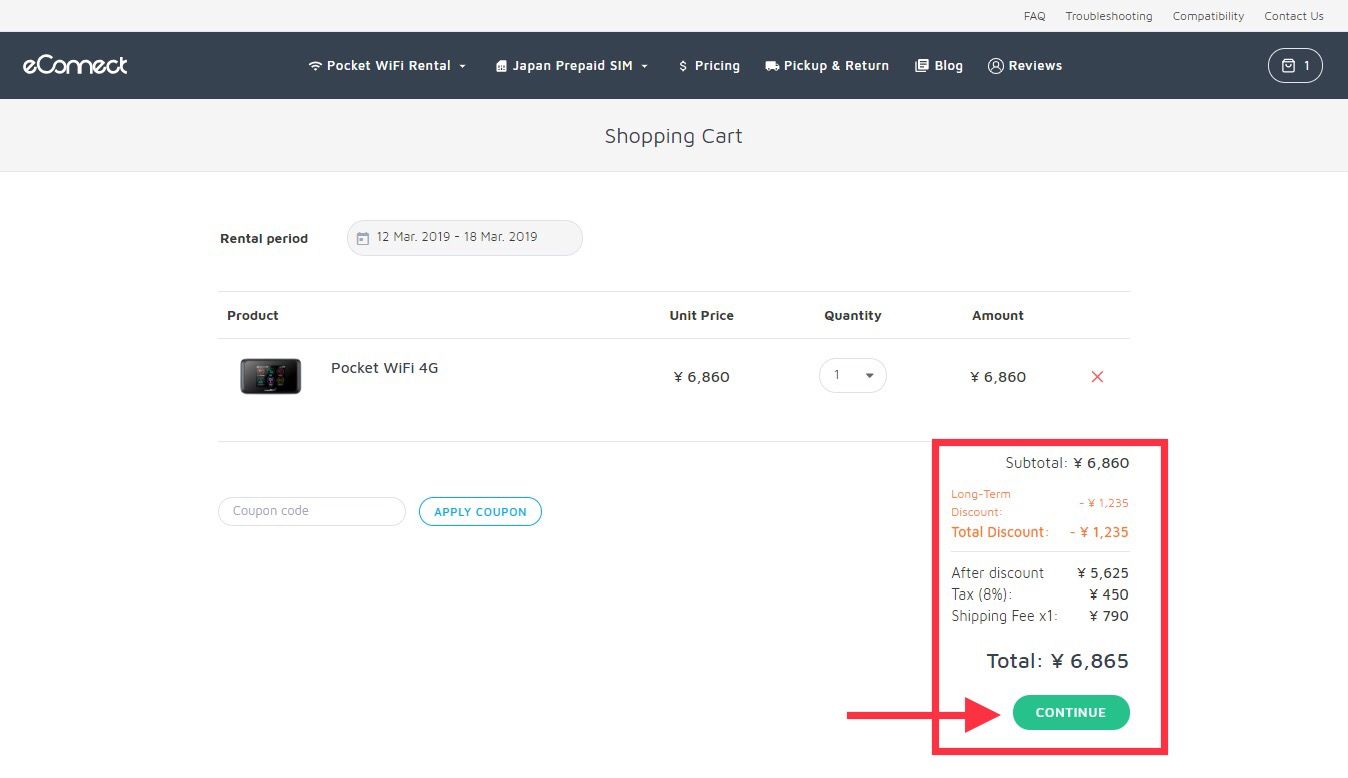 Step 3: Decide your pick-up option
The next step is selecting your desired pick up location. You are able to choose from four options. Your hotel, the airport of arrival, local post office, or residence. The pick up location you choose will depend on your specific vacation itinerary. eConnect Japan offers four different pickup options to allow for maximum flexibility.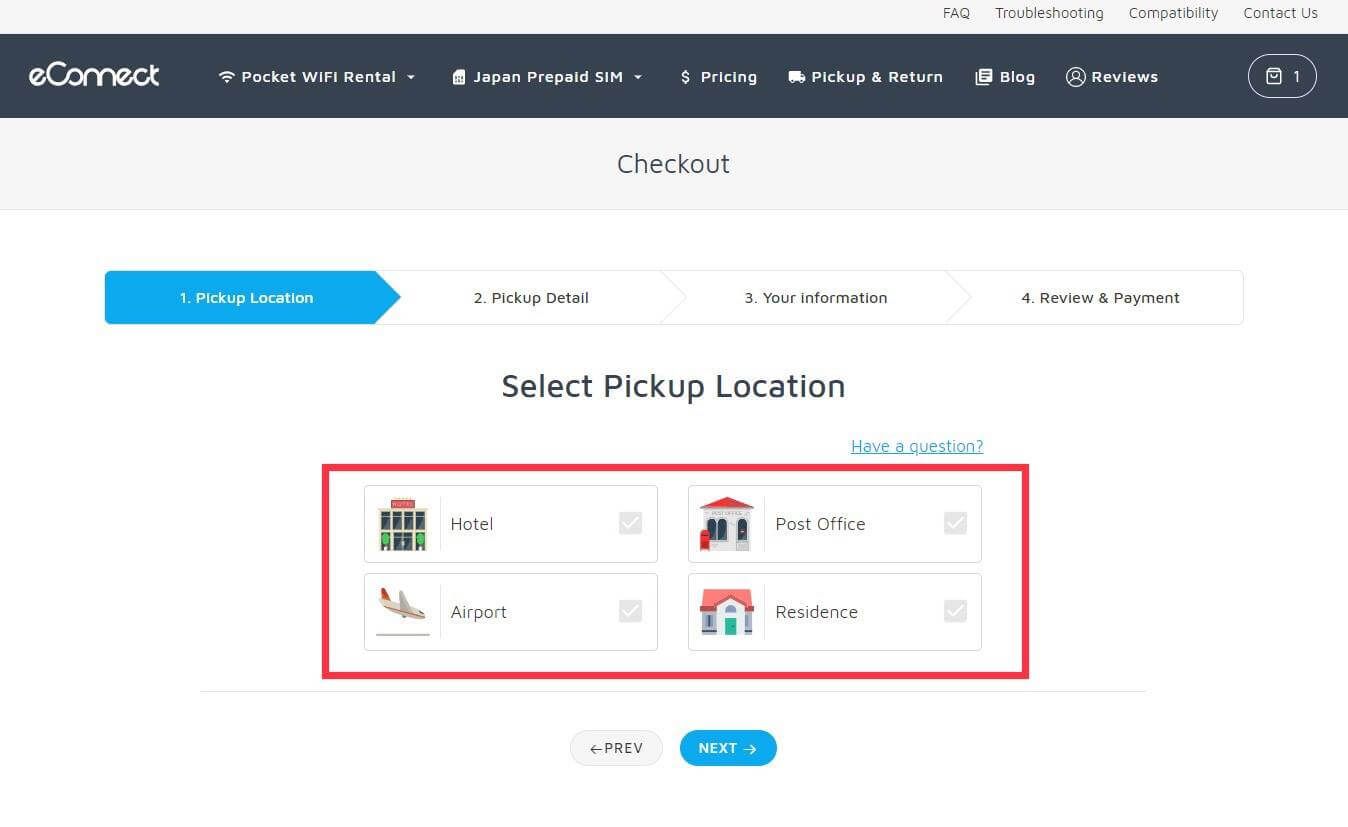 Step 4: Pay!
Congratulations, you've made it to the final step! Review your order details to make sure everything is entered correctly and click the verified pay button in green at the bottom of the page.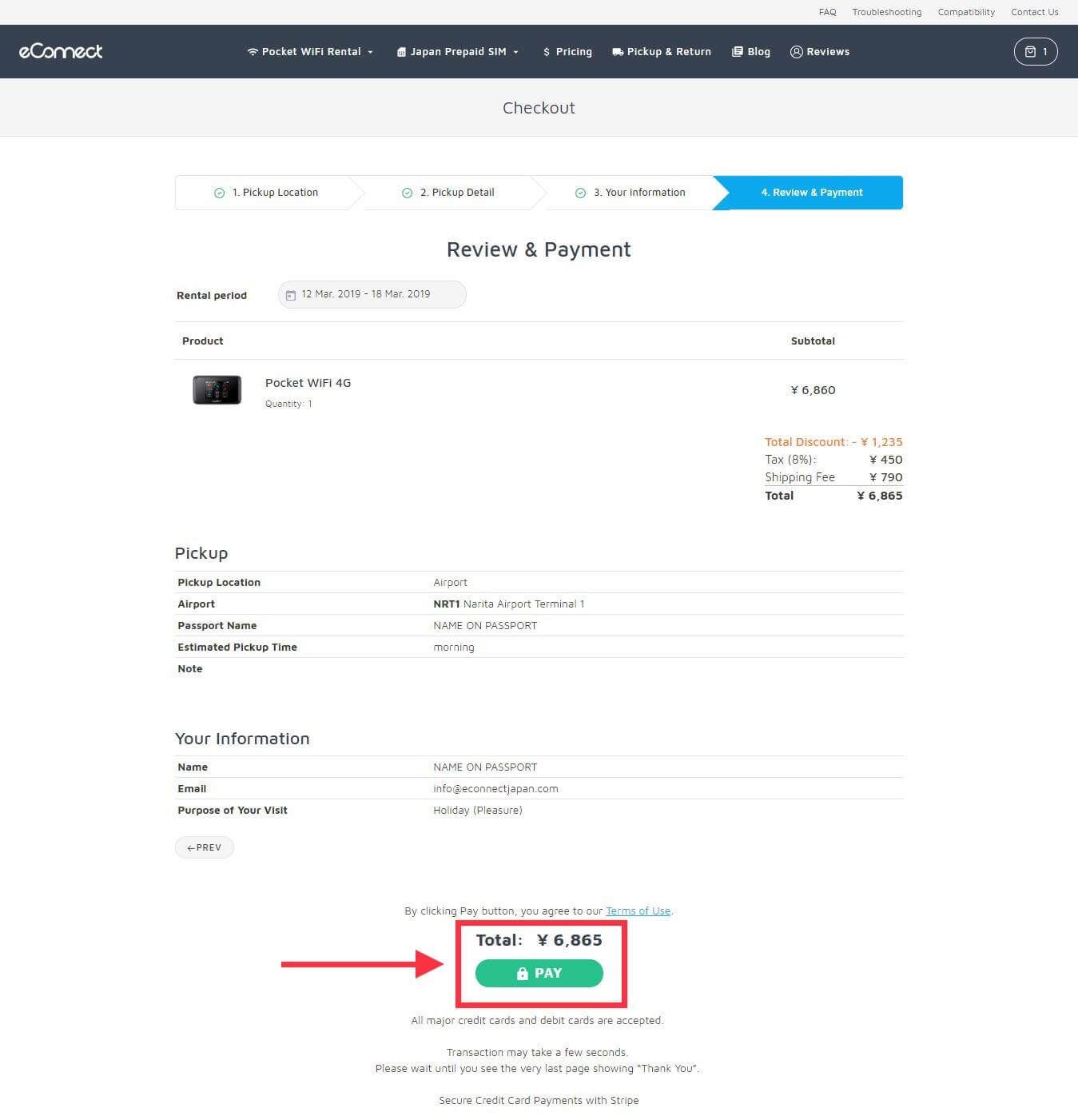 Put your email and credit card information into the window and press pay. You will be emailed a copy of your receipt. For your information, transaction is highly secured by Stripe, one of the largest online payment service providers in the world.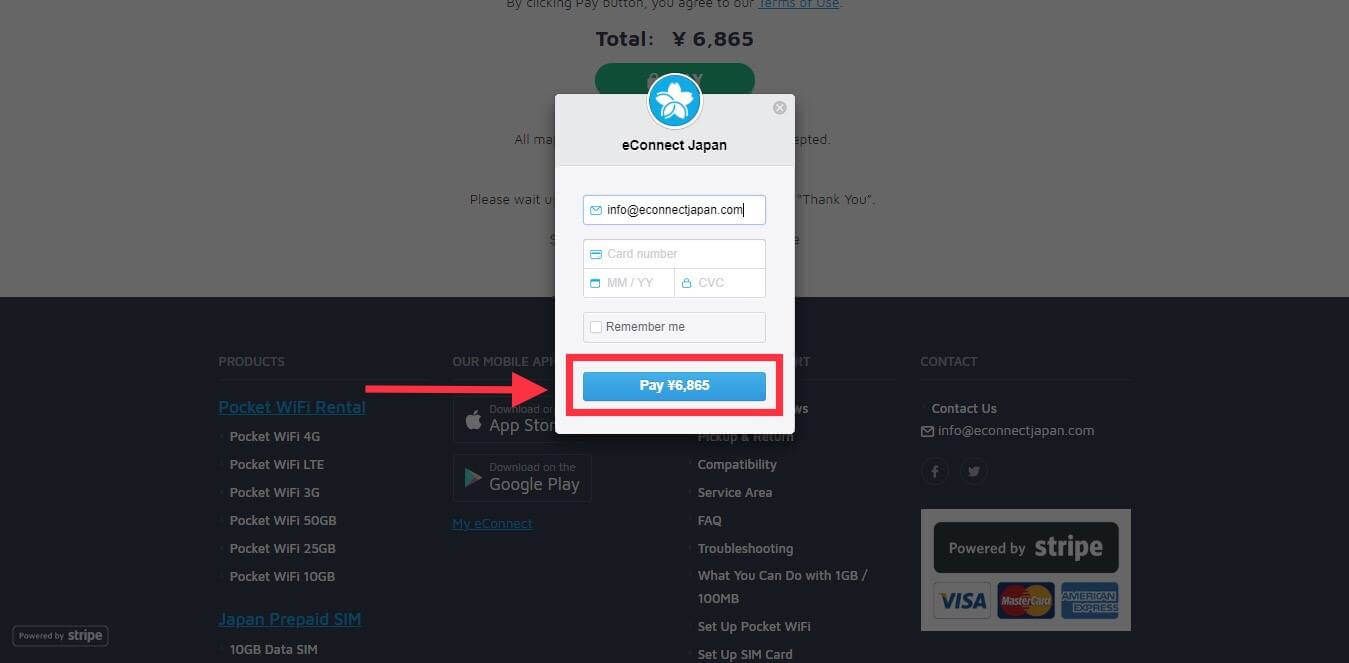 Pick-up and Returns
Now that we have been through how easy it is to place your order for a Pocket WiFi unit online, let't talk about the next step. The next step being how you actually get your device and send it back before you leave. No one wants to incur unnecessary extra fees for being late or sending their device back to the wrong place. That's why we have simplified the pick up and return process to the point that it's almost impossible to get it wrong!
Pick-ups
Hotels: the staff at most hotels will usually inform you that you have a package. if not, just go to the reception and ask for it.
Airports: just find the post office at the airport and show them your passport.
Post office: same as the airport! Go to the pickup counter and show the staff your passport.
Residence: the device will be waiting in the mailbox you sent it to.
Returns  
Returns are just as easy as the pickup! Just use the prepaid envelope we provide, put everything that came with it in that envelope, and drop it in a post box in Japan. There are red post boxes pretty much everywhere, including all airports. For your information, we have a dedicated blogpost explaining how to return Pocket WiFi in Japan.
Conclusion
As the Japanese like to say, "Otsukaresama"! which means good work for sticking through to the end of this guide. I hope that this simple four step guide has made it evident to everyone (yeah even you tech challenged people out there) just how easy renting Pocket WiFi online can be!
One of the major perks of renting online is all the deals that you can get when you book in advance! Like eConnect Japan's Early Bird Special, that gives you 15% off when you rent 3 weeks in advance. If you're looking for a fast and effective way to rent Pocket WiFi, now you know it's only a measly 4 steps away!
Thanks and see you next time!