Compared: Pocket WiFi Rental Options at Narita Airport [2019]
Before everything, we'd like to point out that we, as always, strongly recommend that you order a Pocket WiFi online before coming to Japan. We have a dedicated blog post explaining why you should do so. We encourage you to check it out if you have not.
This post is mainly for those who did not have time to order online or did not know they could order online, and have arrived or are en-route to arrive at Narita Airport without any mobile internet prepared.
We'd also like to point out that we, eConnect Japan, have no plans of putting up a booth at the airport as we would have no choice but to raise our rental fees to offset the notorious Airport Tax...
Narita airport official website has a list of companies that offer cell phones and mobile hotspot rental services. We're covering ones that offer rental services of mobile hotspot, portable WiFi router, Pocket WiFi, whatever you want to call it... (It's nice to have your own mobile internet while in Japan!) For your convenience, we've excluded in our list, companies that do not have English information on their websites for Pocket WiFi rental services.
So, below is the list of WiFi rental service providers for Terminal 1 and 2. They all have a counter or a booth somewhere in Narita Airport. Today, we will go through the pros and cons for each company.
Rental Service Providers & Provider Location
Air's: Terminal 1
Global Advanced Communications: Terminal 1 and 2
JAL ABC: Terminal 1 and 2
GENKI MOBILE: Terminal 1 and 2
Softbank Global Rental: Terminal 1 and 2
Telecom Square: Terminal 1 and 2
XCOM GLOBAL: Terminal 1 and 2
PUPURU: Terminal 1 and 2
Now, let's look at the options one by one.
---
Air's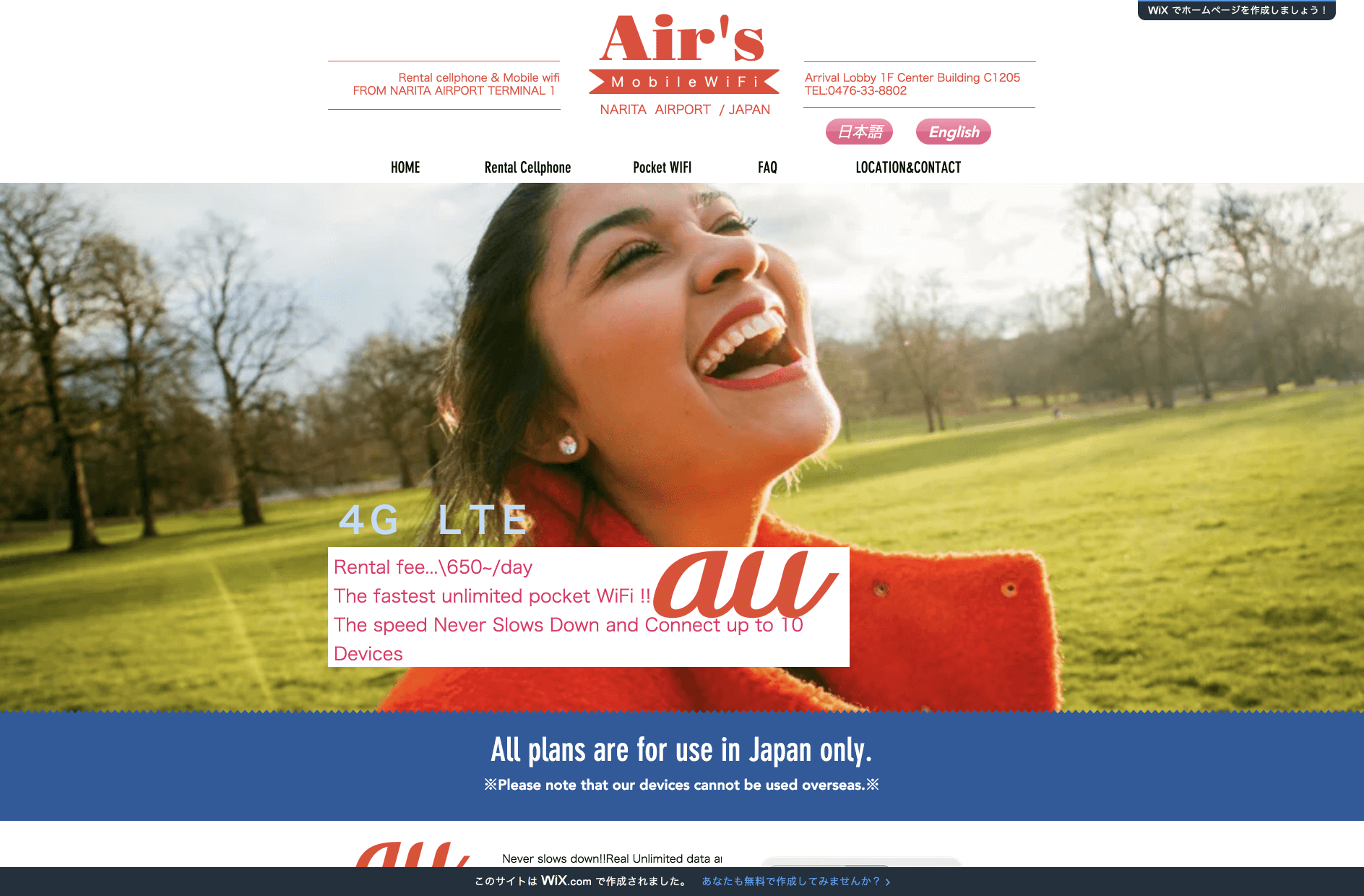 It looks like they use WiMAX devices using KDDI au's (one of the domestic Japanese carriers) network. The good thing about WiMAX is that some of those models allow you to use mobile data unlimitedly without fair usage policy or possible speed restriction. However, unlimited mobile internet may be subject to be restriction depending on how the Japanese government stands on this issue in the future.
The downside of WiMAX devices is that sometimes they have coverage issues especially underground, in buildings and in the rural areas of Japan. So, that could be a bit troublesome if you plan to travel outside of metro areas.
Below is a screenshot of their rental prices as of April 2019.

Note that this is the daily price (tax included) and that you will not be able to get the same discounts shown on the price list for orders placed less than a week in advance.
They also provide a mandatory insurance plan which is 150 JPY per day and it covers 70% of the compensation fee.
---
Global Advanced Communications
They have a booth in both Terminal 1 and 2, and they also have an online store which can be helpful as you can book ahead of time and collect it from their booth in the airport.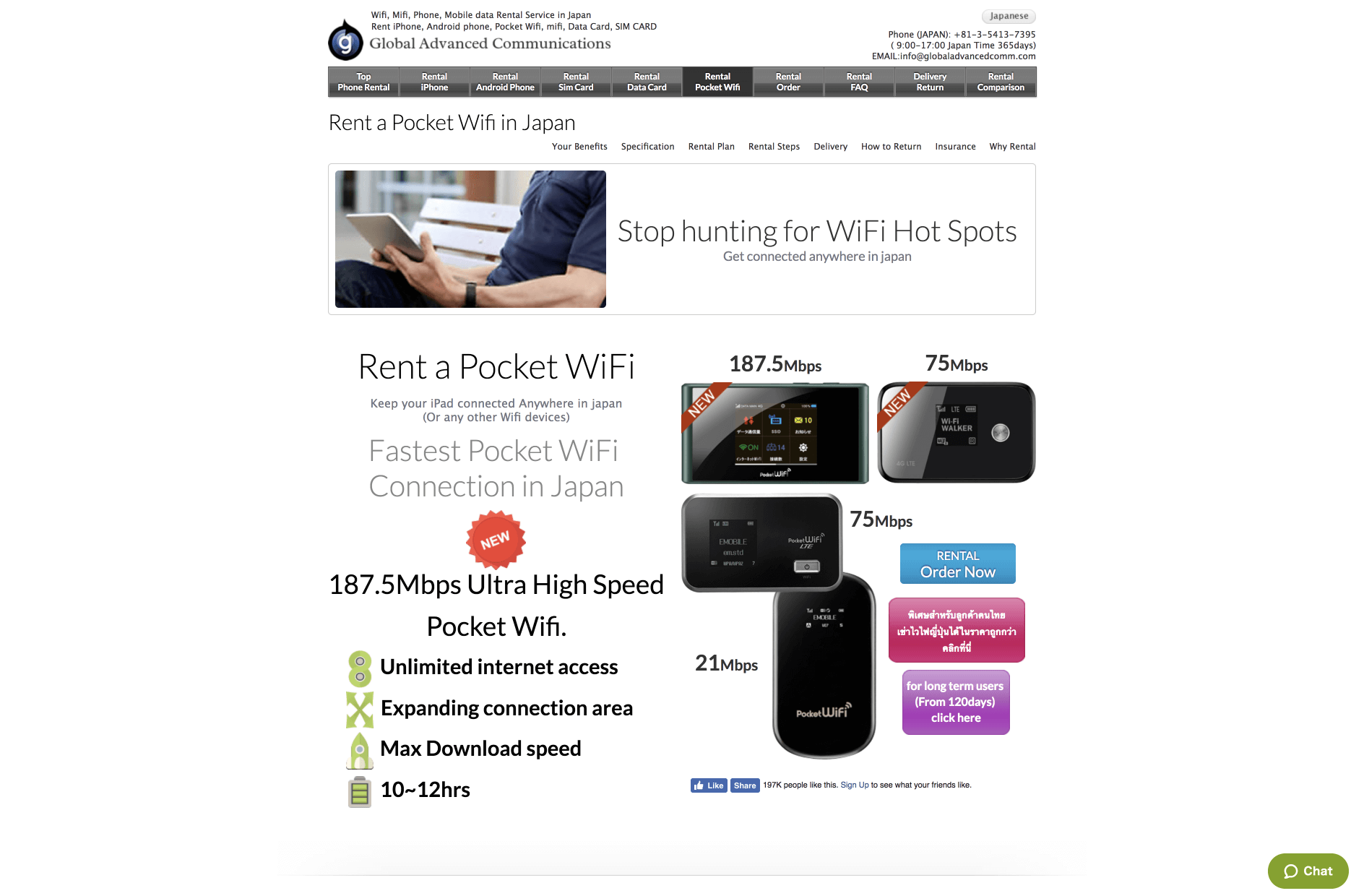 Sadly, their website is a bit messy so it might be a bit hard to navigate to place an order.
They offer a wide range of products including 4 types of portable WiFi devices.
Be aware that the speeds quoted (187.5Mbps or 75Mbps) are theoretical figures based on all conditions being at best optimization. The actual speed will not be that high (this applies to all Pocket WiFi devices used in Japan). Also, there is some misleading information about "unlimited data". Read carefully, it's unlimited data WITH possible speed reduction.

As you can see in the screenshots above and below, all the Pocket WiFi come with a fair usage policy. Which means as the user, you should not assume that you can use high speed internet indefinitely (not true unlimited).

Their basic pricing is shown below. It looks they sometimes offer holiday discounts and discounts on certain services for special events like the Olympics so you might be able to get cheaper rental prices if you time it right.

They also offer an extra power bank for 150 yen a day. (By the way, eConnect Japan offers a FREE power bank, yeah!)

---
JAL ABC
This company is a subsidiary of Japan Airlines, the biggest airline in Japan. They have different websites for Japanese and English.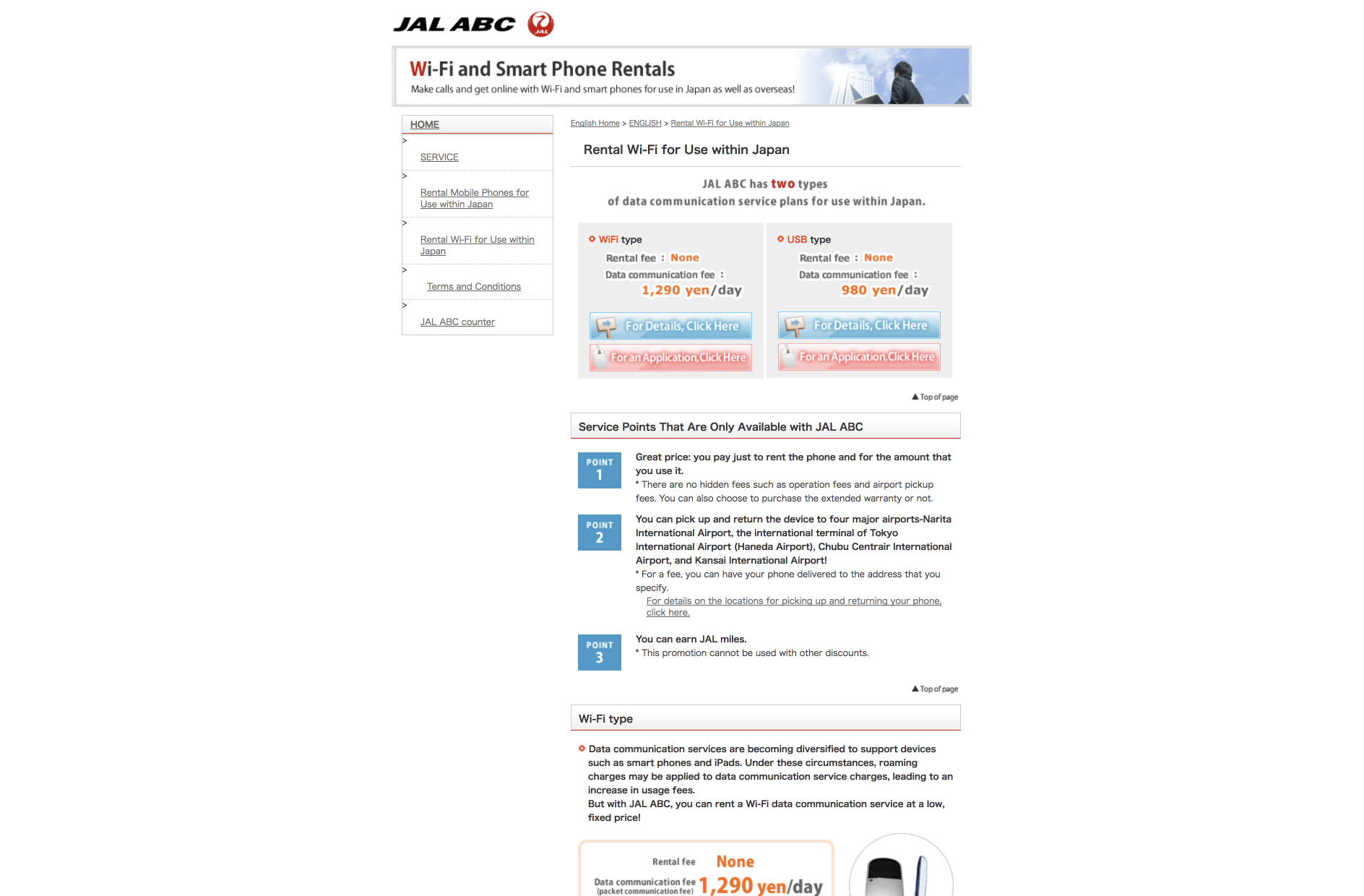 Device images used on the sites make it difficult to tell what type of Pocket WiFi unit they offer. At the very least, we can tell that they offer a portable router type and a USB WiFi type.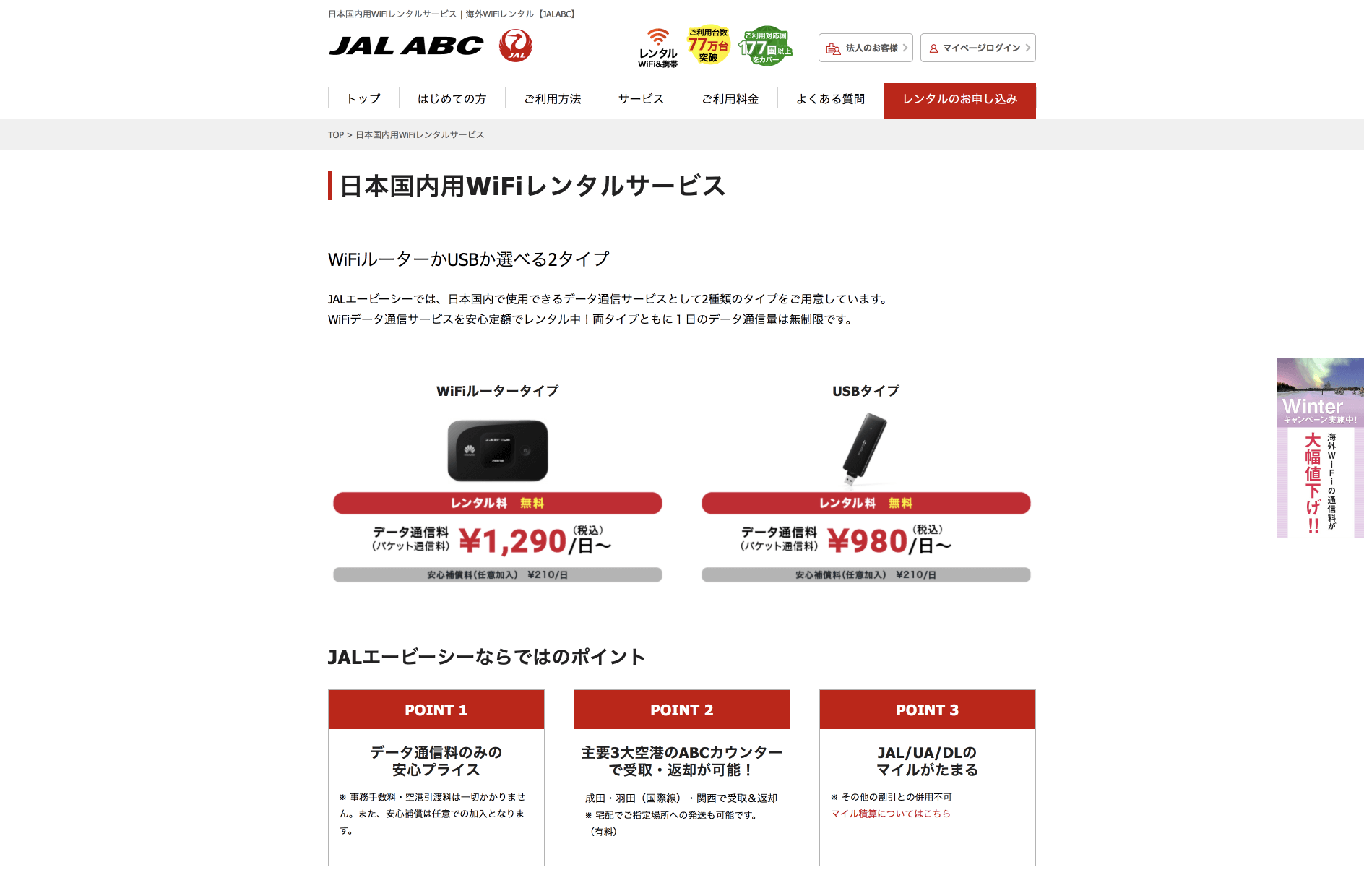 On both sites, they did not specify the data allowance but there is a precautionary statement in the fair usage policy and the possibility of speed being restricted if excessive amount of data is used. So like always, their devices do not have true unlimited data either. Another demerit is they are quite pricey compared to the other providers.
---
GENKI MOBILE
They have an e-commerce website too. Not sure if they offer the same device for the same price at the airport given the fact that they must pay the airport tax.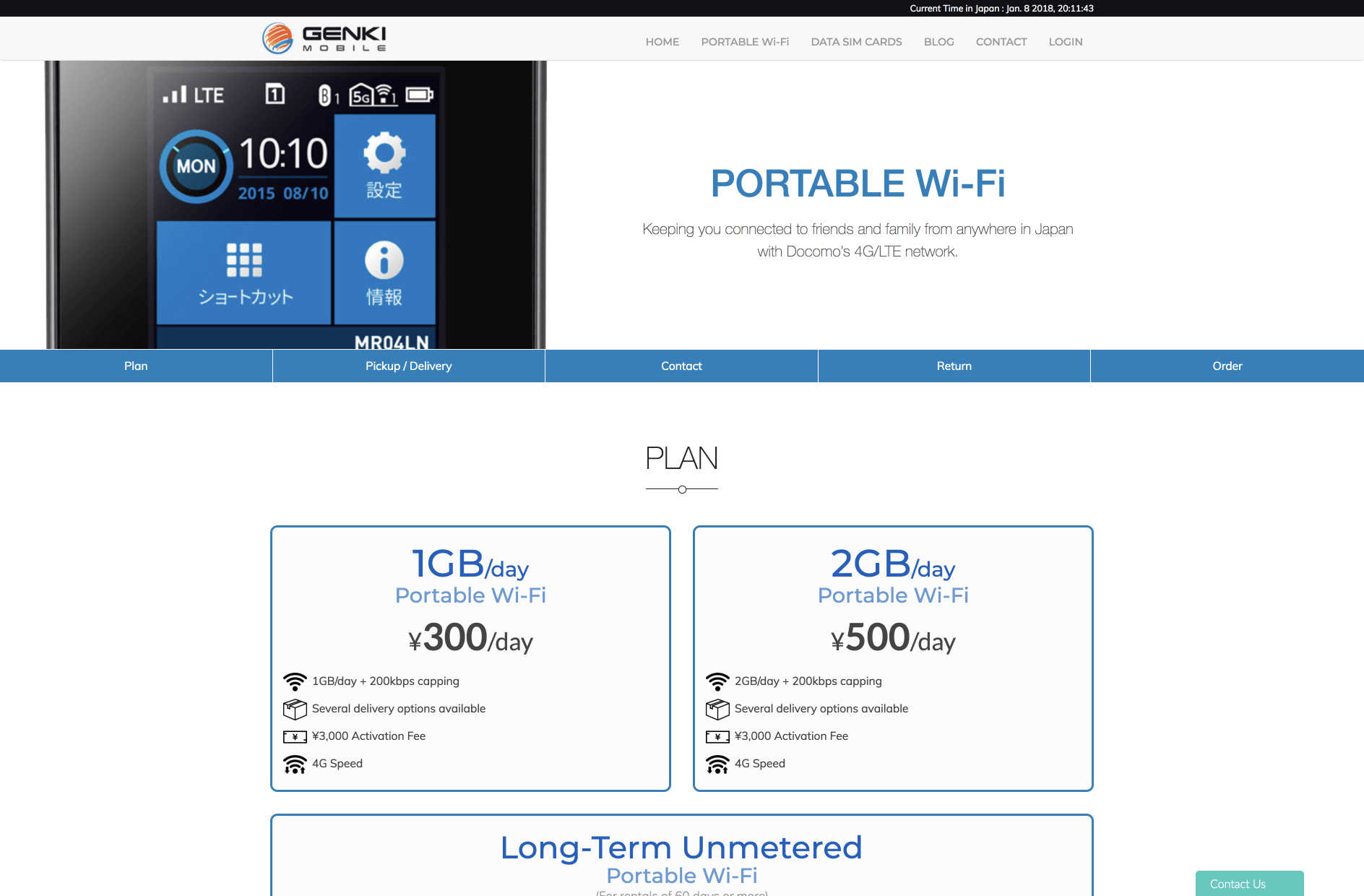 As far as we can tell from their site, they use the Docomo portable WiFi device. Docomo portable WiFi routers usually have much less data capacity when compared to their Pocket WiFi (Softbank) or WiMAX counterparts.
Even though the site states that they cap 1GB or 2GB per day, we are a bit skeptical as to whether or not you can actually use 2GB in a day. For example, let's say you go with the ¥500/day option for 20 days. Your data total would end up being 40GB. That's more than what the standard Docomo portable WiFi normally allows! However, it's possible that they have special contracts with Docomo that enable them to achieve these high data limits.

It's always a must to ask the provider (if you can communicate with them) if there is any form of possible data limitation or a shutout scenario when you rent Pocket WiFi at the airport.
By the way, their price system is quite interesting. 1GB/day for 300 yen seems quite reasonable until you factor in that you're paying 3,000 yen for an activation fee. Not quite sure what activation they mean because WiFi hotspot devices do not usually need to be activated.
---
Softbank Global Rental
Similar to most of the other companies, Softbank Global Rental also has website booking for rentals.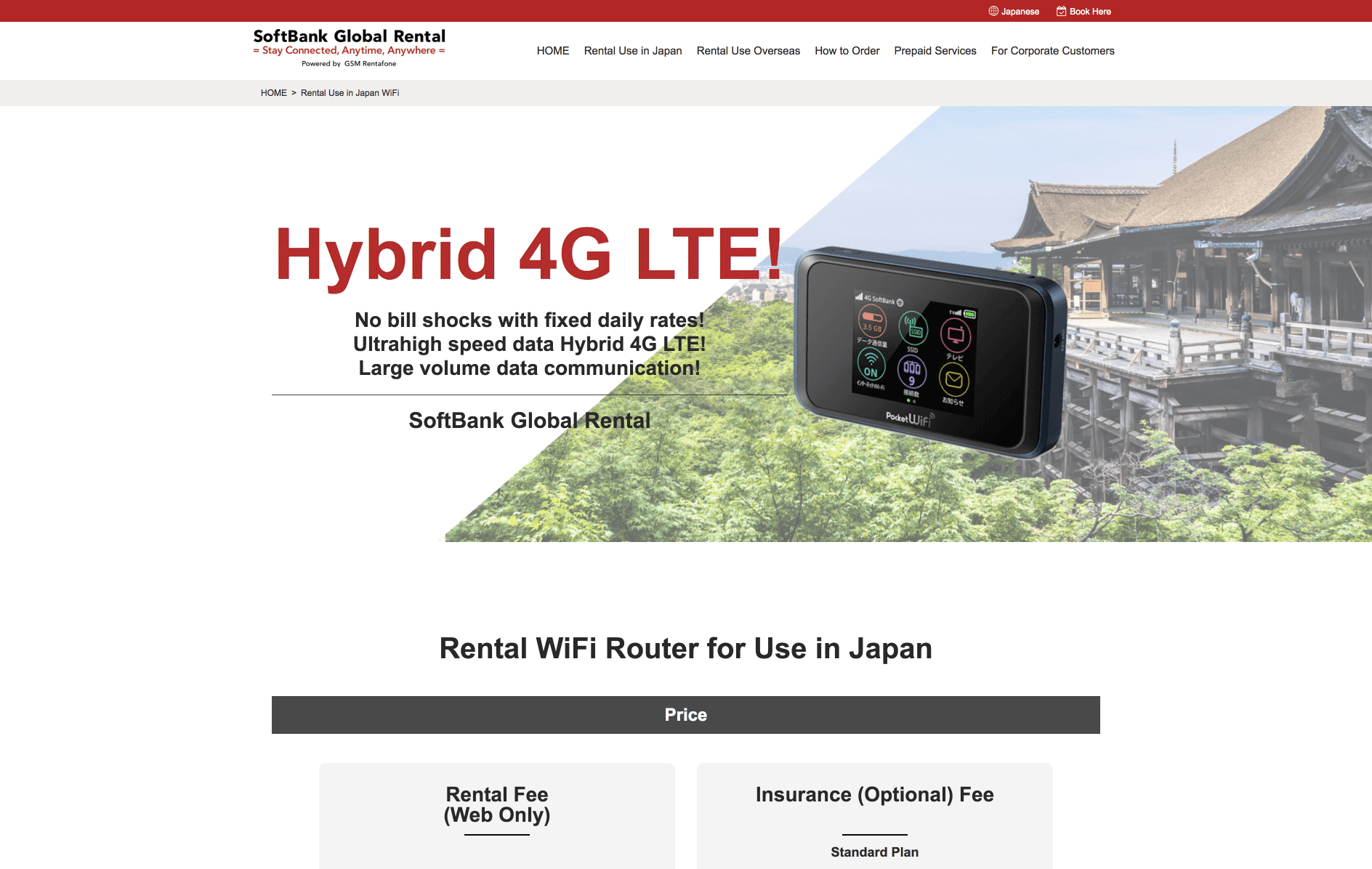 The website looks neat and clean. Their service is actually powered and provided by a company called GSM Rentafone, the provider of Anyfone Japan.
They have only one plan: Softbank Pocket WiFi with 4G LTE compatibility, which uses the same device that we offer as the 4G model at eConnect Japan.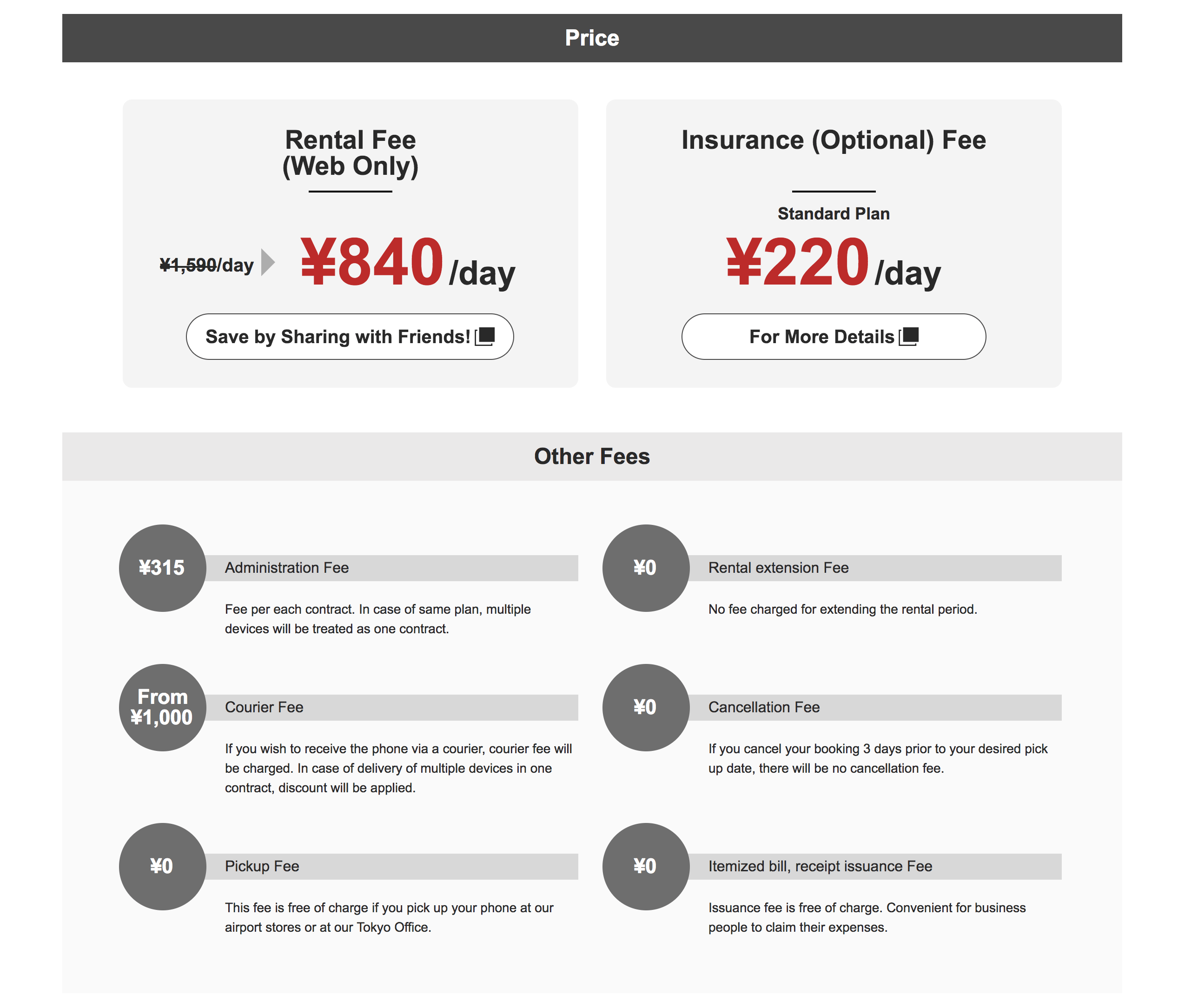 A point that catches the eye right off the bat is that they charge a 315 JPY Administration fee for each contract. (What is this fee for!) What's more interesting though, is that their rental fee of 840 yen a day is Web Only. Makes you wonder how much they charge at the airport counter...
On their website, here again that fair usage policy rears its ugly head. As with all the other companies this means their Pocket WiFi is not true unlimited data.

Telecom Square
You can rent their portable WiFi devices online too. Just by looking at their lengthy application form, you can tell the ordering process would be super time-consuming.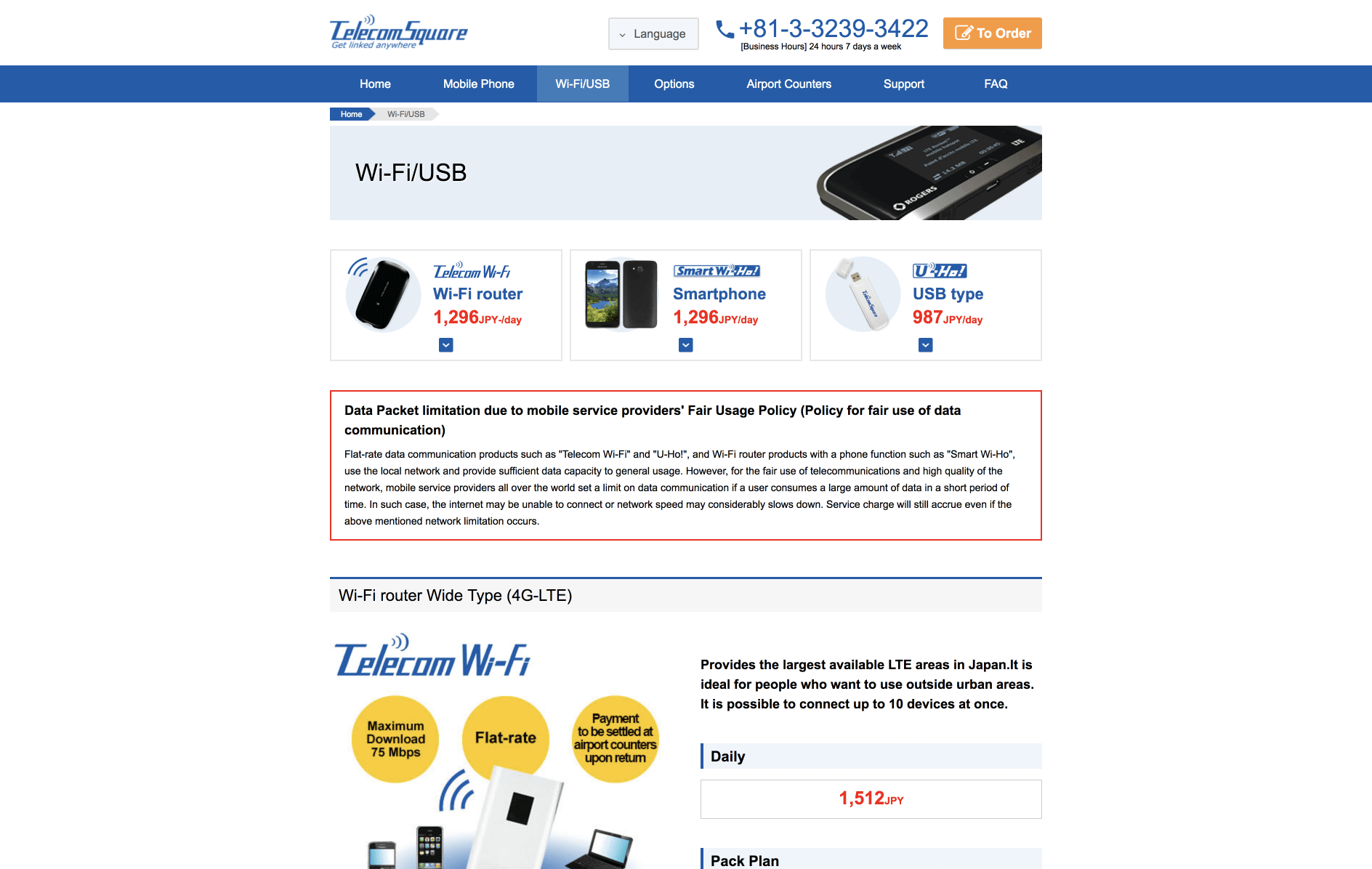 They have USB type devices as well as smartphones. And again, just like most other WiFi service rental providers, they have the statement about fair usage policy on their website as well.

If you go for one of their Pack Plans, their prices aren't bad. However, we are not sure how much data you can actually use with them because there is no detailed information about that on their site. They will most likely tell you at the counter. (A bit sketchy if you ask me!)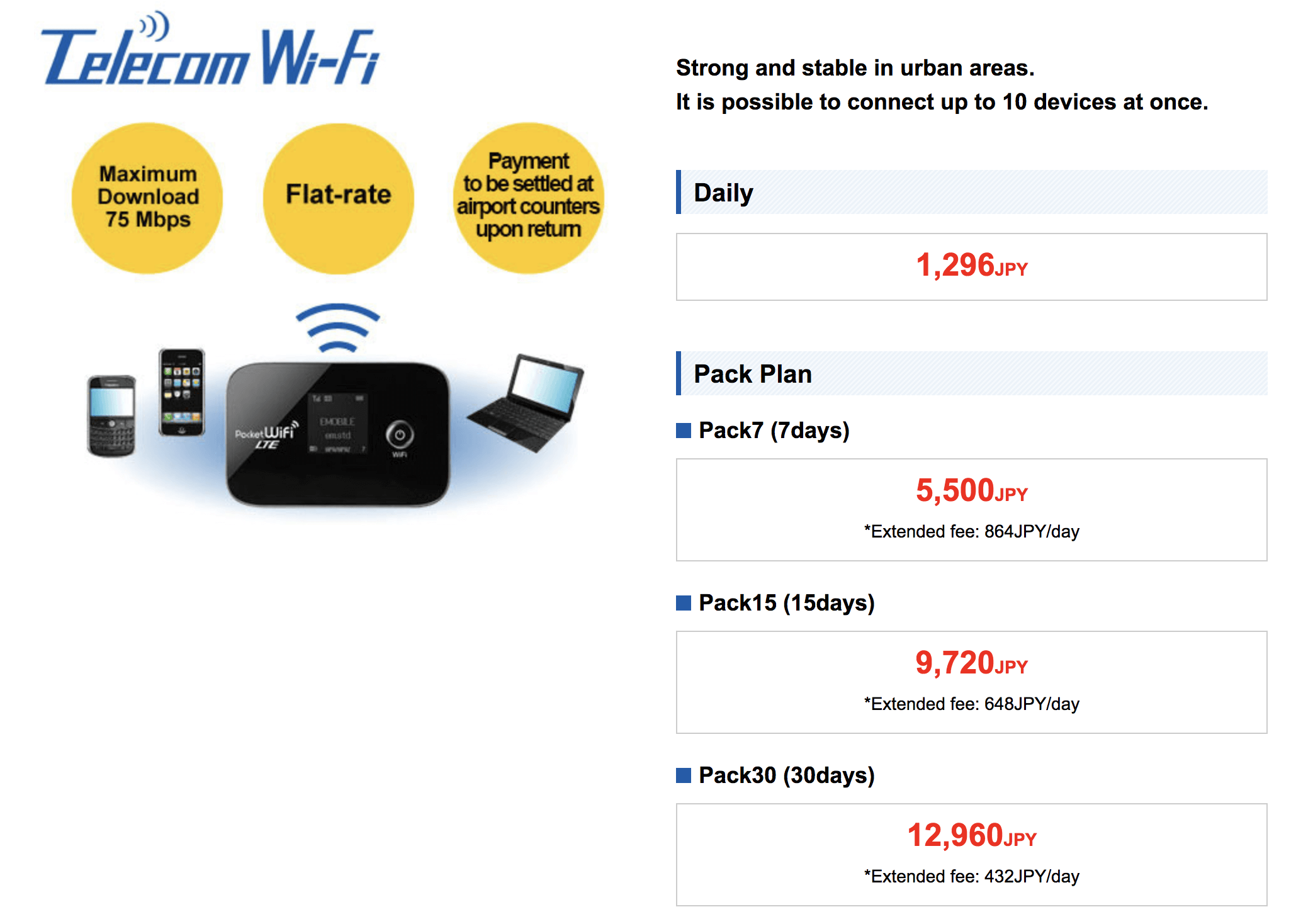 The USB type available is a bit cheaper of an option if you're looking to save.
They have a counter not only at Narita but also at Haneda, Kansai, New Chitose, Chubu, Fukuoka and Takamatsu airport. Having a presence at Fukuoka and Takamatsu airport is an extra point for them. They even have a 24/7 return box at each airport.
---
XCOM GLOBAL
This company provides WiFi device rental services under the brand name "JAPAN WiFi".

Their site is clean and looks nice. However, it was not easy to find the information about data usage limit. After some digging, we finally found it in their FAQ page.

Their service is subject to a speed restriction/limitation if and when you use 500MB or more in a day. The price for their mobile WiFi device rental is 780 JPY a day. You can score a discount if you rent for more than 8 days.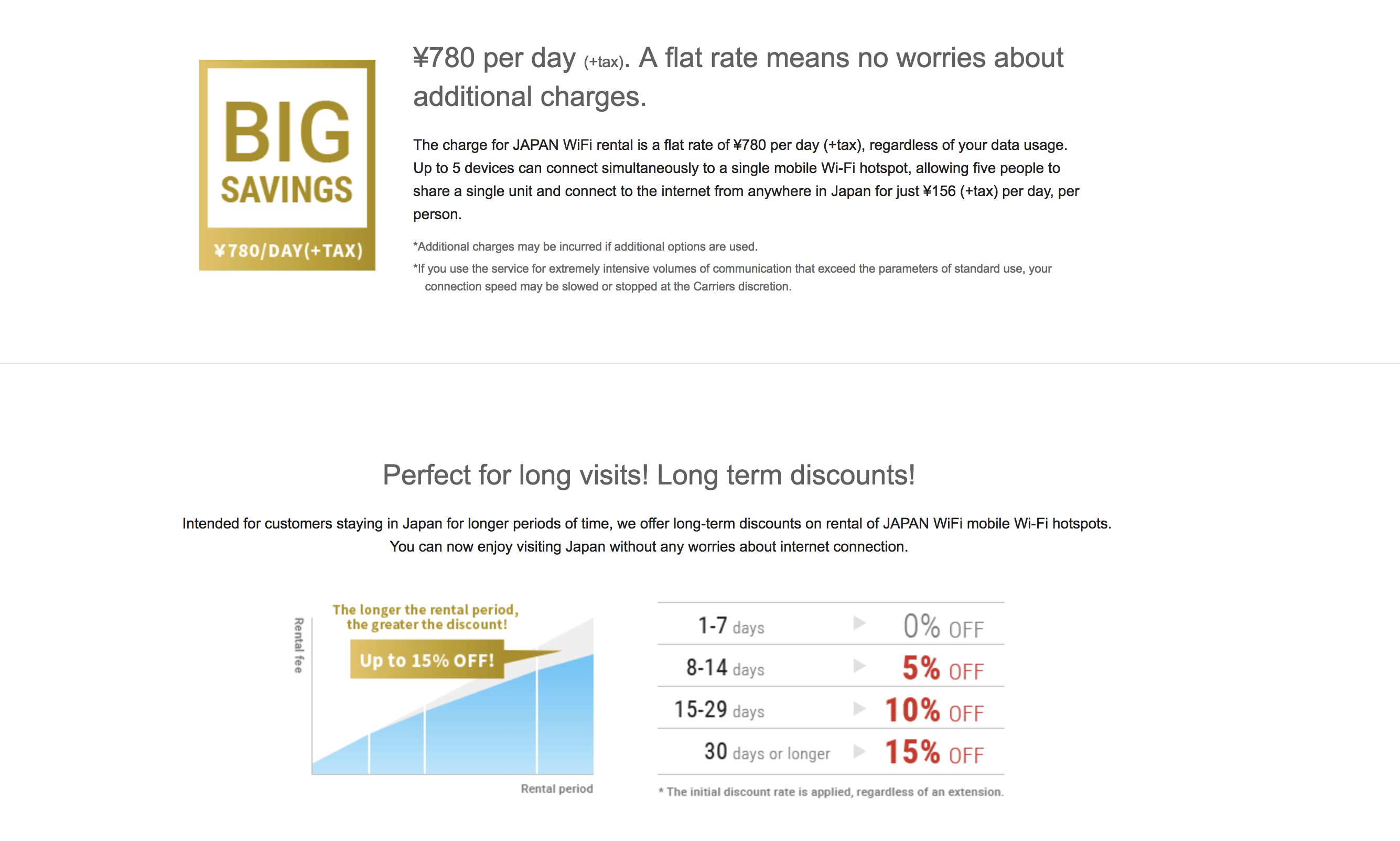 They offer insurance and mobile power bank too, for the unit price of 400 JPY per day per and 200 JPY per day respectively.
---
PUPURU
These guys operate online too.
(They've prohibited us from uploading their webpage screenshot here.)
It looks they even offer translator gadgets as well. (Which is pretty standard for most of the providers and the airport.) But this got us wondering if it actually works better than translate functions you can easily use on your smartphone. (Google Translate, etc.)
The Hi-Speed plan is a SoftBank Pocket WiFi device, the same as what we offer at eConnect Japan. They advertise it as "unlimited data" but it's unclear at this moment if their devices are true unlimited data (without any possible speed throttling whatsoever) or not. We strongly advise you to contact them for details if you are interested in renting from them.
They also have a device called WiFi WALKER for their Broad-Coverage plan which seems to be using the AU network. We do not have much information about this type of device but it looks similar to WiMAX, less coverage area but large data capacity. This might be a good option if you require a true unlimited data pack and will stay in a place that is within the network coverage area. Their prices are more or less average.
They also offer an extra power bank for 100 yen a day as well as insurance packages.
Conclusion
There are many things to consider when choosing a rental WiFi plan. One thing is certain... it is best to place an order online in advance for your device before arriving at the airport. Be aware that in almost every case it is more expensive to rent from the airport booths and counters because of the mandatory airport tax. Also, it's important to understand that almost no company out there is offering true unlimited access to data. To learn more check out our recent piece about this "unlimited WiFi" advertising craze.
We advise that you invest some time to select your pocket WiFi rental provider by looking at the details. eConnect Japan has a big range of portable WiFi data plans that are catered specifically to an individuals travel needs. Take a look at our portable WiFi rental plans if you have a chance.
It's also extremely convenient! If you're at home and are planning your trip you can have your device waiting for you upon your arrival. If you have already arrived and can wait a day, consider the option of delivery to your hotel or post office.
We wish you the best in your travels in Japan.
Explore, stay connected and have fun!