This promotion is available for Pocket WiFi Rental only.
Copy & paste the code below to use on the checkout page.
PROMOTION ENDS IN  
What's included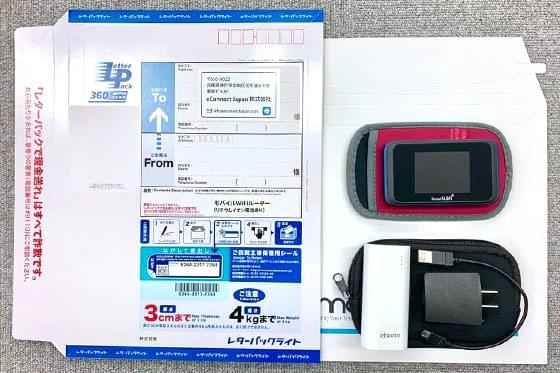 Pocket WiFi

Extra rental powerbank

Instruction paper

USB cable (cord)

AC adapter (charger)

2 carrying cases

Prepaid return envelope
Reviews
5/5
Perfect
Fast internet available everywhen and almost everywhere. Reliable and easy to use. Delivery in hotel OK. Return in airport mail box OK. But, on sunday, i had to find a mail box which was not completely full. I used only 10 of the 52 GB included (2GB/day). We were 4 with 8 devices. I should have choosen a cheaper package : 1GB/day was certainly enough.
5/5
Great device and smooth service
Everything runs smoothly at econnect. I have used it multiple times. The device is on time, works properly with good bandwidth. Hassle free operation. I will use it again.
5/5
Great coverage and support
Really easy product to use. Ordered in advance and had sent to my hotel. No issues when I checked in they handed me the package and all was included for easy use, extra battery, charger & instructions. I travelled to a remote place, and some Japanese companions even said theirs wouldn't get service, but I had no trouble. Mail out was super simple. Suggestion might be for foreigners to identify which airport they would be flying out from and a quick card included with mailbox location for that airport. Even so it was easy to find one for the return.
5/5
Perfect service
I chose to collect the WiFi from Kyoto main post office as it is right beside the station and is open until 7pm (on the Saturday I arrived). The packaging was great, with cases, extra charger and wire. The service was uninterrupted for the entire time I used it. The return envelope was ideal, and I dropped the package off at the airport post box in departures before going through security.
5/5
Great
Very easy to use and very convenient, thanks
Shipping & Delivery
We have our orders delivered 1 or 2 days ahead of selected pick up date (the only exceptions are the last-minute orders).
You select your preferred pick up location during the checkout process.
Once your order has been shipped, you will receive a shipping confirmation email with tracking link.
How does Pick up & Return work?
Pick up
Pick up at your desired location: airport, hotel, guest house, ryokan, post office or a private residence. Any address in Japan will do!
Return
We provide a prepaid return envelope with all the necessary information filled in. All you have to do is put all the items in the envelope and drop it in a post box anywhere in Japan.
Precautions before using Pocket WiFi
The connection speeds shown above are provided on best effort basis. Actual speeds vary depending on location and connection status.
Network provider (Softbank) reserves the right to restrict the connection speed for those who have used significant amount of data in a short period of time (or for those whose network activities are considered as suspicious).
Your device must be WiFi enabled.
We need to check availability.
Please send us a Last-Minute Request from the button below.
Note that the following pickup locations are not available for your requested pickup date.
New Chitose Airport (CTS)
Okinawa
We need to check your pickup location first.
Where would you like to have it delivered?
This product is out of stock on the selected date...
Out Of Stock On: