Pocket WiFi Rental Options at Fukuoka Airport [FUK] 2020
In our latest installment of Pocket WiFi rental options at major airports in Japan, we finally land in scenic Kyushu, the third largest island in Japan. The most populous prefecture in all of Kyushu is Fukuoka. This prefecture is known for its iconic scenery and vibrant cities. In this article we will be visiting the Prefecture's busiest airport, Fukuoka Airport [FUK], to explore what kind of options it has for WiFi hotspot rentals. This airport is a little different than some of the other one's in Japan because the domestic terminal and the international terminal are both in separate locations. The domestic terminal has no options for Pocket WiFi rental so if you need to rent from the airport and you flew in from another airport in Japan, for example, you would need to first take the free shuttle bus to the international terminal located in front of the domestic terminals arrival entrance.
Though you could save yourself a ton of time and sanity if you considered renting your WiFi hotspot units online before arriving in Japan. You could have your unit waiting for you upon arrival either at your hotel, or at the local post office near the place you are staying. However, for those who may need it, here is a comprehensive list of all the portable WiFi rental options at Fukuoka Airport's international terminal.  
The airport also has a list of wireless internet service providers on their website.
Fukuoka Airport - International Terminal
TISCO Japan – Arrivals 1st Floor
Telecom Square – Arrivals 1st Floor
Global WiFi – Arrivals 1st Floor
XCOM Global – Arrivals 1st Floor

Overview
For a small airport, Fukuoka international actually has quite a few options for renting Pocket WiFi. Three of the four available shops, however, are all condensed together on the first floor of the international terminal. These three options starting from the right in the photograph are TISCO Japan, Mobile Center, and Global WiFi.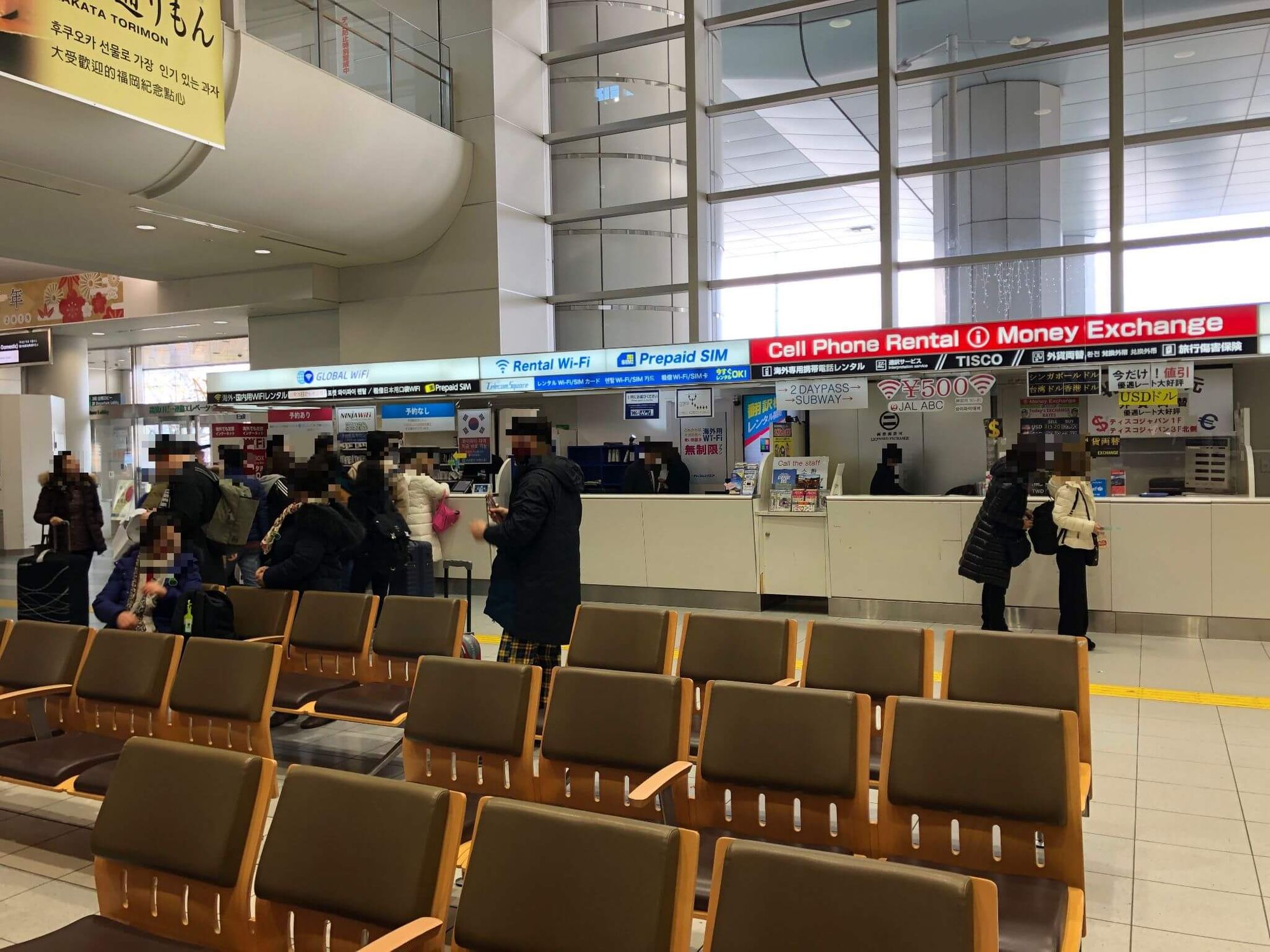 Let's look at each companies offerings down below.
---
TISCO Japan
Location: First Floor of the International Terminal
Hours: 8:00 AM to 8:00 PM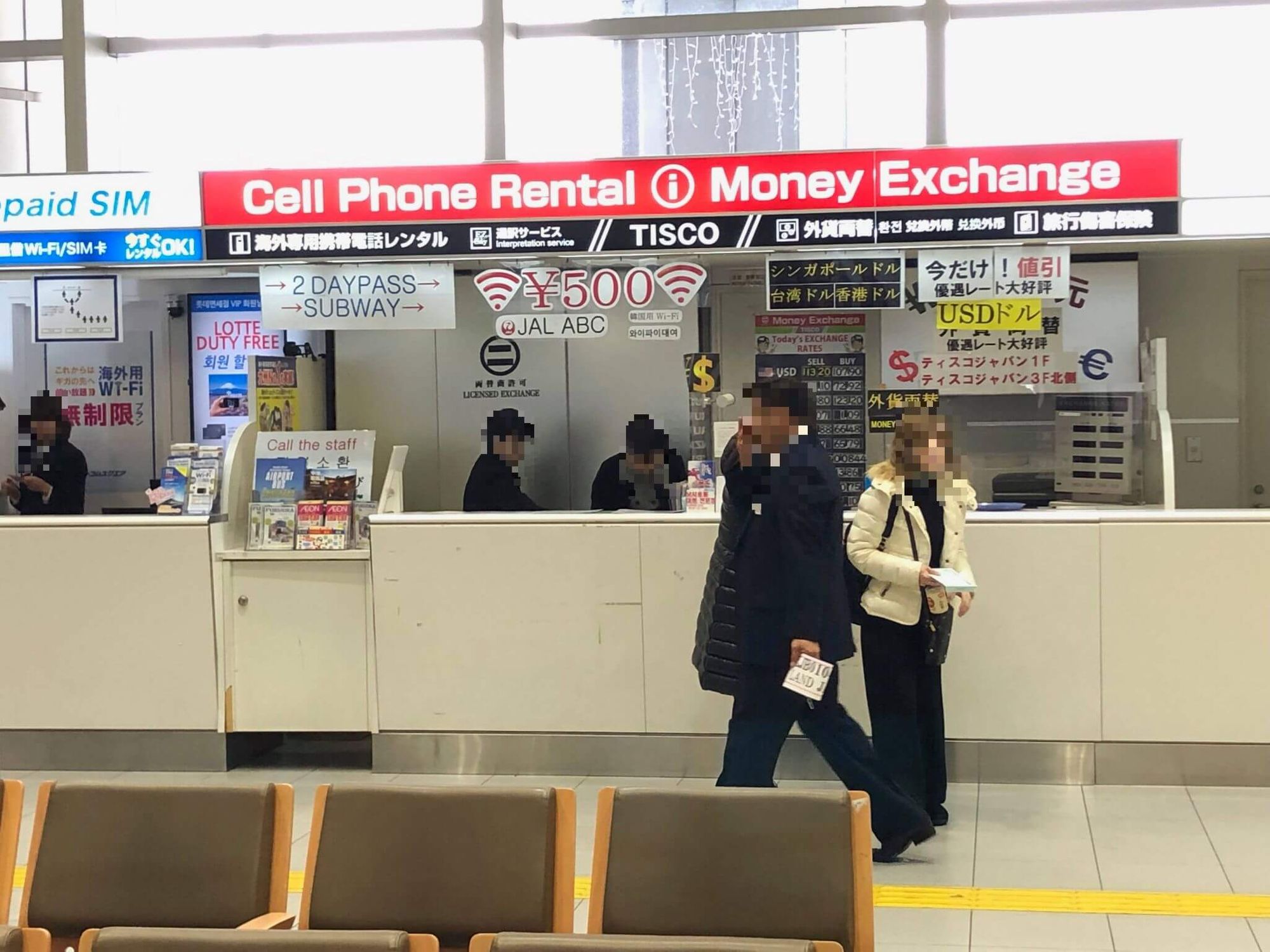 TISCO has very limited options when it comes to mobile WiFi rentals. There is only one plan and it is summarized very briefly by one leaflet they have at the counter (information at counter pictured down below).
Offerings:
540 JPY/Day (Tax Included)
This company only has one plan. They are also not at all specific about their data limit. "Unlimited data", is what the person said to me at the counter, but after a little bit of independent research the provider here seems to be WIMAX. This means that you might have unlimited data, but it will be spotty if you are inside buildings or underground (on the subway, for example). It could be a huge downside especially when you want to use Google Maps or transit app on your way.
Insurance:
Insurance Plan - 270 JPY/Day
The insurance covers the loss or theft of all of the items provided.
Payment Method:
English Ability: Okay
The English ability of the staff here was not impressive. The person behind the counter could not really answer any of my questions. In the defense of the staff member going up to the counter, she did warn me that she could not speak English when I approached the booth. So if you're a foreigner and you would feel more comfortable with English speaking staff I would suggest going to one of the other counters in the Airport.
Speaking of which.. Let's move on!
---
Mobile Center (Telecom Square Inc.)
Location: First Floor of the International Terminal
Hours: 8:00 AM to 9:30 PM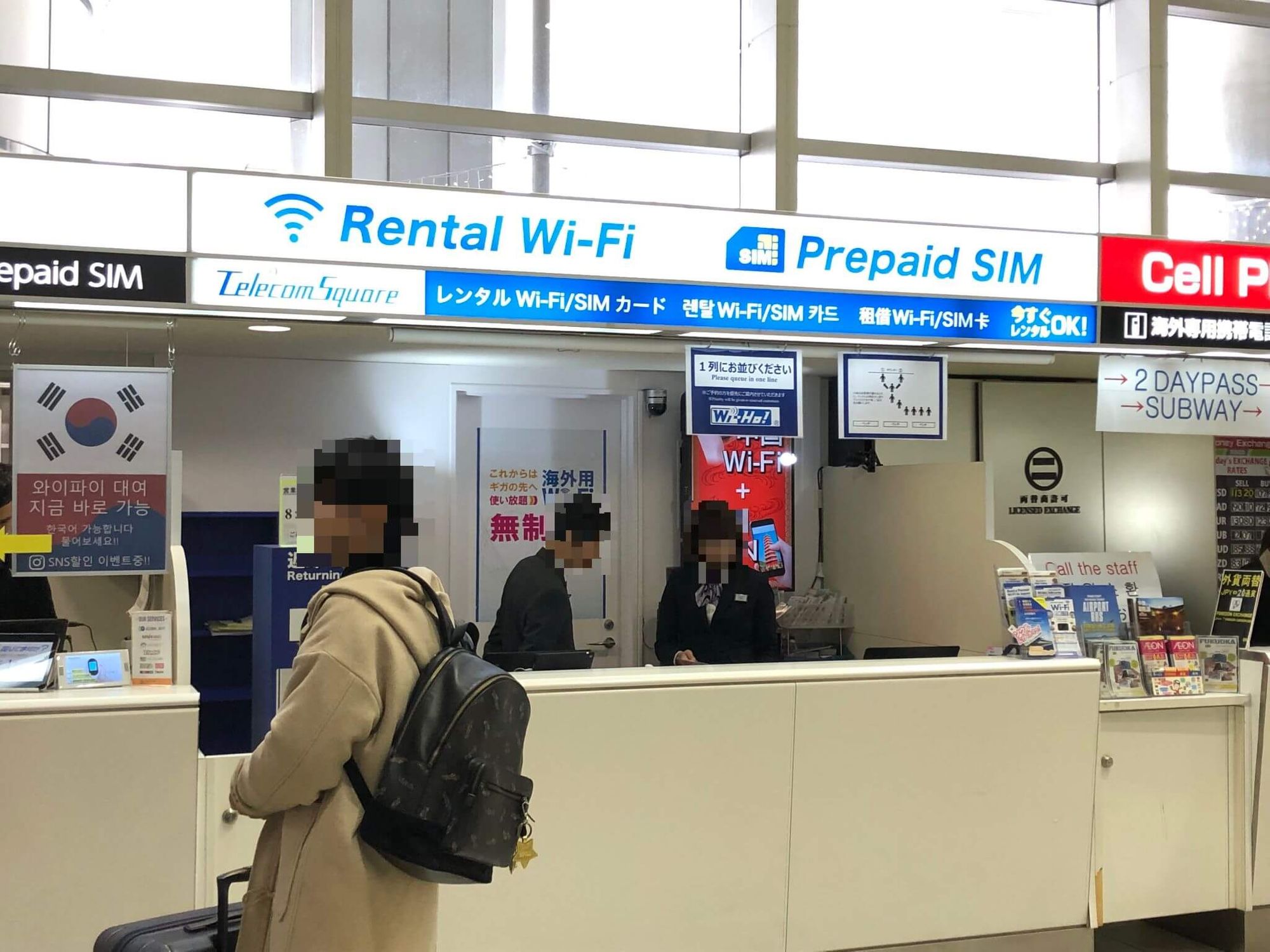 Telecom Square has two different options for pocket WiFi, the unlimited data plan (tricky wording though) and the wide type, 500 MB plan. The so-called unlimited WiFi plan seems to be the better of the two deals if you are planning on traveling through mostly well-populated areas like cities. However, we strongly recommend you to ask about the possible speed restriction (throttling) and how much data you can actually use at high speed with their Pocket WiFi at their counter. If you are planning on going deep into the countryside and are going to stay there for the majority of your trip you may want to consider going with the Wide type.
Let's look at the specifics of the two plans offered by Mobile WiFi down below.
Offerings:
[Unlimited Data]
1Day - 1296 JPY
7Days - 5,500 JPY (864 JPY/Day)
15Days - 9,720 JPY - (648 JPY/Day)
30Days - 12,960 JPY (430 JPY/Day)
[Wide Type - 500 MB]
1Day - 1,512 JPY
7Days - 10,584 JPY
11-30Days - 16,200 JPY (540 JPY/Day)
Insurance:
Standard (216 JPY/Day) - Only covers 85% of total cost
Premium (324 JPY/Day) - Covers 100% of total cost
Service/English Ability: Great
The English ability of the staff at this location was above competent, the lady behind the counter was able to explain everything to me in great detail about what each plan offers and what would be the best deal for a two-week stay. For a typical store clerk, she had exceptional communication skills.
Pick-Up/Return Options:
Both pick-up and drop-off of rentals can be done at this counter.
---
Global WiFi
Location: First Floor of the International Terminal
Hours: 7:30 AM to 9:30 PM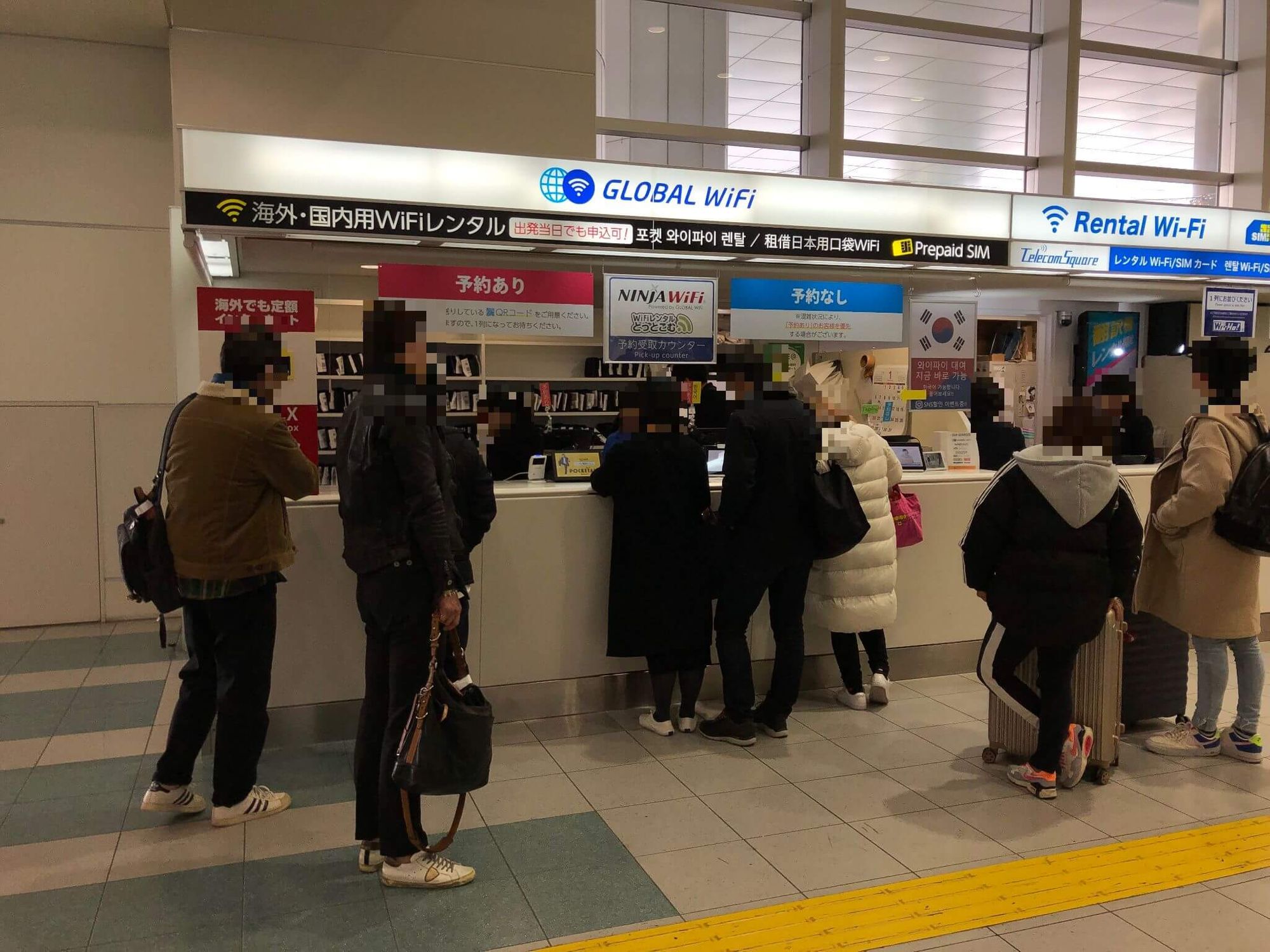 This Global WiFi had its two plans written very plainly on two laminated sheets of paper. You can see in the photo below.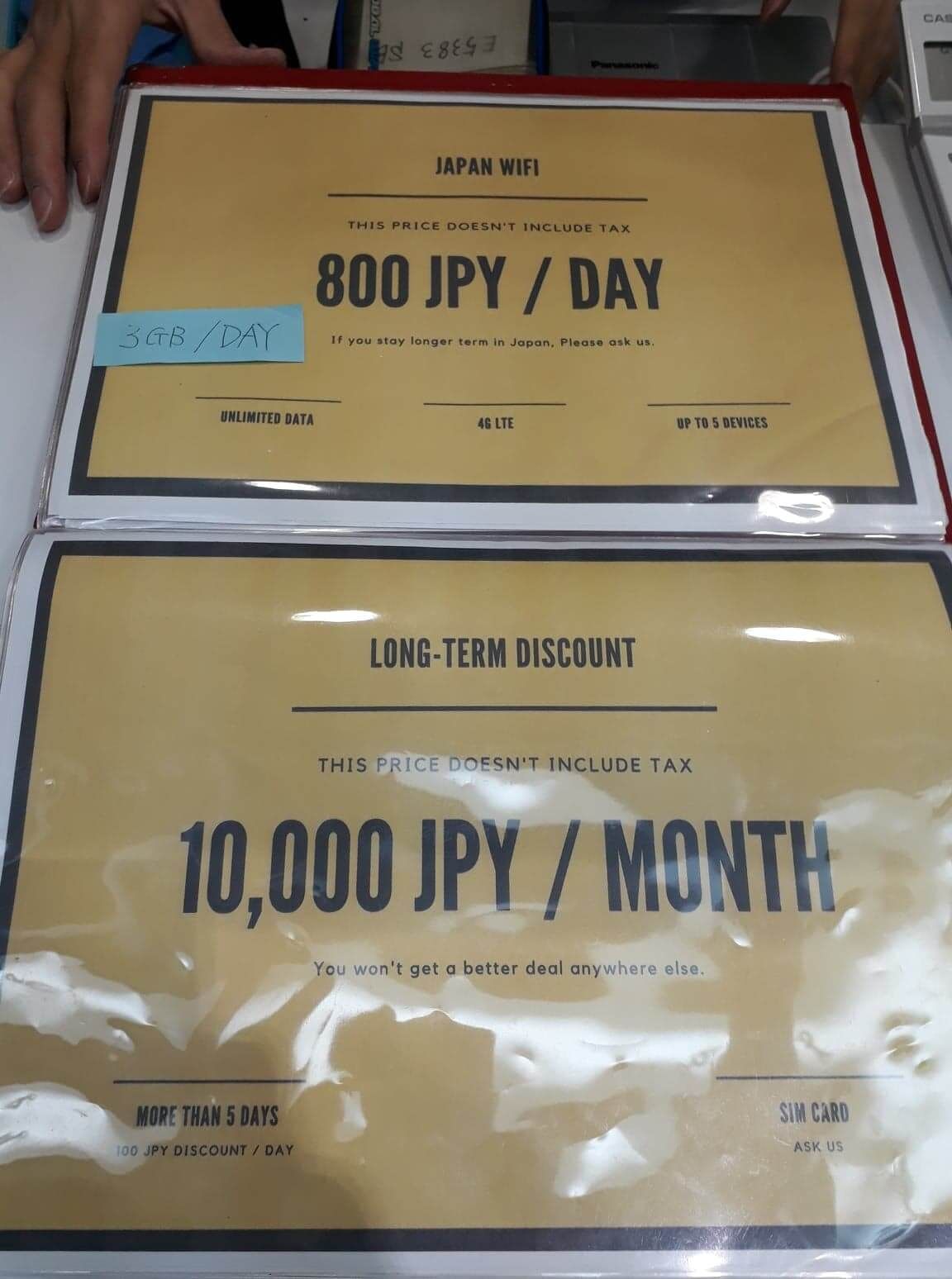 Offerings:
From what I could surmise they have two plans, unlimited data plan, and a 3GB/Day data plan.
[Unlimited Data]
1-5Days - 800 JPY/Day
5 Days or over - 700 JPY/Day
[3GB/Day]
1Day - 800 JPY
Insurance:
Insurance Plan - 300 JPY/Day
English Level: Great
English level here just okay. The guy behind the counter struggled to communicate with me when I asked him to show me more details about the types of offering they had. A lot of wild hand gestures and pointing.  Eventually I was able to glean a little more information out of them, but certainly not the best English speaking staff at the airport.
Pick-Up/Return Options:
Can do both pick-ups and returns at the airport counter.
---
XCOM Global (IMOTO WIFI)
Location: First Floor of the International Terminal (Back Corner)
Hours: 7:30 AM to 9:30 PM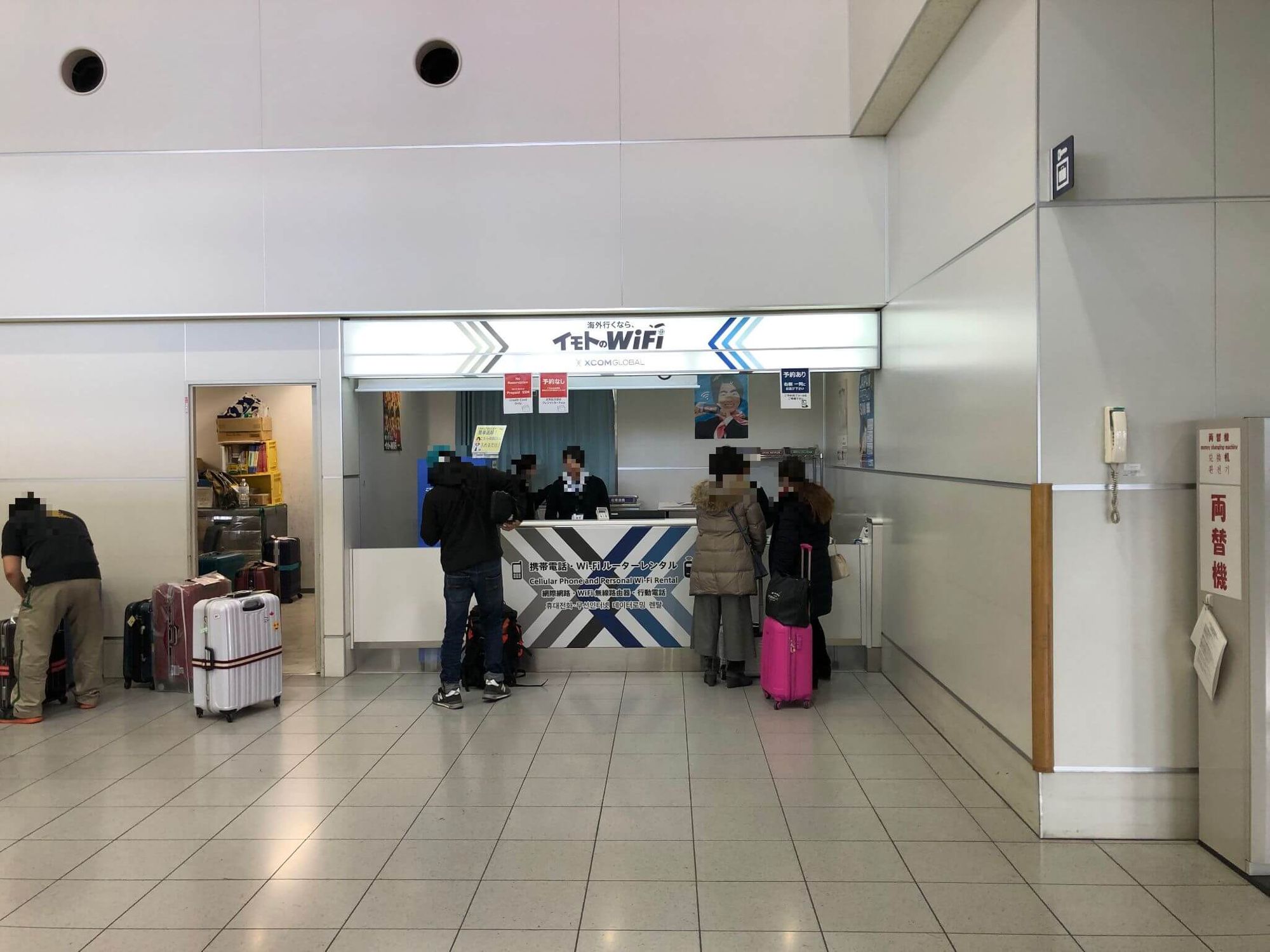 Offerings:
There is only one option for Pocket WiFi router here and it is the 500 MB model.
[500 MB]
1-7days -  842 JPY/Day
8-14days - 800 JPY/Day
15-20days - 758 JPY/Day
Insurance:
One flat rate insurance plan; 324JPY/Day
English Level: Great
You can find XCOM Global (Imoto no WiFi at most airports in Japan. It is a pretty popular choice, especially among Japanese people. The issue is that most of these store locations are not staffed with English speakers. This makes it an issue to figure out specifics about the types of plans they are offering.
The location at Fukuoka airport, however, breaks from that norm entirely. The staff had amazing English skills and were able to communicate effectively with me even when I asked difficult questions.
Pick-Up/Return Options:
Can do both pick-ups and returns at the airport counter.
---
Conclusion
For such a small airport, Fukuoka Airport actually a decent amount of options available for pocket WiFi rental. That being said, however, most of the companies offerings were still very limited. And what you can find here pales in comparison to the number of options you can find on the web.
Take eConnect Japan for example, we have up to 6 options with different data amounts and speeds that can be adapted to everyone's individual schedule. Not to mention the ordering process for Pocket WiFi at eConnect's website could not be any simpler. Simply select your plan, delivery location, enter in your credit card and boom! With one click you have Pocket WiFi waiting for you upon arrival. If you need proof of its simplicity and quality, check out some of our verified reviews on our website.
Hope this helps and safe travels!