Our Affordable Pocket WiFi Rental Plan Got 2x Data [Upgrade]
We are excited to announce that we have doubled the data capacity / data allowance for our Pocket WiFi Rental - Economy Plan 🎉
What was previously 10GB is now 20GB for the same price!
In many cases, 20GB of data should be sufficient for a week give and take, even for a traveling couple with multiple devices, as long as your main internet activities do not include video streaming or heavy file / photo sharing.
It's definitely a suitable plan for people staying in Japan for a short period of time, like less than 5 days.
This upgrade makes our Economy plan even more attractive as an affordable Pocket WiFi rental option for people coming to Japan and stay connected throughout their trip.
This data increase is in effect since June 25th 2022 for all the rental orders, both the ongoing rentals and the orders we've already received. And it's open-ended.
Since the other two plans, Premium plan and Monster plan, have already received this 2x data upgrade, this means that all three rental plans have now been upgraded.

Generally speaking, Economy plan is suitable for circa one-week trip and Premium plan, the most popular plan, is recommended for 2 weeks plus. And Monster plan is for heavy data users.
But of course, it all depends on what you need internet for and how many people you are traveling with.
Pocket WiFi Economy Plan Pricing
You can check our Pocket WiFi rental prices on our website - Pricing page.
This page has a nice little slider with that you can see how prices change as the rental period (days) increases.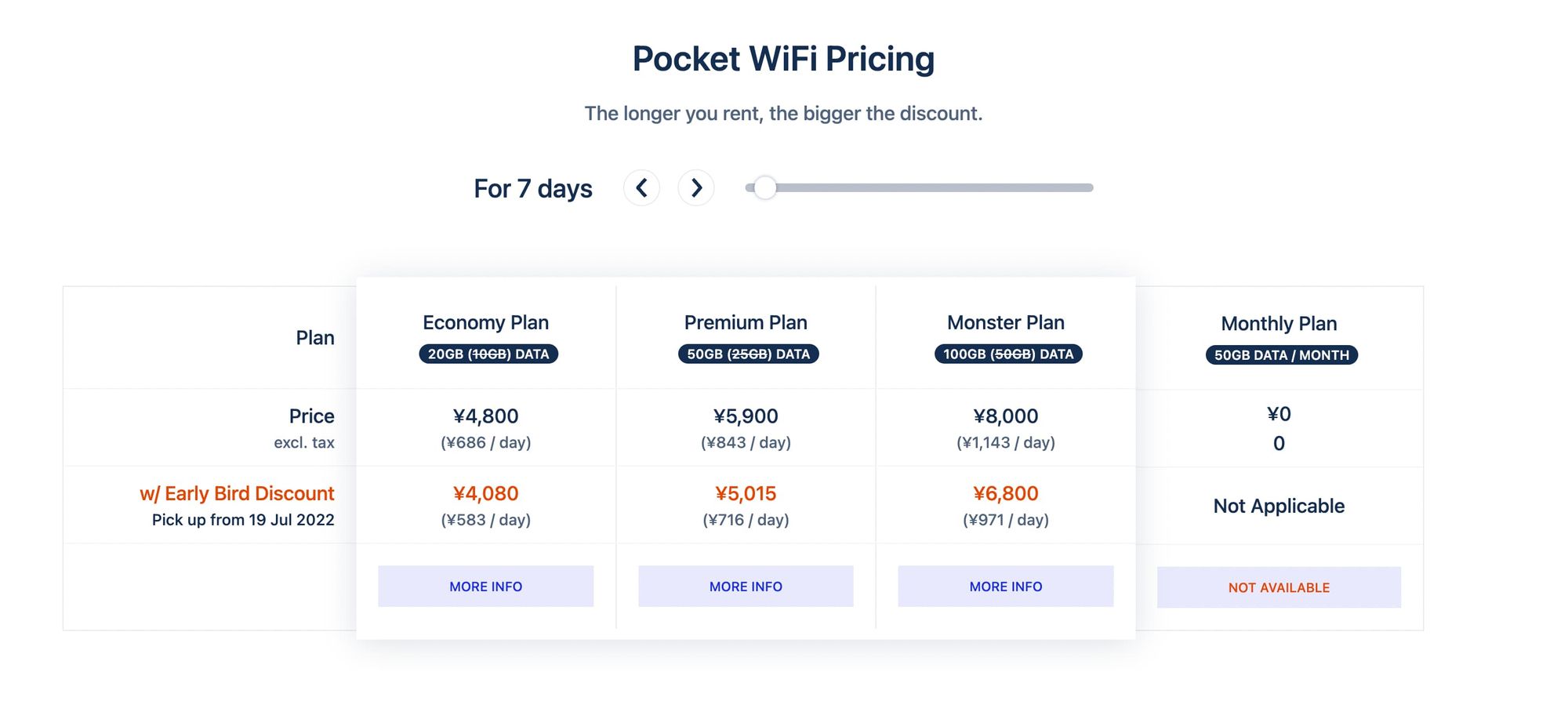 Just to give you a sense of our pricing for Economy plans, below are the prices for different rental periods as examples.
7 Days rental: 5,280 JPY (incl. tax) ≒ $40
14 Days rental: 6,050 JPY (incl. tax) ≒ $45
21 Days rental: 6,820 JPY (incl. tax) ≒ $50
Note that you will get Early Bird Discount of 15% OFF when you order more than 3 weeks in advance. So plan ahead, and order as soon as your itinerary is fixed. The early bird always gets the worm 😉