Urgent Need of Pocket WiFi Rental? eConnect Japan Got Your Back
Japan, with the 2020 Olympics rapidly approaching, has become a lot more English friendly. You can find English written on most signs in public places like Airports or train stations, and most trains and other modes of transport all have announcements in English as well. Even with all this recent development, it is nearly impossible to navigate the complex train system of mega hubs like Tokyo and Osaka without some form of transit app (like google maps). In foreign countries as unique and complex as Japan, having a mobile internet connection from the get-go is a must.
This poses a problem for those who come to Japan without having arranged an internet connection in the first place. Perhaps someone was sent on business at the last minute, or someone who was just too busy with other details to remember they might need an internet connection.  Well never fear, because we here at eConnect have your back!
Last Minute Portable WiFi Rental
So what is one to do if they need last minute Pocket WiFi? We here at eConnect also offer a simple to use,  streamlined service that enables you to secure your last minute mobile router rental in just a matter of minutes from the comfort of your computer.
Let's take a look at the animation and picture below showing the process for booking last minute Pocket WiFi rental on eConnect's website.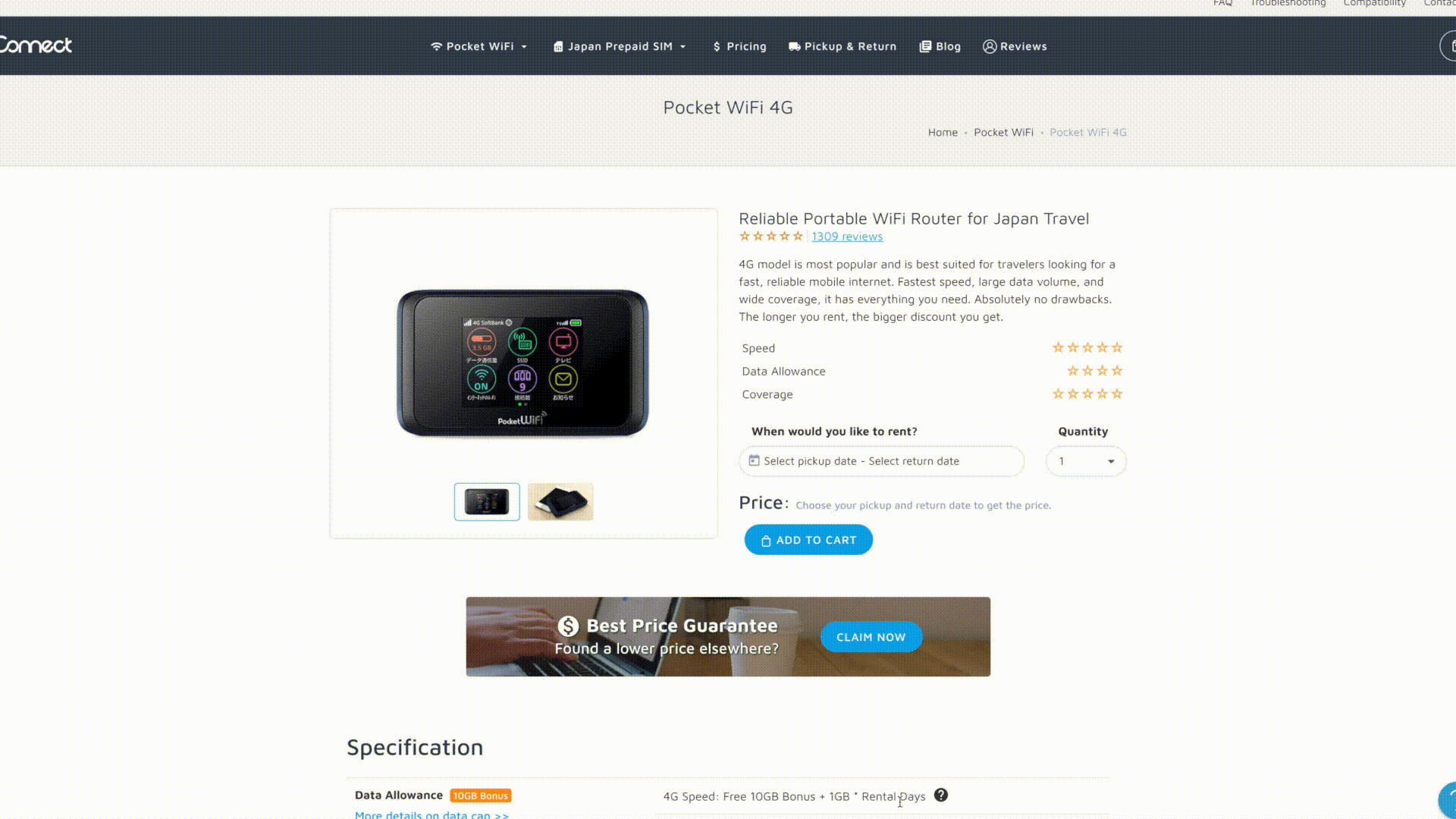 To start, simply select your rental period. If the desired rental period is one or two days out from day of order, a window will pop up asking you to specify your delivery location. This is so we can verify if the desired pickup location is reachable within the next day or two. You can select the following day as your pickup date until 5PM in JST (subject to change during weekends and holidays), with the exception of Hokkaido and Okinawa. (in these locations, the delivery may take a couple of days) Also if order placement exceeds 5 PM, then pickup date will also move back an additional day.
Choose"Main Island" as the shipping destination. The main island includes Tokyo, Osaka, Kyoto, Yokohama, Fukuoka, etc..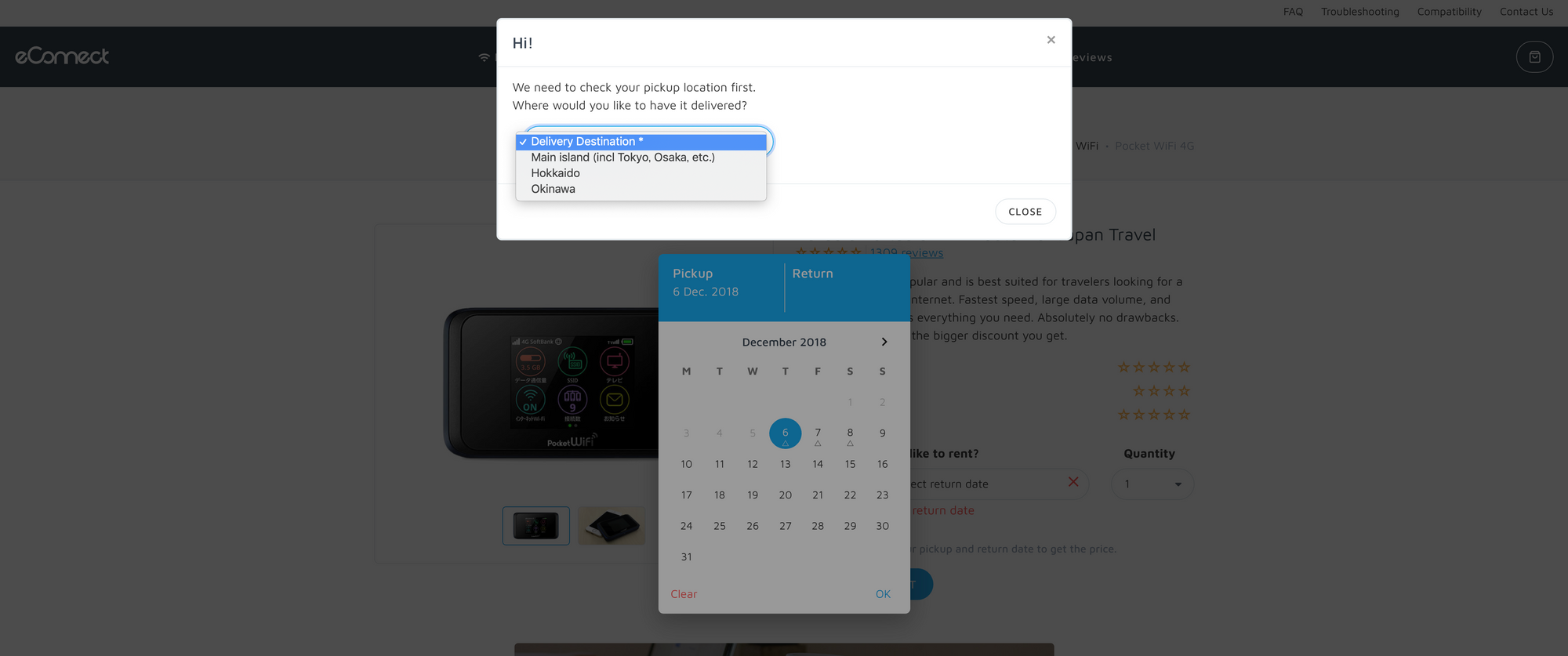 Next, click okay. The site will then take you back to rental page. Click add to cart, continue, and then select your pickup location (Hotel, Post Office, or Residence), enter in the information in regard to your pickup location, put your name in the form, enter your payment information and viola! Finished!
Our website and booking process allows for adjustment of order based on urgency level so that even if you realize after you've been here for a couple of days, that you need Pocket WiFi, or you are just a couple days out from flying into Japan, you can still place an order and have your Pocket WiFi available to you.
It needs to be noted that when it comes to placing an urgent order for Pocket WiFi that the airport pickup option might not be available. This is because the airports hours of operation may prevent us from delivering it to you. (if your flight comes in at night for example). However, you can still choose the other pickup options such as Hotel or Post Office.
---
Conclusion
Again for those of you who may have forgotten to order before coming or are already here and realize that you need internet. Don't fear! eConnect's website offers next day delivery to almost anywhere on the main island (assuming you place your order by 5PM the previous day). Placing your order, from start to finish, takes a measly 3 minutes to complete! So if you need Pocket WiFi in a hurry, take advantage of eConnect's easy to use service. Also, and this goes without saying, our ability to meet your urgent order demands is limited by how much available inventory we have. If it is peak season, we may not be able to provide the service. This is why we suggest you order your Pocket WiFi ahead of time! The earlier the better!
Feel free to contact us via email if you need any assistance on making urgent order.
Thanks and enjoy your trip!