Pocket WiFi Rental at Itami Airport [ITM] in Japan
To even the most experienced traveler, a vacation to Japan can be strenuous to plan for.  One of the necessities of planning for a vacation like this, is ensuring you have access to mobile internet.
Osaka International Airport (ITM) aka Itami Airport, is the other major airport in the Osaka area. Compared to Kansai International Airport (KIX), Osaka's lesser-known airport mostly handles domestic flights. Still there may be a chance that you find yourself passing through here on your vacation in Japan.
Again, I want to reiterate the sentiment you can find in many of our articles: we encourage you to secure your Pocket WiFi rental before your arrival in Japan because it can save you a ton of time and money. However, if it is not possible, this article aims to discuss the options for wireless router rental at Itami Airport in Osaka.

Limited Options
In a previous article, we broke down in detail, the Pocket WiFi rental options at Kansai International Airport (KIX).
Itami Airport's official website also has information posted on it about the company providing WiFi router rentals as well.
In our last article, comparing the WiFi rental options at KIX, there were quite a few companies to choose from. However, Itami Airport is significantly smaller than KIX and as a result only has one company providing the rental service.
Let's take a look!
Global WiFi
Hours Of Operation/Location:

Location: (105 on map) in the lower right hand corner of the southern terminal.
Hours: 7:00 AM to 8:00 PM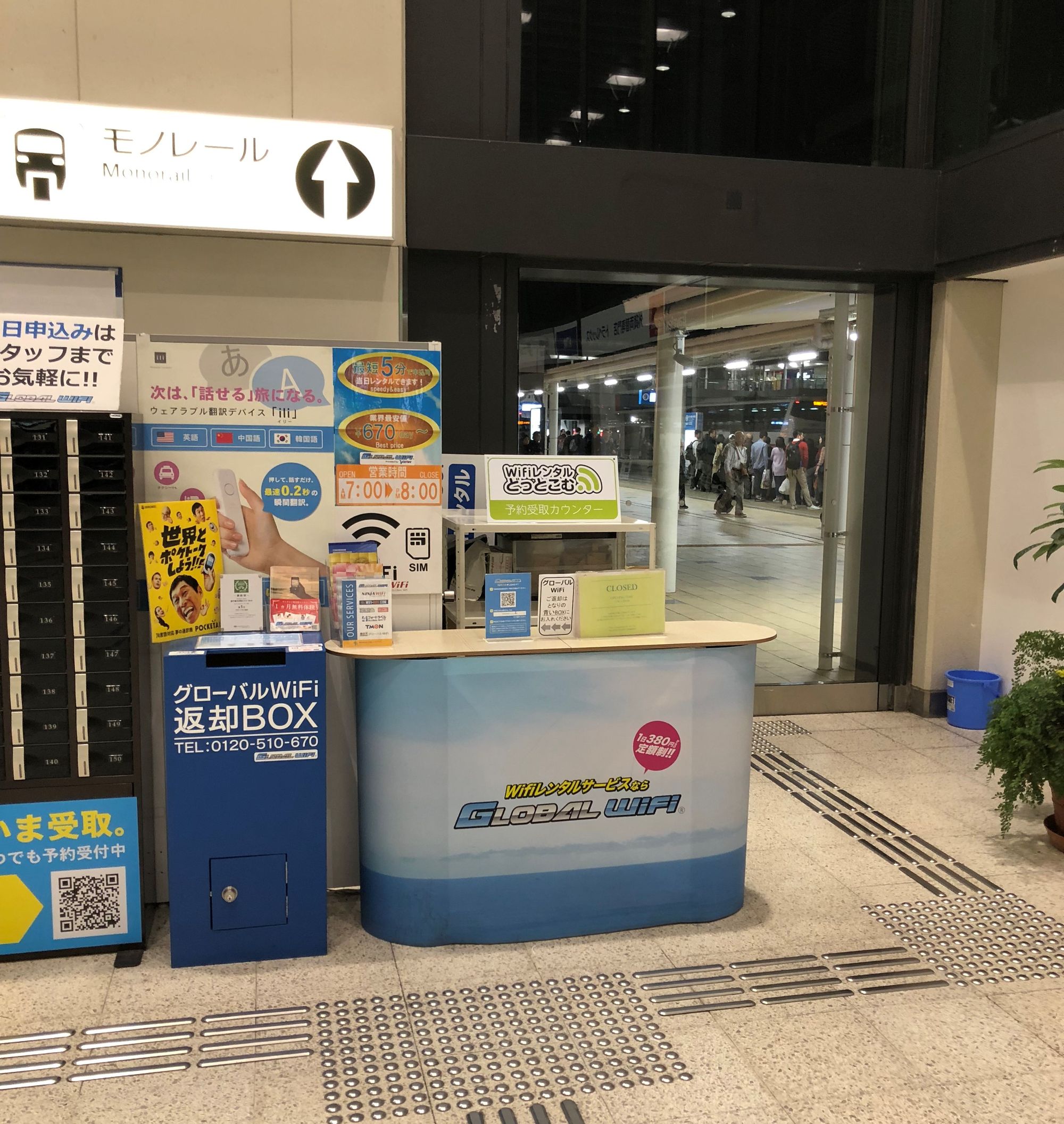 Breakdown
When I arrived at the airport there was no one at this booth. However, written on the booth was information about pricing.
Itami Airport's Global WiFi branch actually seems to offer lower prices than its branch at the larger KIX.  The Global WiFi at KIX Airport was charging 900 JPY per day and this shop was advertising a much cheaper 670 JPY per day.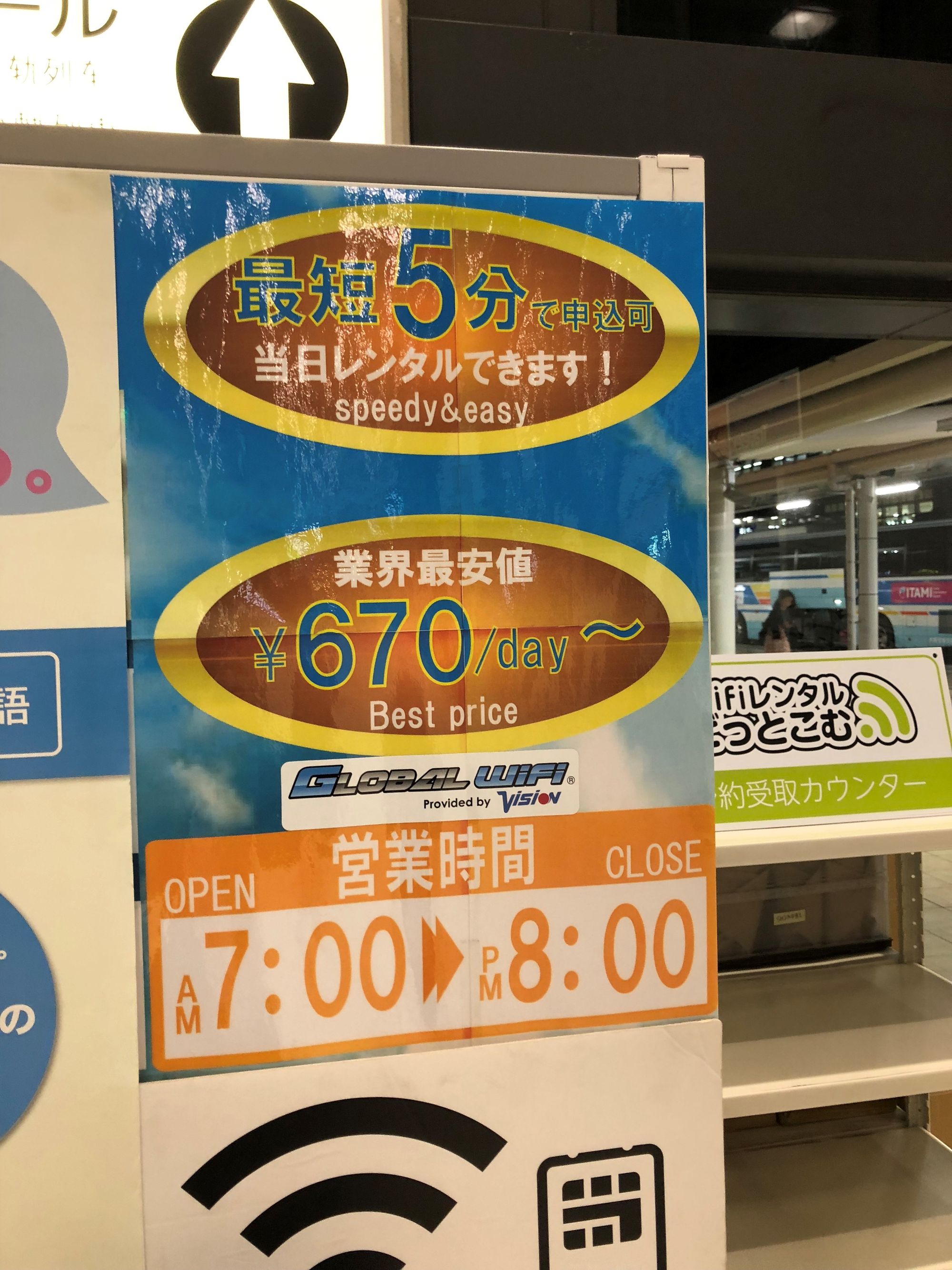 Additional Information
If the staff at the Global WiFi branch in the KIX Airport was any indication, the English ability of the staff at this branch should be acceptable. I also called Itami Airport and spoke with a representative from this branch on the phone who was able to communicate with me in English aptly enough. (He would not give any pricing information over the phone.)
Conclusion
No matter which way you look at it, there is only one option for mobile WiFi rental at Itami Airport. This just reinforces the fact that renting your Pocket WiFi unit prior to your arrival in Japan is worth your time. If you arrive here outside of business hours (a genuine possibility, seeing as it's only open until 8:00 PM) or there happens to be a large crowd, it could be especially difficult to secure a rental the day of arrival at this airport.
This is why we here at eConnect, are determined to provide you with the simplest method of securing your portable WiFi rental cheap and hassle free, online. If you would like to see the evidence of our convenience, I implore you to come check out our website and compare the information yourself.
Whatever you decide, stay safe and enjoy your travels in Japan!