Top 4 Free Transportation Apps in Japan [2020]
Japan is an amazing country to visit. Its unique blend of history and modernism has been attracting tourists over centuries. From its vibrant, robust city life, to its quaint and nostalgic mountain towns and nature, all of these factors have led to Japan becoming one of the most popular tourist destinations in all of Asia.
For travelers from western countries, however, the vast difference in language and culture can be quite a hurdle to get over, especially when it comes to basic things like navigating. How do you find your way from the airport to your hotel? How do you get to the delicious Michelin stared sushi restaurant you've been dying to go to. This is where navigation apps come in. Nav apps have become an integral part of most travelers' tool kits.
Before everything, we'd like remind you to prepare your mobile internet in Japan ahead of time so you can take advantage of all these handy nav apps!
Also, which nav apps rule supreme can vary from country to country. As someone who has experienced my share of troubles as a foreigner trying to navigate his way through Japan, I would like to impart my tried and tested wisdoms about which navigation apps are actually worth it! In this article, for the benefit of your travel sanity, we will break down the top four free nav apps available, from worst to best.

#4 Japan Transit Planner
As opposed to some of the other applications that are trying to be more of a personal travel guide as opposed to solely a navigation app, this is a very barebones app that does a good job at not trying to be anything else. Also, the user interface is very simple.
Available Platforms:
iOS App Store
Google Play Store
The app is also available on the web.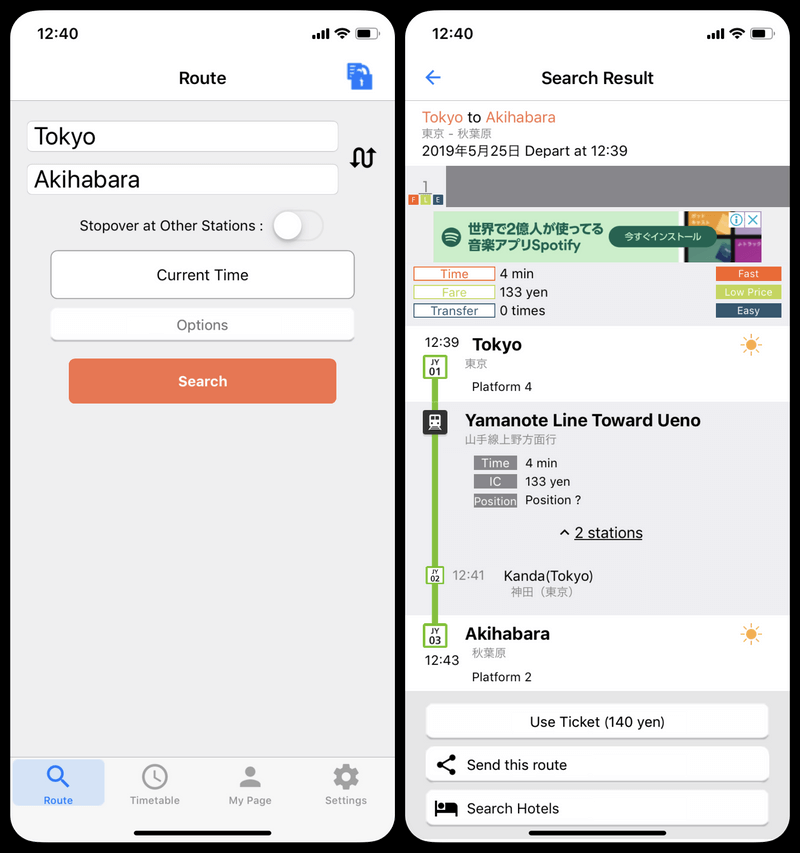 Once you download and open the app, the screen to your upper left will appear. This screen has a simple two inputs. Put in departing and arriving station and your route will pop up as shown on the right hand screen above. The app provides you with a decent amount of information, including train numbers as well as boarding platform number. The drawbacks though, are that there are no alternate routes to choose from and you can't search for stations in your area, an essential function, I may add, for someone completely new to the country. This lack of any sort of useable map feature is what ranks this app at the bottom of our list. This app is probably best suited for those who are frequent Japan visitors and/or live here and are already familiar with their surroundings (station names, areas, etc.).
#3 Japan Travel by NAVITIME
Taking solid third place on our list is the Japan Travel app by NAVITIME. This app was closely tied with 2nd place on our list, Japan Official Travel App, but loses out barely for a couple of reasons that we will cover!
Available Platforms:
iOS App Store
Google Play Store
For starters, this is a very well put together app. This follows the trend that a lot of travel apps in Japan are doing lately, which is functioning as so much more than just a navigation app. This app is no exception to that trend. This app is basically a mini tour guide in your pocket. Offering you additional services like current blogs, travel tips, and even a cool offline ATM, currency exchange, and free WiFi locator function (something I haven't actually tested though). However, since this article is about comparing the navigational aspects of these applications we will stick to its usefulness in this sector.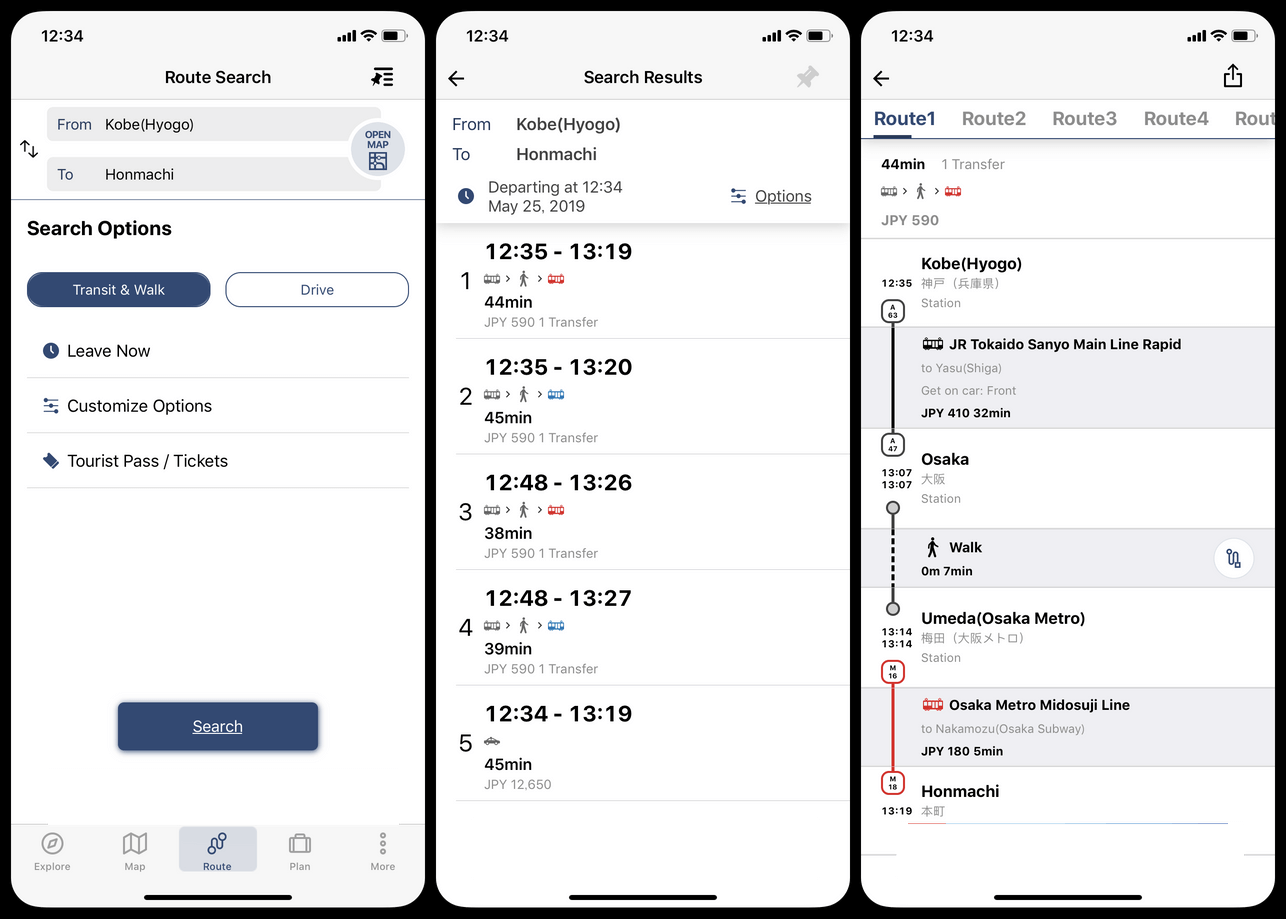 Once you download the app, open it up and go to the route tab. Type in your departing station as well as your destination. You can also choose current location as your starting position and then your destination and let the app do it for you. From there, select from your many route options and boom! You're as good as there. This app does a phenomenal job of giving you the ability to customize options (better than even google maps in some respects). You can search by routes that allow you to use Japan Rail Pass or Tokyo Subway Tickets, search by routes that avoid stairs (for people with disabilities), by cheapest option, and even search by which is most eco-friendly. This was a really cool feature that I haven't found in many other nav apps.
For all the cool frills that this app has in terms of additional services, one thing the navigational component is lacking, is the fact that if you want to use the interactive map (Google Maps-like step by step navigation) where it shows you on the map your route as well as current location, that's a paid service. Super unfortunate, because if they were able to make this free, this app might have ranked higher on the list. Also, the apps interface leaves something to be desired and is at times difficult to navigate.
#2 Japan Official Travel App
Number two on our list is of nav apps is the Japan Official Travel App. This application is very similar to the Japan Travel app by NAVITIME. It also has capabilities that push it far beyond being just a navigation app, including a wonderful interface that is almost entirely ad free.
Available Platforms:
iOS App Store
Google Play Store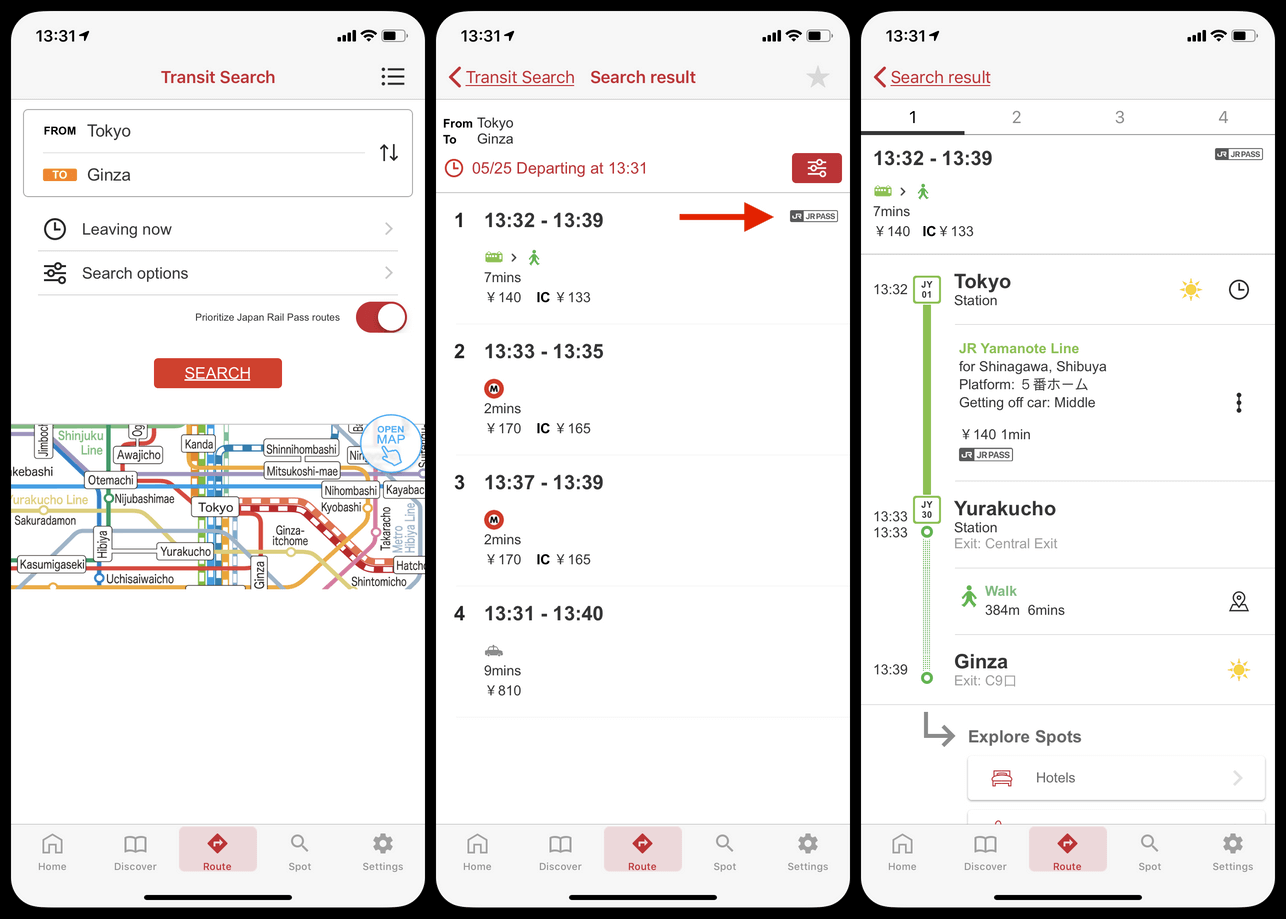 Once you open the app, first navigate to the route tab at the bottom of the screen. Once there, input your starting position. This app allows you to choose your current location and will actually show you a map of your position as well if you click on the little map icon. Once thing that makes this app so awesome for travelers is that it prioritizes routes using the JR Pass. This allows travelers to know which routes will allow them to the extremely convenient pass system and which routes they will need to buy tickets for. Just look for the little JR Pass symbol next to the routes in the search result screen. But what truly sets this part above of our number 3 pick, is that it has a free interactive map feature. Just go into the Spot tab and click on the Stations button. The nearest station to you should show up on the screen. If you click on the station, the station name and distance from your current location will pop up on the screen. Once you click into the station, touch the middle route button. Search from your current position and click the little map icon to bring up an actual route.
Some drawbacks of this app is there is a lot going on. It may be difficult to navigate the app in the first place because of the sheer amount of things they have packed in. Also, the map function still has some glitchy factors that the developers still need to work out.
#1 Google Maps
Bringing in number one on our list is, big shocker, Google Maps! Now I hate to be just a blind proponent of giant conglomerates like Google, but it is difficult to deny the sheer practicality and functionality of this map application. It's really not a fair fight though when you think about the resources Google has at its disposal.
Available Platforms:
iOS App Store
Google Play Store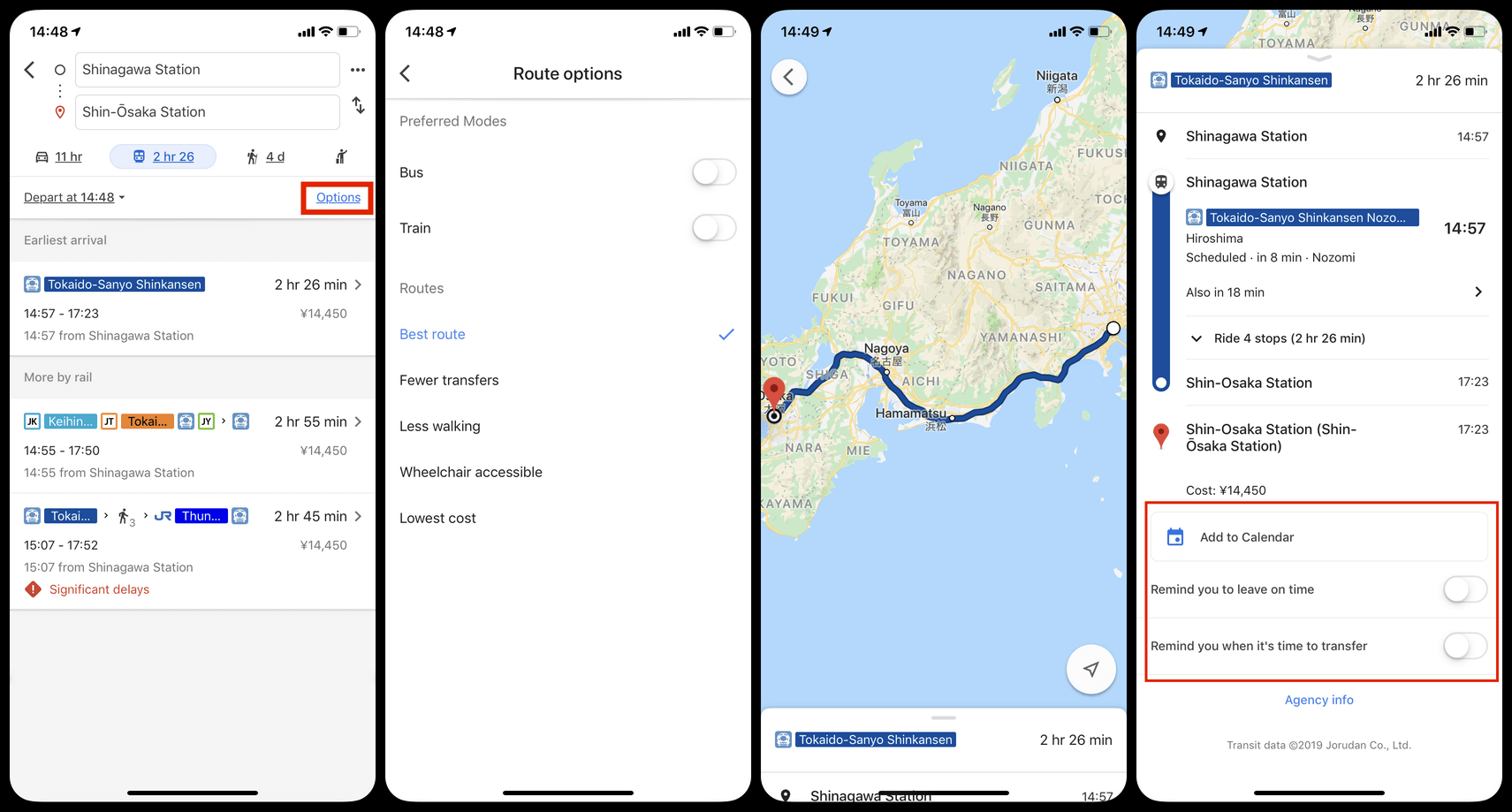 Google maps biggest advantage is its consistent reliability and functionality across multiple platforms. You can sync routes to your calendar and even have google remind you when it's time to transfer trains (something you'll be doing quite frequently in Japan I may add). Another strong point is its route option customization. You can adjust for many factors including wheelchair accessibility, cheapest routes, and fewest transfers. Also the interface allows you to search for places nearby and compare them quickly with solid reviews. I mean this is all pretty standard knowledge for anyone who has used Google Maps before.
Some downsides are its lack of offline capabilities and other travel guide related features. Even after many years in development, Google still hasn't been able to release its offline maps feature yet in Japan.
The Verdict
If nothing else, I hope this article may have opened some eyes to some of the other possibilities for navigation apps that are out there for use in Japan besides Google Maps. While at this point in time, Google Maps actually navigational abilities are the best and will probably remain so for some time. It's still missing some important features that our #3 and #2 picks had, like good offline features!
Regardless of which one you will choose, you will definitely be needing a navigation app as one of your companions during your trip to Japan. Without a good source of mobile internet, however, you won't be able to use many of these apps effectively. That's where we come in. Check out eConnect Japan's wide array of Pocket WiFi rental plans – our recommendation for ensuring you have a safe and speedy internet connection for all your devices. We can insure your connected to fast and reliable internet that lets you navigate using one of these apps. Because the whole point in effectively getting where you need to go is so that you can enjoy your time abroad!
Thanks and safe travels!