Pocket WiFi vs Japan Prepaid SIM
Which Internet connectivity option reigns supreme? Find the perfect choice for you on your short-term visit to the Land of the Rising Sun
If you're traveling to Japan for the first time, never assume that you will get free WiFi just about anywhere. Yes, there are areas where Internet is open but keep in mind that it is not available publicly at all times. And when you do find a free WiFi network, you will be frustrated to discover that it is not as reliable and fast as the ones you enjoy at home because oftentimes, too many people are exploiting it. While we are a technologically-forward country and our metropolises are some of the most advanced in the world, tourists are highly encouraged to have their own Internet device to ensure they stay online whichever corner they may find themselves in. If you're planning a trip, it is therefore essential that prior to your visit, you have already figured out which one is better for your needs: a pocket WiFi or a prepaid SIM.
To help you decide, we have dissected the benefits and drawbacks of each. Read on.
The Pocket WiFi: What is it?
Also known as MiFi, this mobile Internet device works as a portable router that allows more than one gadget to connect to the World Wide Web at the same time. Although small enough to fit a pocket, it delivers a strong network connection usually found in wired broadband systems.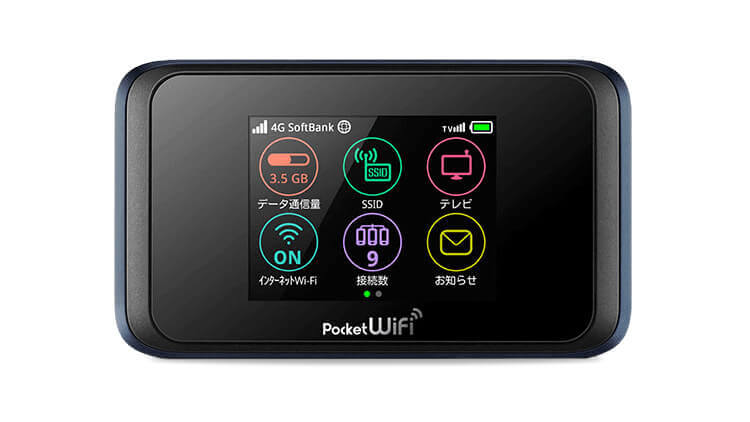 Pros:
Allows multiple devices to connect, usually up to 10 gadgets
Fuss-free connection; simply turn on and connect
Fast and wide 4G / LTE network with large data allowance
Lightweight and not bulky unlike a regular WiFi router
Cons:
Needs to be returned to the rental store after your trip
Will entail bringing a separate mobile phone and a backup battery, which can be a concern for some people
If you are always on the go, looking for high speed Internet with bigger (than most of the prepaid SIM) data allowance, eConnect Japan's Pocket WiFi rental is perfect for you. With us, you need not worry about getting off the grid because we provide an extra battery to ensure an uninterrupted Internet connectivity. Lastly, opt for the Pocket WiFi if you are a with a group of tourists who are exploring Japan together on a holiday or a solo traveler who needs to connect various devices all at once.
The Prepaid SIM
A prepaid SIM (Subscriber Identity Module) is a tiny smart card that is inserted into a dedicated slot inside a mobile phone or a tablet. It is connected to a specified cellular data carrier that provides a good Internet connection that users can take advantage of. To ensure reliability and fast spped, eConnect Japan uses SIM cards only from the heavy-duty Docomo 4G/3G network.
Pros:
Plugged in mobile phone directly which has longer battery life compared to a Pocket WiFi
Slightly better coverage than the pocket WiFi; the eConnect prepaid SIM covers more than 99% of Japan's population
Less bulk as there is no need to bring a separate router or a spare battery or a charger
Disposable and hassle-free as you need not return after your trip
Cons:
Setup is more technical, as it requires APN configuration
Cannot be used with a network-locked phone
If you are traveling alone and do not plan to go outside the urbanized areas of Japan, the prepaid data SIM is ideal for you.
The Verdict
When choosing which Internet connectivity option will work best on your trip to Japan, keep the following things in mind: the number of companions you have, your devices, and your itinerary. If you are on a business trip or simply a person who needs Internet connection with blazing speed and large data volume, we strongly recommend the Pocket WiFi. Also, if you are on a holiday with family or friends and each one of you needs to connect to the Web simultaneously, then by all means, go for the Pocket WiFi for its strong signal capability and its multi-device property. It also allows you to use large data amount for a reasonable price.
Should you want a hassle-free connection process, then opt for the other equally great option. If the thought of bringing an extra device other than your phone is too much for you to handle and if you want to eliminate the rent-and-return concept of Internet connectivity, look no further and go for the prepaid SIM.
If you need more details about buying a good prepaid SIM or renting a pocket WiFi device for a seamless travel experience, check out what affordable offers eConnect can provide you with.