The New eConnect Japan SIM App Is Here
Last week we've released the latest version (v5.0) of eConnect Japan SIM app for both iOS and Android.
This update introduces a fresh new look, an intuitive user interface, and an enhanced SIM registration process.
---
We've made significant changes in this release, particularly focusing on design and the SIM registration flow.
A Sleek, Intuitive Design
The new version of our app comes with a complete design overhaul / look, providing a cleaner and more user-friendly experience.
We've also incorporated our latest brand colors into this release, seamlessly aligning it with our website and web app (was long overdue...).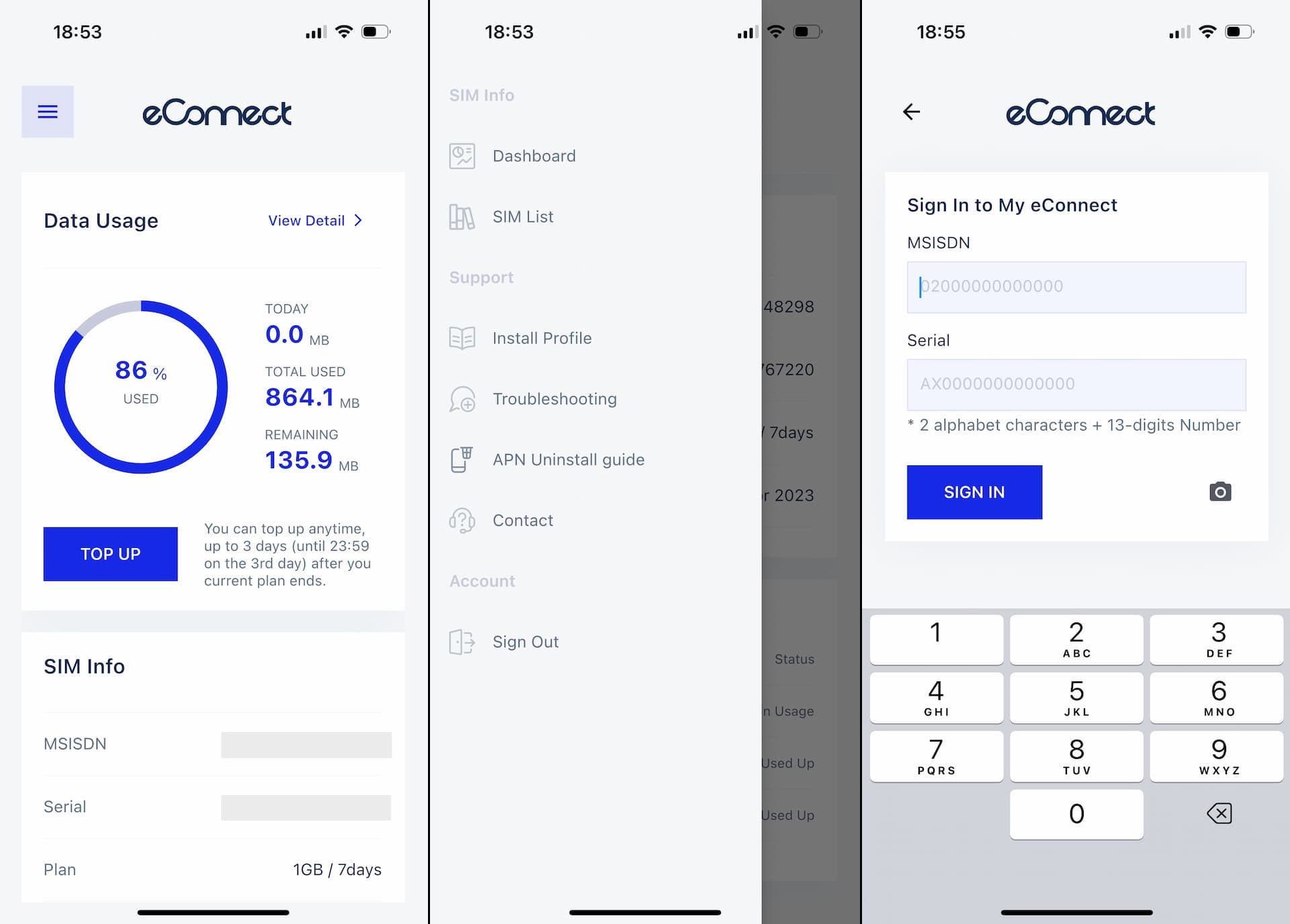 We hope that our customers using eConnect Japan Prepaid SIM cards find this new version easy-to-use and visually-appealing, making the use of our SIM card a joy.
Improved SIM Registration Process
With this update, we've made the SIM registration process easier than ever, making sure you'll have your SIM card(s) added in no time.
There are three ways to add / register your SIM in the app.
1️⃣ Manually enter the SIM numbers
2️⃣ Scan the barcodes on the back of SIM card frame (tap the camera icon)
3️⃣ Use Add SIM button in the shipping confirmation email (*coming soon)
The SIM numbers (MSISDN and Serial Number) will be provided in the shipping confirmation email once it's shipped. You can also find them on the back of the SIM card frame, along with the barcodes.
Key Features
Our app continues to offer a range of useful features that make managing your prepaid SIM card fun. Here's a summary for those who may not be aware:
Monitor Your Data Usage Effortlessly
The app allows you to monitor your remaining data balance in real-time, in visual way, so you always know how much data you have left.
Instant Data Recharge on the Move
Running low on data? No problem! You can buy additional data / top up anytime, anywhere, with just a few taps. Choose from a variety of plans to suit your needs and pay securely. The new plan will start instantly or will be queued automatically until the current plan ends.
Data Top Up Prices
1GB / 7 Days : 990 yen
2GB / 15 Days : 1,650 yen
3GB / 30 Days : 2,310 yen
5GB / 30 Days : 3,630 yen
10GB / 30 Days : 6,980 yen
*Tax-inclusive
Easy APN (Access Point Name) Configuration
Setting up APN is a breeze with our app. For iOS, you just tap "Install Profile" button and the Profile will be downloaded right away, even without internet connection. Then all you have to do is open Settings and tap Install. More details can be found on SIM Set Up Guide.
For Android users, you can simply copy and paste the APN information directly from the app.
Manage Multiple SIM Cards
The app allows you to add more than one SIM card, making it extremely easy to manage SIM cards for families or couples.
Built-In Troubleshooting for Easy Problem Solving
If you encounter any issues with your prepaid SIM card, our app offers in-built troubleshooting guides to help you find a solution. Alternatively, you can contact us using the form in the app.
---
Available on iOS and Android
The latest app update is available on both App Store and Google Play Store.
With its fresh new design and improved SIM registration process, the updated eConnect Japan SIM app is the perfect tool to help you manage your mobile data in Japan.
For more information about our Japan Prepaid SIM, visit our website 👇